Sommeliers Choice Awards 2023 Winners
Q & A with - Brandon Wise, Vice President of Beverage Operations at Sage Restaurant Group
Hear from Brandon Wise, Vice President of Beverage Operations at Sage Restaurant Group, about why he wants to be involved in the judging panel of Sommeliers Choice Awards.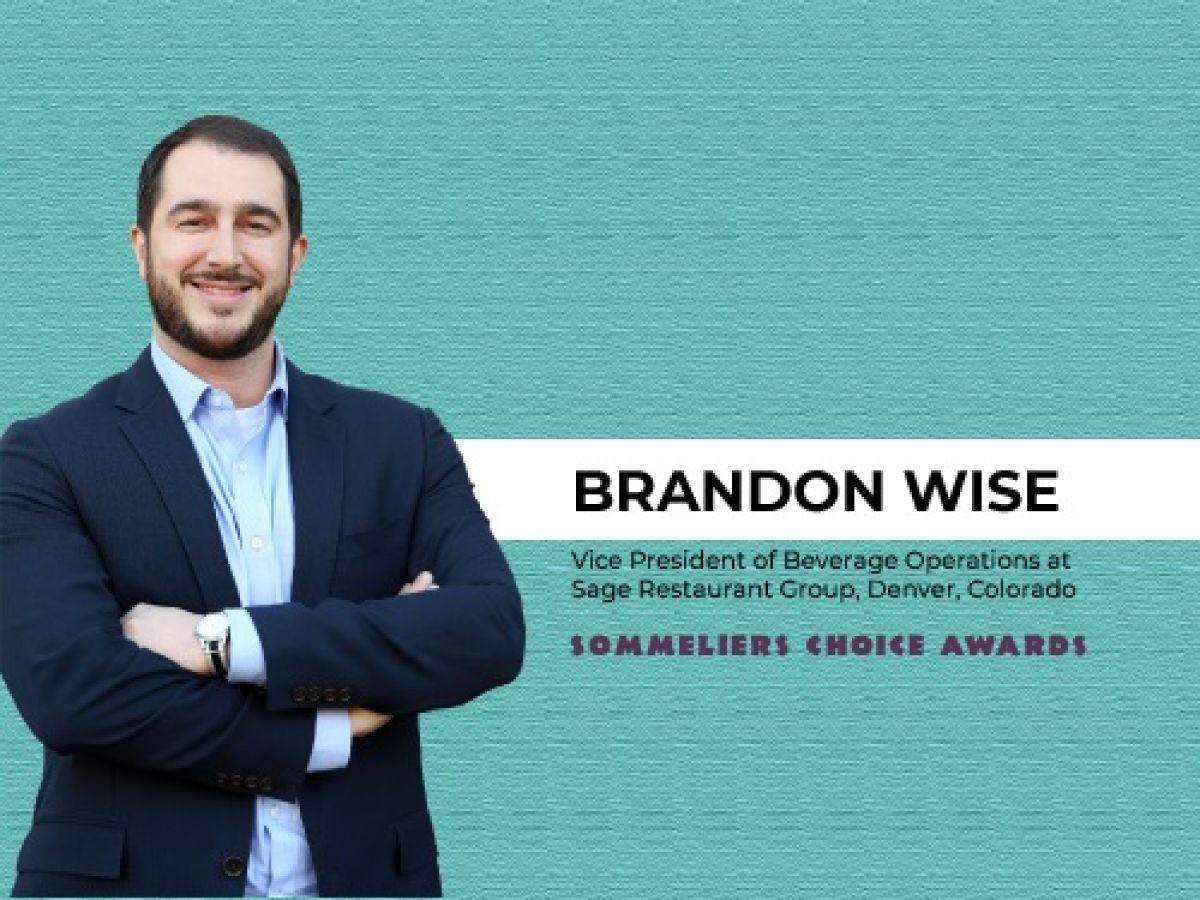 The Sommeliers Choice Awards lives up to its name by only having sommeliers and professionals with direct wine buying responsibility on its judging panel. With special pricing for this year's competition ending on March 31, the team talk to some of the leading sommeliers about why they think the event stands out from the competition.
Brandon Wise, who is Vice President of Beverage Operations at Sage Restaurant Group, Denver, Colorado, took time out from his intense schedule to answer these questions.
Tell us about yourself and how you got into the drinks and restaurant scene?
I started working in a restaurant at the age of 15 in my hometown and really caught the bug. It was a white tablecloth steakhouse where most of the staff had been there for over 10 years and they took wine service very seriously. I would blind taste different wines and practice my menu presentation with co-workers during my off time and learned to appreciate wine and service. It wasn't until opening a wine bar as GM years later, where we focused on esoteric new world wines when it truly became my life's work.
What are your current role and your main responsibilities?
As VP of beverage, I oversee the corporate beverage program for Sage Hospitality, which was a finalist for VIBE's Best Overall Beverage Program award last year. Beyond that I wear a variety of different hats from working with our teams on developing our brands, consulting on restaurant and bar design, writing menus, training our bar teams, as well as operational standards and financial performance of our businesses.
What do you think are the most important skills you need to be successful working in your role?
One skill I have worked to develop over the years is empathy. I've always focused on this for our guests but have really focused on this in recent years in relation to our team members as well as business partners. It's an underutilized skill in negotiation, and by recognizing the challenges and obligations our suppliers and distributors face we've been fortunate to build some incredible partnerships over the years.
How have you found the last year in lockdown and what sort of things have you been doing to keep on top of your skills and knowledge?
So many Zoom seminars and tastings. Can we please stop calling them 'happy hours' though? I think we can all agree there is nothing happy about staring at a computer screen all day.
What are you expecting when the on-premise does re-open in terms of how customers will respond?
For us, the on-premise never fully closed. Most of our properties stayed open in some capacity for all or most of the past year so we've been working tirelessly all along. What I've seen is that our guests are ready for a break from the stresses of pandemic life and they're anxious to support the restaurants and bars they love. I think the storyline for the rest of 2021 will be diners going out in search of unique experiences, and revelling in the social activities we may have previously taken for granted.
Why did you want to be involved in the Sommeliers Choice Awards?
It was very flattering to be invited. Personally, the main reason I wanted to get involved was the winemakers and all of the people that are behind every wine. So much care is taken with every one of the products we'll be evaluating. I appreciate their love for wine and believe everyone deserves an opportunity to showcase that dedication to the craft.
What is it about the awards that make it stand out from other competitions?
It's my first time participating but it sounds like there is a good deal of focus around what's in the bottle. Positioning sommeliers and wine professionals in this way allow us to have a voice that can reach beyond the marketing dollars of large brands and level the playing field for all producers.
Do you use awards to pick new trends and see what new styles of wines are coming into the market?
It's a great place to look at emerging trends. The evaluators are tasting wine more frequently than anyone, so they get first looks at innovative products. Trends begin in the on-premise, and the panel of judges are in many cases the ones writing those menus. This award show could be looked at as an excellent barometer of where trends are heading.
What sort of demand do you think there will be when the on-premise does fully re-open and what sort of wines and styles and countries are going to be most in demand?
We expect demand to be through the roof and we're already seeing guests in our restaurants trading up to more often. We're also seeing a lot of interest in exploring new varietals and regions. I'm anticipating a big year for high acid whites like Gruner Veltliner and Albarino with Sauvignon Blanc leading the way. Microtrends to watch will be related to innovative packaging. Canned wine is here to stay but you might see more boxed wines in the on-premise and wine-based RTDs targeted at the cocktail and seltzer consumer.
---
*If you would like to enter your products into the Sommeliers Choice Awards 2021 then click here.
Key Dates:
* Regular Registration Ends: April 20, 2021
* Warehouse Closes: April 23, 2021
* Judging: May 16, 2021
* Winners Announced: May 31, 2021
Pricing:
* Regular Pricing - $120 per wine (April 01, 2021, to April 20, 2021)
BTN Premium Content
BTN Premium Members, please Log In to access the complete Webinar.
Not a member? Please Sign Up now and choose your Premium plan.
BTN membership gives you full access to articles and webinars on BTN + other benefits like:
Full Access to BTN Consultants
Full Access to Buying Leads
Post Unlimited Brands
Full Access to all Articles and Webinars
Full Access to BTN Live conferences presentations and speaker sessions
Discounted rates to exhibit at major partner events and conferences
And Much More...
Your BTN Membership will reduce your trial and error time: Why experiment with your branding and distribution when you can fast-track your time to success? Get 'How to do it' content which will help you improve your sales and grow your distribution. Just one article can help you make better decisions and improve your distribution strategy. View Plans Now