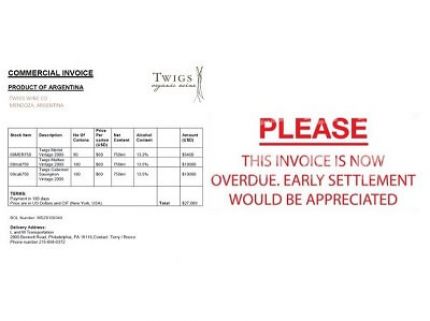 Suppliers in the adult beverage business often take the risk of not getting paid in exchange for the security and benefit of the contract services of a distribution company. Unfortunately for suppliers servicing distributors in the US, the majority of deals are done on a 'promise to pay' basis and suppliers are almost always dependent on their buyer's ability to pay. Most agreements can develop into long standing partnerships if both parties uphold their terms of the contract, but there are always some that end from unfulfilled promises and unpaid receivables.
Hiring collection agencies and lawyers to collect on unpaid invoices is always complicated and a lengthy headache that everyone should try to avoid by being doing their due diligence when selecting distribution partners, developing enduring relationships with the accounts payable department of their buyers and maintaining high business standards across all accounts.
BTN interviews Michael Houlihan and Bonnie Harvey, founders of the world's bestselling wine brand Barefoot Wines, on how to reduce your chances at unpaid invoices and collect on accounts in arrears.
Accounts are always hard to manage when there are accounts receivable that don't get paid. What tips can you give to help suppliers ensure they get paid on time and in full?
In the simplest terms, the agreement between you and your distributor is that you are trading goods for money. If they don't pay you for your goods, then you are going to stop sending goods.
Unfortunately, it isn't this simple for many brand owners. If they stop sending goods then they will ultimately run out of product at the retail level and they will lose all of the work they have put into building their marketplace.
It is really important that you sit down with the principals of your distribution company, including the sales manager and the CEO of the distribution company, and tell them:
• That you really want to build your brand in their territory and that in order to do that you cannot risk having any out-of-stocks;
• That you understand they aren't going to warehouse large orders of an unproven brand that might not sell;
• That in order to prove to them that you are worthy of a growing warehouse inventory you will always be ready to fulfill a quick turn-around on small and large orders.
Once you have assured them of your dedication to building the brand into a portfolio staple, let them know that you cannot supply the company with your goods if you aren't getting paid on time and in full.
From the time of your first invoice, make contact with the account payables department and develop a working partnership with the people responsible for writing your check. You should always understand the process your distribution partners have for paying invoices and there are several important questions you should ask:
• Who approves the invoices?
• Who cuts the check?
• Who signs the check?
• How often does the company pay?
The process of introducing yourself to the various people in the department that are responsible for the above can be difficult, but you need to be persistent and professional as you let each of them know:
• The type of business you are running;
• How you plan to grow alongside them and develop your partnership;
• That you are dedicated to expanding your sales network and staying on top of all orders as you do.
As you communicate your goals, also outline your expectations and make it clear that you are depending on being paid on time in order to accomplish your mission of mutual growth. There are many snowball effects that can affect your business operations if they don't pay on time. Don't be shy, outline your worries to them and underline the fact that you are depending on them to uphold their payment promises.
When you are a new brand and are new to the market, chances are you will be happy to do business with anybody who will take you on, but you really need to take a step back and be willing to say no if the company looks like it might present problems to your business plan. To make sure you are able to build a healthy distributor-supplier relationship and minimize the chances of bad blood because of unpaid invoices you should:
• Develop strategic relationships with upper management;
• Don't wait for accounts receivable problems before you set your political framework within the company;
• Get all contacts - emails, telephone numbers and addresses - of everyone in accounts receivables and touch base on a regular basis before their scheduled invoice payment period.
What are the best strategies to collect from accounts that don't pay?
Do not front any more goods before you get paid. Almost always, this will mean that their downstream customers will be running out of your product, but you need to clearly communicate your expectations to your distributor. Start speaking with management and discover what it is that has caused the missed payment. Take some responsibility and ask them if there is any way that you can make sure this problem never happens again.
It might not sound like the best business practice, but the way some smaller distributors seek attention is by with-holding payment. This forces follow up calls and can open the door for them to talk about market plans and future placements. Be aware of who you are doing business and be ready for all types of behavior. Pre-emptive planning is strongly advised and supportive behavior is a good way to get your distributor back on side.
If it does come to it, there are a number of collection agencies that will work towards securing your unpaid invoices, but they often come with a 25% fee. Just like selecting your distributor, do you homework and make sure the collection agency you are using has a good track record.
Running a growing wine, beer or spirits company can lead to ballooning expenses that exceed receivables (paid or unpaid) and sometimes loans are a must. What tips do you have for suppliers that need to turn to the bank?
Before you go the bank, ask yourself, 'How LITTLE do I really need to borrow?'
Sometimes you can survive by getting your suppliers or buyers to act as your banker. For example, if you are set to expand distribution and are vamping up production maybe your glass bottle supplier can reduce or delay your payments now (deferred revenue for them) or extend credit over a longer period of time on the speculation that the success of your business will also grow their own. Find a way to approach all of your suppliers in a similar manner in order to reduce your net need of credit.
The same philosophy can be applied to your buyers. If you have a large regular buyer who purchases your product on a regular basis you can ask them to up their order at a discounted price, if they pay in cash. This cash is worth much more to you then the discount because you will not have to run it out against your line of credit.
If you do need to turn to the bank, you will want to make sure you have an accurate set of books. They will want to see every dime in and out in order to give you a realistic line of credit that is secured by your receivables. They will also want to secure your debt with what is called a warehouseman's lean. If you have a warehouse in the US that is holding your product, then you are more likely to get a financing from the bank because they can seize their collateral easily.
Whether they ask you or not, meet with the bank every quarter to enlist their support in what you are doing. The more responsible you represent yourself over the course of your relationship the easier it will be for them to swallow a late payment, especially if you phone them prior to the due date to outline the future receivables that you have earmarked to get your account current as fast as possible. Banks want to know that they are going to make money as you make money, so give them every chance to see what opportunities you have in your pipeline and show that you want them to be your strategic business allies, not just your creditors.