Sommeliers Choice Awards 2023 Winners
List Of Leading Beer Associations Worldwide
In this article you will find a list of leading Beer Associations Worldwide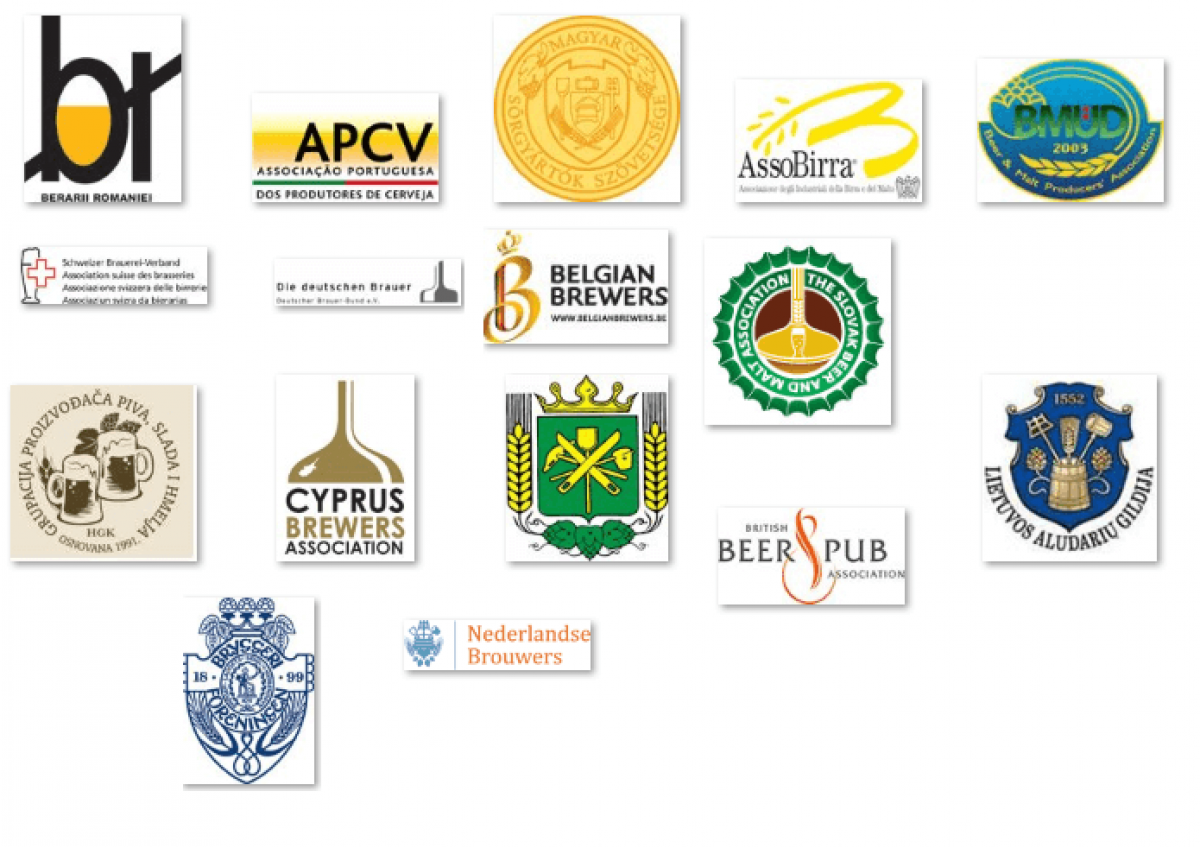 31/08/2013
The Brewers of Europe
Founded in 1958 and based in Brussels, The Brewers of Europe is the voice of the Europeanbrewing sector to the European
institutions and international organisations. Current members are the national brewers' associations from EU Member States, plus Norway, Switzerland and Turkey.
The mission of The Brewers of Europe is, 'To equip Europe's brewers with the tools to freely, cost-effectively and responsibly brew and market beer.'
Priorities

To advocate moderate and responsible beer consumption as part of a balanced, healthy and social life style;
To promote initiatives and campaigns to inform consumers of the benefits of moderate beer consumption and the risk of alcohol abuse;
To support and initiate continued independent scientific research into the relationship between beer consumption, health and behaviour and into issues relating to quality and safety throughout the supply chain;
To promote independent self-regulation as an effective and credible alternative to the consumption control approach;
To fight excise distortions throughout Europe;
To represent the interests of the 2.5 million people who directly and indirectly have jobs as a result of Europe's brewing sector;
To safeguard the traditional, cultural and socio-economic role of Europe's almost 4,000 breweries, 95% of whom are SMEs.
Click Here For More Info
APCV - Associação Portuguesa dos Produtores de Cerveja
Edificio Empresarial EE3
Pólo Tecnológico de Lisboa, Lote 3,
1600-546 Lisboa
Tel. (351) 21 710 1777
Fax. (351) 21 710 1795
President : João Abecasis
Secretary General : Francisco Girio
Email: apcv@lispolis.pt
www.apcv.pt
Asociatia Berarii Romaniei
Brewers of Romania" Association's objectives:
to develop the beer culture in Romania
to promote a responsible beer consumption and also a balanced lifestyle
to educate consumers with regard to beer and the benefits of responsible consumption
to implement, in partnership with various state institutions, different social projects by having impact on certain communities
to represent its members before legislative authorities in areas of common interest
to support the harmonisation of Romanian legislation (with specific reference to the beer industry) with that of the EU
to support and monitor responsible corporate behavior by its members with specific reference to:
Advertising responsible policies;

Care for protecting the environment;
Collection and payment of excise and other taxes
Modern Business Center
Bdul Carol I, nr 34-36, etaj 2, sector 2,
Bucuresti 020922
Phone: +40 21 317 29 77
Fax: +40 317 29 85
President: Hezy Ovadia
General Manager: Constantin Bratu
Email: info@berariiromaniei.ro
www.berariiromaniei.ro
Association of Hungarian Brewers
Margitsziget Grand Hotel 4th floor
1138 - BUDAPEST
Hungary
Phone: +36 1 486 0536/537
Fax: +36 1 266 3661
Chairman : Dr Klára Csík
Email: mssz@sorszovetseg.hu
www.sorszovetseg.hu
Associazione degli Industriali della Birra e del Malto
L 'Industrial Association of Beer and Malt was born in 1907 and brings together the leading companies that produce and sell beer in Italian which together cover more than 98% of the national production of beer and represent over 75% of the beer consumed in Italy, giving and work directly with its suppliers to 144,000 people. ASSOBIRRA place for the beer sector institutional functions, promotions, and technological development. Institutional tasks of the Association are mainly related to representation, both in Italy and abroad, of member companies with regard to legislative, legal and trade unions. In all these areas ASSOBIRRA plays an important role in control and information system with the aim to protect the interests of its members and provide them with advice, general directives and assistance. Association of Industrialists of Beer and Malt is also the body instructed to monitor the consumption of beer in Italy.
Viale di Val Fiorita, 90
I - 00144 ROMA
Tel. : (39) 06 54 393 201
Fax : (39) 06 591 29 10
Président : Dr. Alberto Frausin
Secretary General : Filippo Terzaghi
Email: segreteria@assobirra.it
www.assobirra.it
Beer and Malt Producers´ Association of Turkey
The Beer and Malt Producers' Association is founded in June, 2003. In particular, the corporations which operate in the production and / or marketing activities concerning the beer and malt sector or the top-level managers of such corporations can be members in this association. The association, which is headquartered in Ankara, has 26 members as four of them are legal entities at present. Apart from these legal entity members which could be listed as Anadolu Efes Biracılık ve Malt Sanayi A.Ş., Bimpaş Bira ve Meşrubat Pazarlama A.Ş., Efes Pazarlama ve Dağıtım Ticaret A.Ş. and Türk Tuborg Bira ve Malt Sanayi A.Ş., the remaining 22 members are composed of the managers who takes duty in various stages of these mentioned corporations.
The purpose of the association is to deal with the problems of the members which perform the beer and malt production or marketing and to develop some suggestions of solutions for these problems, to defend the rights and benefits of the members at the sector basis, to make contribution to the establishment of the competitive environment which will ensure the developments of the sector, to inform the consumers, to observe the international developments and to convey the new information concerning the sector to its members and to perform the duties which are directed at the development of quality.
Association of Slovene Brewers
Pivovarniška 2
61107 Ljubljana
Slovenia
Phone : +386 1 61302875
President : Mr Matej Oset
Email : moset@pivo-lasko.si
Belgian Brewers
"Belgian Brewers" is one of the oldest professional associations in the world and almost all Belgian breweries belong to it. Its most important task is to defend the general interests of the brewery sector in the economic, social and ethical spheres.
The federation acts as official spokesman of the brewers with regional, national, international and European authorities. Its action covers all sectors of importance for the brewing industry and is directed in particular at economic, social, national and international regulations, fiscal and legal affairs, agricultural problems and activities for the promotion of beer.
Maison des Brasseurs
Grand´Place 10
B - 1000 BRUXELLES
Tel. : (32) 2 511 49 87
Fax : (32) 2 511 32 59
Président : Theo Vervloet
Directeur Général : Sven Gatz
Email: info@belgianbrewers.be
www.belgianbrewers.be
The Maltsters' Association of Great Britain
Created by The Maltsters' Association of Great Britain, more commonly known by the abbreviation MAGB. We are the trade association of the UK malting industry, and represent over 98% of UK malt production.
UK Malt contains information on:
Malting Barley and Malt information.
How Malt is Made? And What is Malt?
Barley growing information for farmers wanting to produce the best malting barley.
Where to purchase and source the finest Malting products in the UK.
Maltsters producing Malt for sale in the UK and Malt Exports to the World.
The Malt Supply chain and the Assured UK Malt scheme.
Malt Images from our Photo Gallery
We supply help and guidance to the malt supply chain, which ranges from the barley growers, the UK maltsters and their customers, to the ultimate consumers of the drinks or food containing UK malt. More Info
Alupro (Aluminium Packaging Recycling Org.)

Alupro is working to meet the industry's obligation to meet, and exceed, recycling targets for aluminium packaging.
We are achieving this by working in partnership with local authorities, the waste management industry and the community recycling sector to develop and stimulate the UK's collection infrastructure. We also run consumer information and education campaigns to encourage participation in recycling schemes.

Website: http://www.alupro.org.uk
Asociacion Nacional de Fabricantes de Cerveza

Given the known need to join forces to defend the interests that were common, on May 12, 1922 a representative group decided to found the Spanish Brewers' Beer Manufacturers Association of Spain '. El Águila, La Cruz del Campo, Mahou, Damm, Estrella de Galicia and La Zaragozana, were just some of the brands that were represented in the organization since its inception. And since then, because of their own evolution and adaptation to changing political and economic environment, the association would have to experience several changes in its name and interests, as follows.

1940-1968. The Section for Beer and Malt Spanish brewers attended from 1940-1968, two changes in the name of their association ceased to be the "Brewers Association of Spain" to be called "the National Association of Beer" and shortly after "Section of Beer and Malt", as part of "National Union of the Vine, Beer and Drinks." Not surprisingly, the shortage of raw materials was the main concern for processors of beer in the early years of this time interval.
To this end created the Spanish Society for the Promotion of Hops. At this stage there were also new beer companies such as San Miguel and Canary Brewing Company.The Spanish beer industry at the time also showed a growing interest in increasing the quality of product, which led to the creation of the Spanish Association of Beer and Malt. It also began its approach to international brewers agencies such as the EBC (European Brewery Convention).

1968-1977. National Association of Spain Brewers Since 1968, the organization, as "National Association of Brewers of Spain", attended a major modernization of its breweries. New companies were born, others disappeared and took place the first movements of concentration in a troubled, primarily for packaging materials, prices and the first negotiations between our country and the European Economic Community.

1977. National Association of Brewers Effective September 27, 1977, year of foundation of Anface or "National Association of Manufacturers of Beer" and until January 3, 1995, moment of birth of "Brewers of Spain" had place a decisive period in the history of brewing associations. On the one hand, to attract investment in the Spanish beer industry as a direct result of the entry of our country into the EEC and the growing interest in the Spanish market and consumption, revived sector concentration giving rise to large brewing groups would achieve, along with the traditional brewers, we are now the third largest producer of beer in the framework of the European Union. Moreover, the internationalization of our beer was reinforced with the integration of the joint national and international organizations of special relevance, which continues today, helping to position the Spanish brewing industry at the highest level within the European brewing sector.

Website: http://www.cerveceros.org
Croatian Chamber of Commerce Association of beer, malt and hop producers
Rooseveltov trg 2
HR - 10000 Zagreb
Tel. : (385) 1 456 1 555, 4561 643
Fax : (385) 1 456 15 45
President : Pero Ivanković
Secretary: Sandra Tankosić
Email : stankosic@hgk.hr
www.hgk.hr
Cyprus Brewers Association
P.O.Box 21455
1509 Nicosia
Cyprus
Tel : (+357) 22 88 98 00
Fax : (+357) 22 66 56 85
President : Kostas Koutsos
Secretary : Nikos Georgiades
Email: n.georgiades@keopgroup.com
Czech Beer and Malt Association

Czech Beer and Malt Association brings together breweries, malt houses and other institutions that are directly or indirectly involved in the production of beer in the Czech Republic. The Association builds on a long tradition, dating back to the second half of the 19th century. At the time, our country established the first professional brewing and malting organization. The most important of these was established in 1873 under the name of Society for Brewing Industry in the Czech Kingdom.
The main objective of the Association is to promote and protect the rights and the common interests of its members. The Association supports the development of activities that contribute to the smooth operation of objects of the members, ensures contacts with legislative bodies, relevant government authorities, Economic and Agricultural Chamber of the Czech Republic, the Union of associations of employers, industrial, scientific, research, training, business and agricultural institutions and gives them authorities proposals and opinions to promote the common interests of its members. The association represents the interests of its members and the international field in the brewing and malting institutions and organizations.
Lipova 15
CZ - 120 44 Praha, 2
Tel : (420) 224 910 641
Fax : (420) 224 914 542
President : Frantisek Šámal
Acting Secretary General : Martina Ferencová
Email: martina.ferencova@cspas.cz
Web: www.cspas.cz
Deutscher Brauer-Bund e.V.
The German Brewers Federation is composed of member associations and direct members. Member associations are regional associations and organizations of the brewing industry. Direct members are companies and groups of the brewing industry, which have at least 3.5 million hectoliters of beer production. The German Brewers Federation are therefore now twelve members, of which five regional associations or Societäten, a trade association and six direct members. In the member associations breweries of all sizes are organized, the interests of the German Brewers Association represents companies of any size and shape alike.
Neustädtische Kirchstraße 7A
D - 10117 BERLIN
Tel: (49) 30 209167-0
Fax: (49) 30 209167-99
Präsident : Dr. Hans-Georg Eils
Hauptgeschäftsführer : Peter Hahn
Email: info@brauer-bund.de
www.brauer-bund.de
Lithuanian Breweres´ Guild
In order to preserve the Lithuanian brewing traditions and encourage the public to look at beer as the unique cultural heritage of the beer company focused on Lithuanian brewers' guild.
This organization continues to qualitatively new Lithuanian Brewers Association activities - care segment of the beer industry self-regulation, ethical business and competing traditions in the promotion of the cultural heritage of beer, beer culture fostering. Lithuanian Brewers Association 1991 28 November. founded leading beer industry leader in general economic, legal and information technology to serve the interests: Vilnius State of beer and non-alcoholic beverage company Tauras, state breweries Ragutis, KALNAPILIS, "Governorate" and "Lighthouse" and Mazeikiu agrofirma "The Bear."
Lithuanian Brewers Guild is open to all Lithuanian breweries and malt producers.
A.Tumėno 4,
LT - Vilnius 01009
Lithuania
Tel : (370) 52 498 495
Secretary General : Saulius Galadauskas
Email: saulius.galadauskas@aludariai.lt
Slovak Beer and Malt Association
Piva a sladu
Zahradnicka 21
811 07 Bratislava
President: Julia Hurna
Email: pivoslad@euroweb.sk
Swiss Breweries´ Federation
The breweries of the Swiss Federation Brewery wait around 19 April with various activities on and so bring the age-old craft of brewing and beer with all its cultural diversity as the population closer. At the same time represents the 19th April and the start of the seasons presents beery evening will take place in Zurich, the religious festival "ad gloriam cerevisiae" (for the glory of beer) instead.
The Swiss Brewery Association

Founded in 1877 the Swiss Brewery Association (formerly Swiss brewers association) SBC owns 16 Swiss companies Brewery with a minimum output of 2000 hl.
Purpose of the Association
At SBC, each Swiss brewery or brewery group Join with beer production of more than 2,000 hl. It safeguards and promotes the professional and economic interests of the members. He also promotes the rationalization in the brewing industry through standardization, research and experience.
Organs
The supreme body is the general meeting. The Board consists of seven to nine members. He is in his composition, the mirror image of all the members by big, medium and small breweries are adequately represented. The management is handled by a secretariat led by the director of SBV. To study specific topics commissions are formed.
Engimattstrasse 11
P.O. Box 2124
CH - 8027 ZURICH
Tel. : (41) 44 221 26 28
Fax : (41) 44 211 62 06
President : Dr M. Zemp
Secretary General: Marcel Kreber
Email: info@bier.ch
www.bier.ch
Associacao da Industria Cervejeira Portuguesa (AICP)

A primeira organização que reuniu os produtores de cerveja em Portugal foi fundada no dia 24 de abril de 1986, com o nome de AICP – Associação da Indústria Cervejeira Portuguesa e com Pedro José de Mello e Castro como primeiro presidente do Conselho Diretivo, que era também, à data, presidente da Centralcer-Central de Cervejas,E.P.

Já em 2003, a 9 de abril, passados 17 anos, durante a Presidência de Manuel Ferreira de Oliveira à data CEO da Unicer, a designação AICP é alterada por decisão dos seus associados, passando a chamar-se APCV – Associação Portuguesa dos Produtores de Cerveja, nome que mantém até aos dias de hoje.

Atualmente a APCV tem como presidente do Conselho Diretivo, António Pires de Lima, presidente da Unicer – Bebidas de Portugal, SGPS, S.A, e é composta por seis associados, nomeadamente, ECM – Empresa de Cervejas da Madeira, Sociedade Unipessoal, Lda, Fábrica de Cervejas de Refrigerantes João Melo Abreu, Lda, Font Salem Portugal S.A, SCC – Sociedade Central De Cervejas E Bebidas, S.A., Sumol+Compal Marcas, S.A. e Unicer – Bebidas de Portugal, SGPS, S.A.

Website: http://www.apcv.pt
Association des Brasseurs de France

Website: http://www.brasseurs-de-france.com/
Association des Buveurs d'Orges (ABO)
In the year of grace 1991 ...
OBA ... rose from the depths brewing.
Member of the European Beer Consumers Union (EBCU) since 1995, the group of young and happy beer lovers beginnings has evolved into a credible and professional organization.
C is a nonprofit, independent and apolitical that focuses on the following points:
• promote and distribute beer and culture through various events.
• attract the attention of consumers and consumers about the diversity of both native and foreign beer.
• support traditional or local breweries.
For this, the ABO organizes various events:
• European Beer Festival, the largest beer festival in Switzerland in early June each year in Vevey, with more than 200 different beers.
• tastings in the form of seminars or theme parties.
• of brewery tours, trips in the major regions of the beer.
Finally, the ABO publishes two to three times per year The Courier Barley, a newsletter reflecting the brewing time news and activities of various local branches.
A Barley will ya please!
Contrary to popular belief too, beer offers unimaginable diversity has nothing to envy to the wine [the contrary ...]: color, appearance, aroma, taste, effervescence, body, power, alcohol content, all parameters that vary considerably depending on the style. Similarly, it is the golden beers, brunettes, redheads or white, clear, problems, bitter, sweet, sour, and all possible combinations of these characteristics. Add to that a variety of flavors (fruity, caramel, malt, chocolate, yeast, alcohol) and consistency (stout, water, still or sparkling). Beer is still characterized by the diversity of its production methods. Include the high, low and spontaneous fermentations (depending on the type of yeast) fermentation in the bottle, kilning (drying) of malt at different temperatures, the use of different ingredients (malt, raw cereals), the addition of fruit (as in Kriek and Frambozen) or the use of particular methods (smoking malt, water removal by freezing, etc..). Hopefully this brief overview will whet your curiosity and awaken your cravings discoveries.
Website: http://www.abo-ch.org
Association of Malt Products Manufacturers

The European Malt Products Manufacturers Association (EMMA) was formed in 1975 to gather together manufacturers of malt products food ingredients to promote and further the interests of this part of the food ingredient industry. In this way EMMA shall promote the interests of the trade, to watch all public proceedings, litigation or other proposals, which may affect the trade, to secure to members the advantages of co-operation and unity of action and to afford a means for the protection of the trade in any circumstances which may arise and which may affect its interests, including entering into contracts on behalf of members to achieve the aforesaid objects.

EMMA meets regularly twice each year usually during exhibitions pertinent to this food sector to discuss technical and legal issues that are having, or may affect Members' future interests in Europe.
Website: http://maltproductsassociationeurope.org
Nederlandse Brouwers
Dagelijkse Groenmarkt 3-5
NL - 2513 AL Den Haag
PB 179
NL-2501CD Den Haag
Tel. (31) 70 31 80 710
Fax (31) 70 31 06 173
President : Hans Wiegel
Director : Cees-Jan Adema
Email: info@cbk.nl
www.nederlandsebrouwers.nl
The Irish Brewers´ Association
The Alcohol Beverage Federation of Ireland (ABFI) is the umbrella representative organisation for alcoholic drinks manufacturers and suppliers in Ireland. Its constituents include the beer, spirits, wine and cider associations. ABFI is a sector association within IBEC.
84/86 Lower Baggot Street
IRL - DUBLIN 2
Tel. : (353) 1 6051558
Fax : (353) 1 6381558
Director : Thomas Burke
Email: thomas.burke@ibec.ie
www.abfi.ie
Association of Slovene Brewers

Historical origins Lasko back to the year 1825, when the mead producer and gingerbread Franz Geyer in the former Valvasor hospital, arrange craft brewery building which still stands today. Since then it's been 185 years, Lasko Brewery has grown from a local brewery's leading producer of beer and with other companies in the Group into a leading producer of mineral and natural waters, and other non-alcoholic beverages in the Slovenian market.
Manufacture of beverages is one of the more competitive industries where the greatest role playing multinational corporations, trading companies and power users.

Today, Lasko Brewery moving towards intensive business development with a core business focus: to provide customers the highest quality beer with excellent care market. With modern brewing technology, computerized process controller and Business Informatics develops appropriate production and marketing programs that deliver superior quality beer and other products, and thus strengthens its popularity among domestic and foreign lovers of beer.

The umbrella brand Lasko features the following articles: "flagship" Lasko Zlatorog , special beers Club Lasko , Lasko Dark and Light Lasko - pale ale, Export Pils and Lasko Malt malt beverage flavored with apples and peaches. When these stamps produces a line of products Bandidos , beer flavored, in three different flavors: Bandidos Tequila, Bandidos Bandidos Ice and Sun. Brand Bandidos in spring 2010 changed its corporate image that is closer to its target audience.

Despite tough market conditions, the brewery Lasko, dd, in the field of beer to maintain its leading position in Slovenia.
Lasko brewery group now unites producers of beer, mineral, spring and natural waters, soft drinks, spirits and other alcoholic beverages, syrups for making beverages, newspapers and publishing activities.

Website: http://www.pivo-lasko.si/
Association of the Hungarian Brewers

The Association of Hungarian Brewers (AHB or AHB) of the domestic beer market, which covers nearly 90%, representing the three largest domestic brewer organization. The beer industry is unquestionable importance in the Hungarian economy, our country is one of the largest food processing sector turnover. The industry, with its tax contribution of £ 60.8 billion in 1711 major direct and indirect employment for 50 000 people a major player in the Hungarian economy.

Website: http://www.sorszovetseg.hu/
Associazione degli Industriali della Birra e del Malto

L 'Industrial Association of Beer and Malt was born in 1907 and brings together the leading companies that produce and sell beer in Italian which together cover more than 98% of the national production of beer and represent over 75% of the beer consumed in Italy, giving and work directly with its suppliers to 144,000 people. ASSOBIRRA place for the beer sector institutional functions, promotions, and technological development. Institutional tasks of the Association are mainly related to representation, both in Italy and abroad, of member companies with regard to legislative, legal and trade unions. In all these areas ASSOBIRRA plays an important role in control and information system with the aim to protect the interests of its members and provide them with advice, general directives and assistance.

Association of Industrialists of Beer and Malt is also the body instructed to monitor the consumption of beer in Italy. For this promotes an annual quantitative research on the consumption habits of the Italians, as well as studies and research on beer quality and production technology. ASSOBIRRA also to help people better understand and appreciate this drink, has long promoted the product with advertising campaigns aimed collective education on responsible consumption and the development of culture of the product. ASSOBIRRA protects the interests of the industry and the product in the awareness of the critical issues related to a consumption not responsible for the beer as alcoholic beverage. ASSOBIRRA adheres, in addition to Confindustria, also Federalimentare. It is part of BoE (The Brewers of Europe), the Euromalt (Comité de Travail des Malteries) and EBC (European Brewery Convention).

Website: http://www.assobirra.it
Beverage Industry Environment Council

Beverage Industry Environment Council (BIEC) and its member companies are a leading force in the development of environmentally responsible waste management practices. They actively support the development of the extensive kerbside recycling infrastructure in Australia in co-operation with Federal, State and local Government. BIEC has made significant contributions to the reduction of litter in Australia.
BIEC activities are funded through a voluntary levy system on the sale of beer and soft drink.
Website: www.biec.com.au
Bractwo Piwne

Objectives EBCU:
Promotion of European beer culture, Promotion of traditional beers, Promoting diversity and provide customers with a choice, improve the image of beer as a beverage in Europe, representing the interests of consumers
EBCU priority is to ensure that competition and choice in the European beer market.

Fight with the consolidation of brewers in the big corporations that undermine fair competition and limit customer choice, Prevent abuses carried out by the dominant breweries, Support small breweries in their efforts to enter the market, Try to remove non-regulatory barriers that limit customer choice for, Maintain traditional beers

Taxes: fight tax inequality within a market, Support the reduction of the tax burden on small breweries
Empowering customers: to promote breakdown of the composition of each product, Promotion of effective legislation ensuring consumers receive the goods declared and the high quality and adequate quantity of, support initiatives in support of cultural and responsible consumption of beer

Key facts: The beer was brewed in Europe for over 2000 years, Beer is a natural and healthy product made from barley, hops, yeast and water, Europe is a net exporter of beer, Studies have shown that moderate consumption of beer can bring health benefits, Brewing provides more than 740,000 jobs in Europe

Website: http://www.bractwopiwne.pl/
Bryggeriforeningen
Bryggeriforeningen has developed a tool so that members can measure their CO2 emissions precisely. It is good for both the environment and businesses.
Faxehus
Gamle Carlsberg Vej 16
DK - 1900 København V
Tel. : (45) 72 16 24 24
Fax : (45) 72 16 24 44
President : Carsten Händel
Director : Niels Hald
Email: info@bryggeriforeningen.dk
www.bryggeriforeningen.dk
Brewers Association of Canada

Established in 1943, the Brewers Association of Canada is a voluntary association of 25 brewers from coast to coast that represents 90% of the beer brewed in Canada.
The Brewers Association of Canada works with its members, governments, stakeholders and the public to progressively improve the marketplace for beer while encouraging the responsible use of beer and the protection of the environment.

Website: http://www.brewers.ca
Brewing and Malting Barley Research Institute

Supporting world-class malting barley in Canada. Canadian malting barley is known around the world for its high quality. BMBRI supports this leadership position by helping to ensure new Canadian malting barley varieties meet the premium standards of BMBRI members and their customers. This enables the production of a steady supply of preferred malting barley varieties for BMBRI members, allowing them to deliver top-value malt and beer to customers in Canada and around the globe.
Driving development, evaluation and communication

BMBRI's activities build upon three pillars: Research & Development, Evaluation and Communication. Key activities are at the pre-commercial level and take on several forms, including:
• Funding research in barley, malting barley and related areas
• Providing feedback to breeders, researchers, and producers about malting barley quality traits that are important to the industry
• Coordinating collaborative trials for the registration of new malting barley varieties
• Coordinating generic plant-scale test information exchange among BMBRI members
• Contributing to malting barley variety eligibility and recommended lists
• Providing information and resources to industry members that support production and marketing of Canadian malting barley, malt and beer
• Representing the interests of industry members to federal and provincial bodies on technical and scientific aspects of seed regulations and variety registration
• Sponsoring seminars to encourage the flow of knowledge between the malting and brewing industry and the research community, as well as producers
• Communicating the outcomes of BMBRI's development and evaluation projects, at domestic and international forums
Representing leading maltsters and brewers
Strong industry membership is the foundation of BMBRI, providing the resources and expertise necessary to critically evaluate new malting barley varieties and identify industry needs. BMBRI currently (as of March 2010) represents nine leading North American maltsters and brewers.

Website: http://www.bmbri.ca/
Malt Distillers Association of Scotland

The objectives of the association are:
• to increase the friendly interchange of ideas amongst themselves; and
• the removal of all obstructions to properly carry out their business, not only as regards improvements to the excise laws, but also for making of new arrangements as to the customs of sales (which would put both buyer and seller on a more equitable footing and ensure a uniformity of practice.)
The association is currently assisting with such matters as animal feeds, environmental issues, and wage negotiations, as well as with customs and excise.
Website: Not Available.
Maltsters' Association of Great Britain

Maltsters' Association of Great Britain The MAGB is the trade association of the malting industry in the UK. Close connection with the brewing and distilling industries has meant that malting has long suffered government attention both directly and indirectly. The Association came into existence in the 19th century with the specific aim of ameliorating the restrictive regulations then applied to malting practice and it continues to promote and defend the industry.

Taxation of malt became a major source of public revenue in 18th century Britain. Measures to avoid fraud and evasion by maltsters led to legislation that prescribed every step in malt production. These regulations hindered the technological development of malting and became a considerable nuisance even to the most law-abiding maltster. Matters came to a head in 1827 with the introduction of a new Malt Act that not only listed 101 penalties for transgressors but also further complicated already labyrinthine regulations. On 3rd December 1827 about thirty maltsters met in London to form an "Association of Maltsters of the United Kingdom". Soon the new body had about eighteen hundred members and a joint committee
comprising Association members and Surveyor's-General of Excise was established to negotiate reform of taxation. By 1830 nearly two-thirds of regulations and penalties were repealed with further reform following to minimise vexation to the maltsters.
The Association had proved its worth. Apart from this early success no record of the Association's activities remains and it is believed to have been wound-up in 1880 following repeal of the malt tax.

Website: http://www.ukmalt.com

British Beer and Pub Association
The British Beer & Pub Association is the leading body representing Britain's brewers and pub companies. The Association is more than a century old and was originally founded as the Brewers' Society in 1904. Our members account for some 96% of beer brewed in Britain today, and own more than half of the nation's pubs. These members are also diverse in their activity – from international brewers, to market-leading managed pub companies, the nation's largest tenanted pub companies and historic family brewers. This diversity of membership enables us to speak up for the industry, championing its cause, whilst also being able to credibly claim a wide representative base.
The Association exists to promote and protect one of the nation's most iconic and important industries. Not only is it a significant contributor to the economy, but also a vital cultural icon unique to Britain. Almost a million jobs are reliant on our sector, and the economy is £21.4 billion better off.
Ground Floor
Brewers' Hall
Aldermanbury Square
London EC2V 7HR
Tel. (44) 207 627 9191
Fax (44) 207 627 9123
Chairman : Jonathan Neame
Secretary General : Brigid Simmonds OBE
Email: enquiries@beerandpub.com
www.beerandpub.com