Sommeliers Choice Awards 2023 Winners
How to use Twitter for your Business and Marketing
Beverage Trade Network looks at Beginner and Advanced strategies on how Wineries can maximize their exposure on Twitter and connect with the people that matter.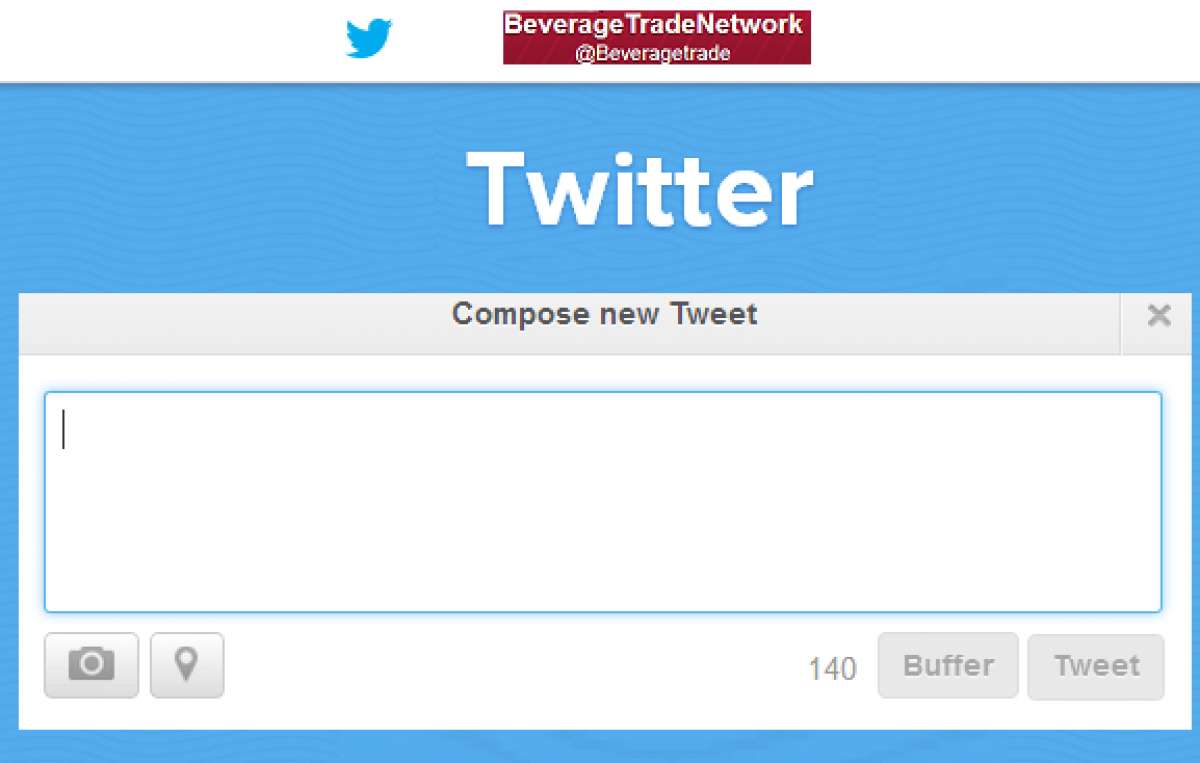 25/11/2013
Since it's induction, Twitter has become a huge player in any modern Internet marketing campaign. From connecting with customers to negotiating new partners, Twitter is an indispensable tool for any Winery looking to expand.
Communicating on Twitter
Twitter offers four different ways to communicate with other members on its platform. All are very similar, but each has its on use. Let's take a look at how to take full advantage of them.
1. Tweeting

Image: This screenshot shows you what a twitter message box looks like.
Mastering a successful tweet is easy. They are the most basic function of Twitter and understanding the various ways to utilize them is a must. First and Foremost, here are a few things to keep in mind:
Attaching Pictures to tweets is a great way to interact with your followers and the twitter community. Just click on the camera button in the message box and Twitter will prompt you to add a photo from your computer.
Adding your location can help you connect with other people nearby. Just click on the pin button beside the camera and Twitter will do the rest.
Including Links in your tweets is an easy way to connect your twitter account to pictures and messages from outside sources.
Tweets can only be 140 characters and every link or picture you add uses approximately 20 characters. Make sure to plan your tweets accordingly!
Use the Tweet function to post news, events, ideas and whatever else that you want to share with your community. Make your messages fun and interactive and always try to connect with your following.
One of the most important features of the Tweet function is using the @ feature to send tweets directly to other twitter accounts.


Image: This screenshot shows you how to use the messaging feature of a tweet.
By using somebody's twitter name, for example @BeverageTrade, at the start of your tweet you are instructing Twitter that your message is intended for that members twitter feed. This allows for easy conversations between you and your followers and keeps the exposure of your tweet down.
You can also 'Mention' somebody in your tweets by putting their twitter name in the body of your tweet. This feature is very similar to the above example, but in this case the tweet is much more public. Use this feature if you want everybody to know what you have to say to one of your followers.
2. Retweet

Image: This screenshot shows you what a Retweet message box looks like.
Retweeting is a quick and easy way to share interesting news or messages that you found on other twitter member feeds, on your HOME feed or on your DISCOVER feed. When you Retweet you are sharing some one else's tweet with your followers and helping them find what they might not necessarily have found on their own.
3. Reply
Twitter's Reply feature allows you to respond to a tweet that you find interesting. They are a convenient way to get in contact whoever posted the tweet and tell them how you feel about what they had to say. They are also a great way to reply to a tweet in which you have been mentioned.

Image: This screenshot shows how you can keep a running conversation going with the Reply function.
4. Direct Message (DM)
Using Direct Messages is the most private way to communicate with your followers, but for first time Twitter users they are a bit tricky to find:

Image: This screenshot shows you how to access Twitter's Direct Messaging system.
To send a DM you must go to the Options drop down menu that is beside the search bar. Once selected a pop up box will appear that looks like this:

Image: This screenshot shows you what the DM message box looks like
Now you are ready to send a DM! First, type in the name of the twitter account that you would like to message in the box at the top. Now you can send your follower a nice personalized message, but before you do there are two main things about DMs you should know about. Like Tweets, DM's are also limited to 140 characters and perhaps more important is the fact that you can only DM people who follow you. This means that you have to establish contact with who ever you want to contact privately over Twitter first

We Have Covered the Basics, What's Next?
Below we have outlined a few trade secrets that advanced users exploit to maximize Twitter's platform and reach a larger audience.
1. Using Hashtags to Expand Your Exposure.
According to Twitter the definition of a hashtag is:
definition: The # symbol, called a hashtag, is used to mark keywords or topics in a Tweet. It was created organically by Twitter users as a way to categorize messages. https://support.twitter.com/articles/49309-using-hashtags-on-twitter
In other words, using Hashtags in your tweets is a great strategy to employ if you are trying to target a certain audience. Users interested in the keyword specified by the hashtag will see seek out your tweets.
Below we have outline two different examples of how to use hashtags.

This screenshot shows the use of a genre specific hashtag.
In the above example we have used a hashtag for a very specific topic. The use of "#wine" will ensure that the tweet will find other Twitter users interested in talking about wine.

This screenshot shows the use of a trend based hashtag.
In this example we have decided to use a trendy hashtag. Using #humpday here will give the tweet a much broader scope of readers. Use these kinds of general hashtags if you are looking to connect with a new audience.
The number of twitter hashtags is continually expanding and popular ones ever changing. The key to using hashtags successfully is to find ones that are relevant to your post. Here is a quick list of hashtags that frequently pop-up in the wine community:
• #wine
• #winewednesday
• #winerelease
• #winechat
• #wineoclock
• #Pinot
• #Chardonnay
• #(Varietal Name) – most varietal names have hashtag followings.
• #Napa
• #(Region)
2. Using Lists to Organize Your Twitter Account
One of the most convenient ways to organize your Twitter Account is to create Twitter Lists. With the List tool you can categorize your friends, industry peers and other interesting feeds into different feeds. This enables you to find the tweets from your favorite accounts with out having to sift through every Tweet from the thousands of accounts that you follow. You will find the "Add or remove from lists" feature in the 'Person' drop down menu button beside the FOLLOW button of your targeted Twitter account, as shown below:

Image: This screenshot shows you how to add or remove accounts from your lists.
Once you have added members to your newly created lists you can access them by clicking on the Lists link in the 'Options' drop down menu beside the main search bar. Check out the screenshot if you're confused:

This screenshot shows where to access your Lists
Creating a few lists and only following the accounts you choose to add to them will make it much easier for you to concentrate on networking with the people that really matter.
3. Use Advanced Searches to Connect with New Members
One of the most useful tools that Twitter offers is their Advanced Search page. For first time users it is very hard to find. In fact, some advanced users don't even know that it exists. Make sure to bookmark https://twitter.com/search-advanced because you will find that it is a god send when you are looking to find new, relevant feeds to follow.

This screenshot shows you the different search parameters you can use in Twitter's Advanced Search Page
The Places search option is a great way to find people in your Area code, State, or Country. Use these different search parameters and key words to discover interesting feeds that you can follow.

Now you have all the tools necessary to run a successful Twitter campaign. Be sure to try everything out and get comfortable with the platform. The best Twitter feeds are those run by the people who love to Tweet!
Be sure to check back with BTN in our next news letter where we show you how to embed your Twitter feed into your webpage.