Sommeliers Choice Awards 2022 Winners
A Brief Guide to Being a Wine Representative
BTN Looks at the differences between the three tier and free market distribution systems and what they mean to wine reps in the UK.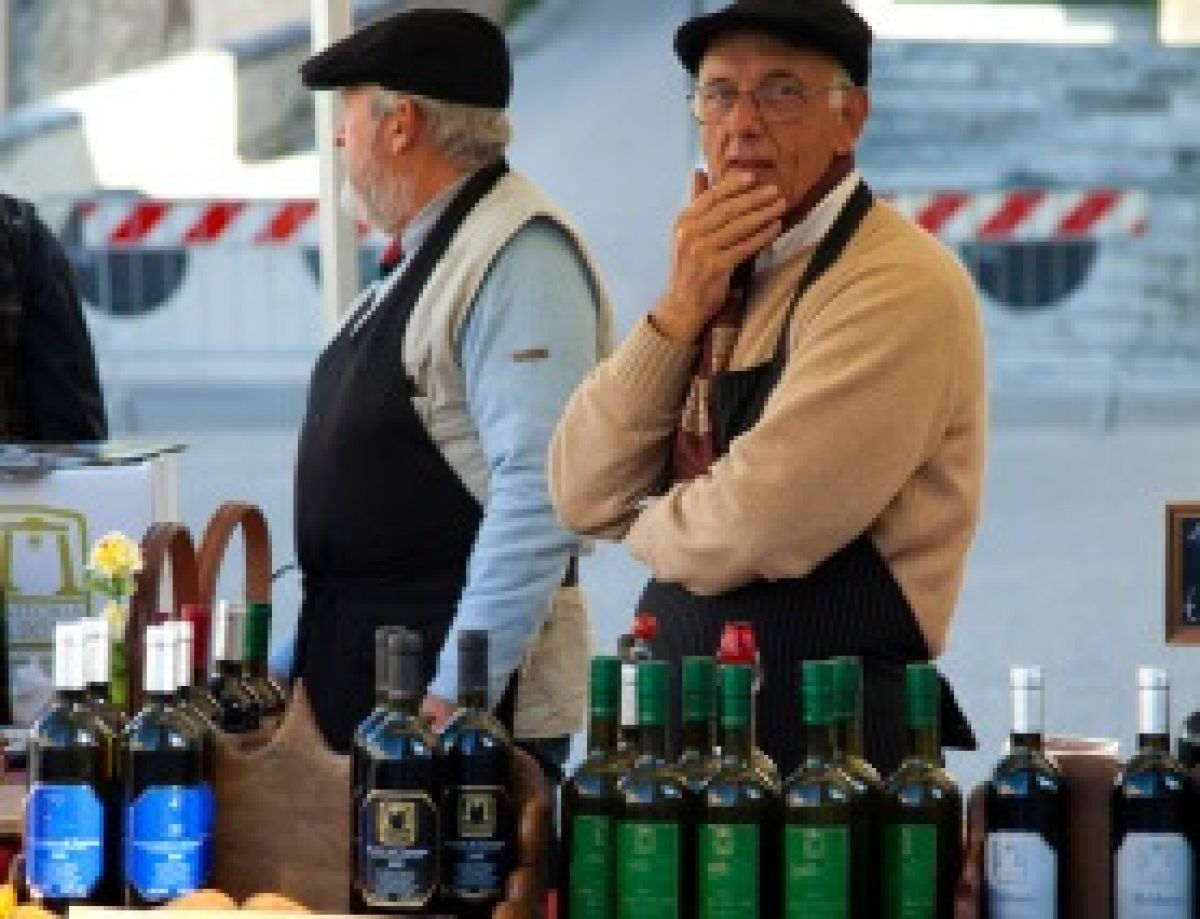 20/01/2014
The free enterprising UK alcoholic beverage industry offers different challenges to wine reps than those present in the heavily controlled three-tier system. (Image: Small Italian Winery at Local Market where owner is their wine rep and wine maker)
The UK industry is an unrestricted marketplace wherein retailers are able to order directly from suppliers and distributors and wholesalers commonly act as independent entities competing for market share. In comparison, the three-tier system was set up in the US to protect against counterfeit products and ensure proper state wide taxation, but it's restrictive nature greatly limits producers to actively sell their products to end consumers. Retailers in the US are restricted to filling stock from licensed wholesale distributors and suppliers entering the US market will typically sign exclusive statewide, or otherwise geographically bounded, distribution agreements with one distribution company.
In most states in the US, wholesale and distribution has become synonyms in the alcoholic beverage industry. Wholesale distributors generally represent a large number of beverage brands from importers and producers and retailers are limited to sourcing products from their state distributors. The UK's system allows for wholesalers and distributors to act in the more traditional sense and wine representative's in the UK market can work for wineries, distributors or wholesalers.
Each type of wine rep has unique perks and responsibilities from one another, but their overall objectives are always the same. They are employed to understand client mentality and personalize brand image to fit the needs of their customer and they work in highly competitive environments trying to sell the brands they represent.
Distributor Wine Representatives are dynamic salesmen.
The majority of UK reps work for wine distributors as salesmen representing the distributor's portfolio of wines from around the world. By having an extensive catalog to call on, wine reps are capable of catering to the needs of various on-premise and off-premise accounts and are expected to deal in high volume orders. Portfolio turn over is critical to their success and Sales are their number one priority - they almost always work a monthly sales budget. Although they aren't direct representatives of a winery, they are continually promoting their brands to increase brand recognition and ultimately pad their account sales figures. They work hard to maintain and develop customer relations in order to keep their account numbers healthy.
Wholesaler Wine Reps Typically Represent a Broad Scope of Brands
Typical wholesaler wine reps in the UK are often wholesaler representatives representing a whole range of brands that will usually also include beer and spirit companies, much like a wholesale distributor rep in the US. Wholesale companies in the UK operate on high volume and low margin, creating a different work environment for wholesaler reps than that of a distributor rep. Wholesalers act as a depot for retailers and venue owners to source all of their beverage needs in one order. As such, they usually carry the large name brands that they can move quickly. Wine Reps are often selling the service of their wholesaler, but that service is heavily dependent on the products they offer.
Account managers can also be given the task of ensuring their wines receive adequate marketing from their retailer clients to help keep a healthy depletion rate at the retail level. A healthy relationship between the label image, wholesaler and retailer is the top priority of a wine rep working for a UK wholesaler.
A Winery's Representative
A winery wine rep's duties in the UK can differ from those in the US. UK reps seldom represent local wineries and are almost always contracted by international corporations to represent a brand. They act as the face of the company in the UK and are expected to cater to executives from VIP accounts and organize wine tastings, promotional events and trade shows to increase brand recognition. They are versatile brand ambassadors who keep strong ties to their clients to ensure repeat orders and attempt to create winery recognition with the public through personalized experiences.
Not a BTN Member yet?
Get BTN Premium membership and have full access to articles and webinars on BTN + other benefits like:

Full Access to BTN Consultants
Full Access to Buying Leads
Post Unlimited Brands
Full Access to all Articles and Webinars
Full Access to BTN Live conferences presentations and speaker sessions
Discounted rates to exhibit at major partner events and conferences
And Much More...

Your BTN membership will reduce your trial and error time: Why experiment with your branding and distribution when you can fast-track your time to success? Get 'How to do it' content which will help you improve your sales and grow your distribution. Just one article can help you make better decisions and improve your distribution strategy. Try it