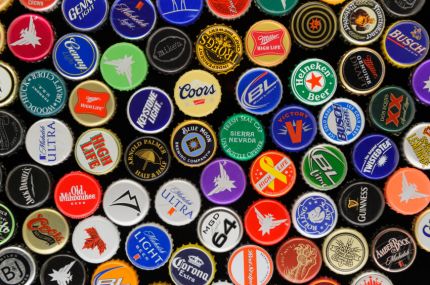 Deciding on how to successfully approach your branding strategy is one of the most important aspects of building a cult following. Strategically using themes and motifs can afford you the ability to sculpt your branding around your fan's favorite content matter. In this competitive industry of today, Beverage Brands are continually struggling to find an identity, maintain their market share and grow their footprint. How can you stay on top and ensure you keep your customer base?
What steps can you take to build a brand that encourages generations of cult followings? Cult personalities can manifest themselves in all shapes and sizes, so why not cast your company's profile as the perfect prototype.
Getting your Brand Ready for it's Cult Following.
Even if you have already developed your brand's image, it's time to create an all encompassing persona for your company that reflects what you want your brand to truly represent. Uniting your labels, packaging, and marketing in one over arching theme will give your brand the necessary image required to launch marketing initiatives dedicated to building your cult following. First, begin by asking yourself these questions:
1. Is our branding unique?
2. What is our customer demographic?
3. What do we want our following to represent?
4. Is there a value, tradition or custom we have incorporated into our branding that we can use that will unite our customers.
5. Can we associate our colors with anything that our fan base will really enjoy?
6. How can we make our brand more 'human'?
7. What type of packaging is our targeted customer responding well too?
8. What slogans and catchphrases can we use in our advertising, presentations and everyday conversations to reinforce our branding?
Now that you have developed a strong idea of what themes you want to build your cult following on, it's time to start looking at a plan of action that will yield an allegiance of die hard fans who will tirelessly follow your beverage company as it's grows into one of the most popular brands on the market.
Getting the Word Out
Your initial brand following starts with the people that are closest to you. Begin by talking with your friends, neighbors and work associates about the 'new beginning' of your brand. Take the branding philosophy that your team has developed to heart and let your personal charisma carry your beverage. Here are a few ways to encourage your local fans to share your enthusiasm:
1. Hand out free promotional merchandise and sample packs that promote your cult philosophy.
2. Throw free theme events and theme tastings that have your branding front and center.
3. Sponsor local events and sports teams that reflect your fan base's identity.
4. Use humorous and unique branding on your delivery trucks and in your office buildings.
You also want to be continually looking for ways to gain new fans, so try coming up with fresh approaches to word of mouth marketing. Here are a few crafty techniques to reach secondary contacts and get your devotees to keep talking about your brand:
1. Set up a loyalty program for your die hard fans. Give back real value – free product or merchandising - for their continual participation and for being amazing unofficial brands reps.
2. Set up referral programs to reward your loyal customers when they bring new customers in. Offer 2x1 bonuses, free tastings, merchandising, or anything else you think your fans will enjoy. This will not only boost your fan base, but also ensure your initial fans stays loyal.
3. Set up review programs. Ask your following to leave you reviews and reward them for doing so. Get them to talk about your company, events, and online social platforms. Having a healthy community of real die hard fans saying genuine things about your product will instill confidence in your casual customers and might convince them to become a fanatical fan.
Building a loyal local fan base is the first step in developing your ground force of die hard fans. Try to kindle the interest of everybody you know so that later, when they discover that your beverage has a following of devoted groupies, they are proud to say that they know you and were one of your first fans. You are going to need to keep updating your word of mouth strategy over the course of your brand's lifetime, so take the time to engineer them in a manner that can be tweaked to continually convert your average customer into a cult follower.
Theme, Theme, Theme
Push your company's persona across all tiers of the business.Make every sector of your company reinforce your voice – even the little things count. If you are a fun and exciting brand, don't use corporate terminology in your web page design or newsletters! Your fans are buying into what the company represents as well as your product, so give them every opportunity to love your brand. Here are some great ways to promote your branding across your company:
1. Promote your cult's favorite themes in the text of your homepage, emails and newsletters – even your error messages! Including these little personalized parts in your company gives a much more human feel to it. Your cult following will appreciate the fact that you've taken the time to integrate the themes they love.
2. Create a custom letter-press and use it in all of your promotional content, email signatures, labels, etc. Making your own alphabet creates a personal touch that your fan base will quickly notice and come to think of as their own.
3. Ask employees to personify the brand. Encourage them to follow company 'protocol' by making themselves an integral part of the branding process. Offer them free company clothing and accessories or encourage them to wear their own thematic personal flare that follows the company philosophy. Try to keep a theme appropriate personality in your own personal and business meetings. Building an ideal and healthy workplace that nurtures your branding will ensure that your employees become an integral part of building your cult following.
4. If you have a winery, brew-house, tasting room, corporate office, etc, incorporate your brand motif into them. Your employees, menus, food, parking lot signs, and all of your design – anything that you can put a fun twist on - should utilize some form of your branding and make your customers love coming to visit you.
5. Promote your theme across all of your social media threads. Encouraging your online fan base to be a part of your cult will generate new fans all over the country and even the world. Often, a brand that has done demographic specific marketing will find large pockets of followers in random markets. Maybe your theme resonates with an underground movement in London that your team had no idea existed or maybe it coincides with a community event in Canada. Whatever it may be, the only way you can recruit those fans into your army is by ingraining your theme into your social pages.
Your overarching theme is what is going to be your call to arms. Use everything in your power to create a thriving corporate identity that personifies your intended theme. Once you have truly found your mojo the masses will follow.

Building Your Customer Community
Build a forum where your fans can get together and talk about anything and everything, regardless if it's about your company. Whether it is a social media platform like twitter, instagram, facebook or a weekly/monthly get-together, make sure that your customers have a place to grow and share their love for your beverage. Make time to understand what they are talking about and what it has to do with your brand. Here a few tips on how you can build communities and inspire your dedicated fans to unite:
1. Develop new and interesting topics for marketing campaigns that revolve around your overarching branding strategies. Use your more popular marketing topics and develop loads of content and multimedia that targets the strengths of your theme. Once they are completed, independently apply them to your different social media platforms. Follow the success of each and keep generating content on your most fashionable posts. Using different content for each platform will give your online followers different baseline themes to get them conversing amongst themselves.
2. Encourage your customers to throw events that center around your beverage and it's theme. Send brand representatives to the events and take photos to use in posters and to upload to your website and social media pages. You can also persuade your fans to upload their own photos in order to incite personal sentiment to the content you use in your promotional content. Using off line social events to gather your following and get them socializing is a great way to build your fan base's passion for the brand.
3. Genuine engagement, both online and offline, is essential to developing a cult following that is truly enthralled everything that your brand represents. Fans love to know that they are a part of something special. Take the time to open communication alleys between every tier of your company and your fan base. Answer emails personally and talk to customers who stop you in the street. When your fans post something to your social media sites, share your honest feedback with the community. Partake in your fans fervor for your brand by being a central figure in the cult following. Being an honest brand rep that loves everything about your company will go along way in building a trusting and loyal following.
Communicating with your fan base will keep you in touch with what makes your brand so special. As you grow, try to always spend time understanding and interacting with your following. The more you know about them the easier it will be for you to successfully expand while keeping your cult following happy.
Keep Your Ears to the Ground
Monitor your fans and look for trends that you can use to generate more engagement and stoke brand mania. If one of your Facebook posts is really popular, take a look at what your fans found so appealing. Knowing how to spot what makes your fan base feverish is what is going to give you the ability to continually grow your minions. Here are some great ways to take advantage of the trends that you see developing:
1. Start creating memorable phrases and symbols from your popular content. People take a special kind of pride in knowing that they are a part of an inside joke or underground movement. Repeat fashionable motifs to get your fans really entrenched in ideas. Use clever sayings in your meetings, presentations, advertisements, and everyday encounters that you think might take off. If you do it right, your cult following will start using punch lines and jokes with vernacular that is taken directly from you branding. Having that special sense of identity associated with your brand is a sure way to generate a loyal following.
2. As your brand grows, incorporate a mascot that is based on something that really touches the heart of your fan base. Use your marketing themes to develop a fun and loving character to help drive your brand excitement. Take photos of the mascot at your events and with your staff and fans. Get them to do interviews with famous celebrities and take photos with them at popular city landmarks. Using Mascots is a great way of banding your cult following together.
3. Use your loyal fan base to your benefit and involve your customers in company decisions. Get them to be a part of your marketing and content subject matter decision making process. You can use your social media forums or even invite them to your product tastings or feedback groups. Bringing in your fans will make them feel like a part of the company and give them more reason to talk about how personal your company really is.
4. Align yourself with Industry VIP and Fan Favorites. If, for some reason, your cult following decides that Daisy Duck has a timeless place beside your product then do everything you can to find a way to get an endorsement from Ms. Daisy. Of course, this particular example will be very difficult to accomplish - as Disney won't likely be sending Daisy to your new retail store launch - but the idea is what counts. As your cult following matures, use their likes and dislikes to your advantage by associating your brand with influential people that you believe will generate a good vibe across your fan base and ultimately have the potential to convert casual consumers into die hard fans.

Using your followers favorite trends is a great way to ensure that you are always producing content that your fans will love. As your company content base grows and starts to mature, take advantage of it's popularity by molding new creative motifs that will guarantee that your company continues to grow with your fan's psyche.
Always Over Deliver
Promise your fan base less and give them more. There are countless ways to surprise your fans with great promotions, but try to always give them that little extra bit more so that they know that you really do appreciate them. Here are some great ways to show your fan base that you are grateful for their loyalty:
1. When you plan an event – even small ones like tastings - always plan on giving away free samples and merchandising. You can use lotteries, door prizes or skill testing questions. On top of organizing a great event for them, you are also showing them that it was worth your time and energy. By offering your customers extra bonuses, you are providing an incentive for your following to continually return to your events. Chances are, they're going to bring their friends along too.
2. Develop clever competitions to determine the "biggest fan of the month." Promise to give the winners prize packages and then, as a surprise, offer them a job with a the company in a temp marketing or promotional gig. Giving back in this way will basically guarantee that you are continually hiring people that will work their butt off spreading the word about how great your company is, both while they are working for you and after.
You should always try and surprise your customers with products and promotions that delight them because it demonstrates how much you care about keeping your customers with you. Exhibiting your devotion and giving back to those who matter the most will give your fans every reason to convert to cult followers.

Making sure that your company continually strives to understand and connect with your customers is equips your team with the necessary attitude needed to build a strong community of die hard fans. Use every opportunity you can to generate positive feedback from your customers and then return the favor by giving them every reason to feel a sense of belonging and ownership when they buy your beverage. Your cult following might not don their cloaks overnight, but by persistently building your theme oriented brand you will foster a community of customers that are primed to follow you down the road to success.
Not a BTN Member yet?
Get BTN Premium membership and have full access to articles and webinars on BTN + other benefits like:

Full Access to BTN Consultants
Full Access to Buying Leads
Post Unlimited Brands
Full Access to all Articles and Webinars
Full Access to BTN Live conferences presentations and speaker sessions
Discounted rates to exhibit at major partner events and conferences
And Much More...

Your BTN membership will reduce your trial and error time: Why experiment with your branding and distribution when you can fast-track your time to success? Get 'How to do it' content which will help you improve your sales and grow your distribution. Just one article can help you make better decisions and improve your distribution strategy. Try it