Lion Beer
137 years of brewing excellence
33 global awards for Quality & Taste
present in 22 countries
Looking for distributors worldwide
Lion Brewery is the brewer of the legendary Lion Beer, which is Sri Lanka's #1 brand and market leader. The Lion range of beers have been brewed since the 19th century, when the first brewery was built by the British explorer Sir Samuel Baker. Baker was out hunting game in Nuwara Eliya, the highlands of what was then known as Ceylon, when he came upon a waterfall and natural spring. He decided to build a brewery in this location because of the fresh spring water. The brewery still uses the recipes developed by Sir Baker and his team of brewers.
Today Lion beers are brewed in a state of the art brewery, which is ISO and HAACP certified. We import our raw materials from Europe and the UK and our beers meet the highest international quality standards.
Lion stout is our multiple international award winning brand and has received the endorsement of the late Michael Jackson "The Beer hunter" as well as other beer experts. It was featured in "300 beers to try before you die", a book by CAMRA beer expert Roger Protz. Lion stout is currently available in cities across the world, such as New York, London, Paris, Tokyo, Sydney and Milan. It has a 98 rating on ratebeer.com
As the industry leader in Sri Lanka, we ensure that our products are designed, produced and marketed in a responsible manner, and are fully compliant with all environmental and regulatory standards. The Company advocates responsible drinking and has a CSR initiative to facilitate the manufacture of branded marketing materials out of recycled beer cans.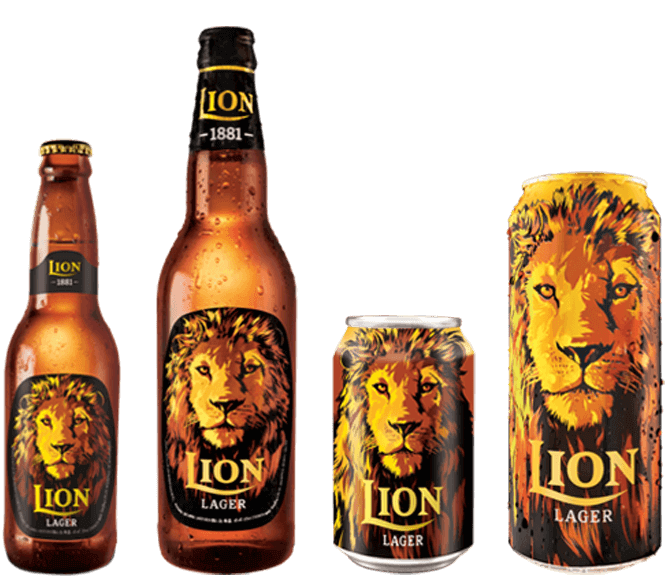 LION LAGER
BEER TYPE Lager
ALCHOHOL BY VOLUME 4.8%
Undoubtedly the best selling among our mild beers, Lion Lager has a 4.8% alcohol volume and is credited as a great thirst quencher. Golden roasted malt in colour with a hint of fruit and caramel flavoring, it is very slightly sweet with less hop notes. The attractive labeling is in sophisticated black and gold, showcasing our strong but watchful golden lion as the king of the savannah, symbolizing visionary leadership and power.
• First brewed in 1881.
• Full bodied European styled lager.
• Gold medal winner at the Monde selection.
• 625ml and 330ml bottles.
• 500ml and 330ml cans.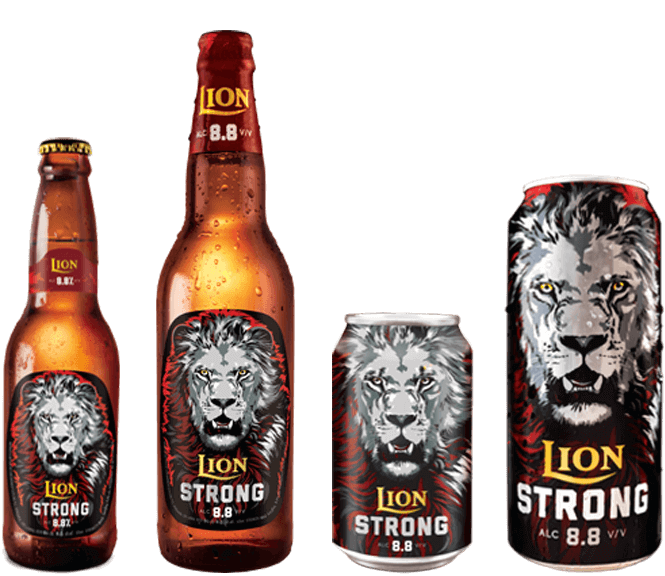 LION STRONG
BEER TYPE Lager
ALCHOHOL BY VOLUME 8.8%
This amber golden beer adds a definite kick to the unique flavour that's a signature of the Lion Family of Beers. With an alcohol content of 8.8%, the branding denotes the proud head of our lion creating an image of power, strength and unchallenged victory.
• High gravity brew.
• # 1 beer in volume in SL.
• Fiery, strong hoppy taste.
• Same liquid as Lion Imperial.
• Monde selection winner.
• 625ml and 330ml bottles.
• 500ml and 330ml cans.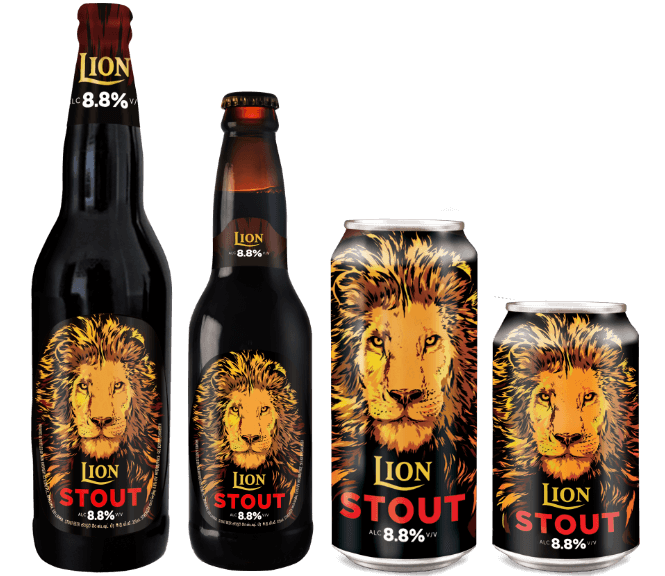 LION STOUT
BEER TYPE Stout
ALCHOHOL BY VOLUME 8.8%
The dark caramel, large dense headed brew, with its 8.8% alcoholic content, is unique due to its sweet notes of chocolate and coffee interspersed into a foundation of dark roasted barley. Symbolic black to denote leadership, power, focus and strength, is dominant in the labeling as the lion journeys in the twilight unafraid, unbowed and unchallenged.
• First brewed in 1881.
• Original recipe and yeast strain still in use.
• Bottom fermented.
• Chocolate, mocha, caramel notes.
• 98 points on Ratebeer.
• 625ml and 330ml bottles.
• 500ml and 330ml cans.