San Diego Spirits Festival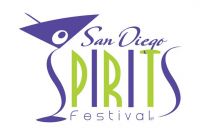 San Diego Spirits Festival TOP 5 Cocktail Festivals in America! for Lovers of Cocktails, Culinary & Culture held each year at the end of Summer
San Diego Spirits Festival is a destination event that targets industry insiders, consumer cocktail and culinary lovers alike, it's a nationally acclaimed celebration of cocktail culture and it is the premiere West coast spirits festival held on the beautiful San Diego bay. With bartender competitions, tastings, seminars and parties, the festival offers a one-of-a-kind opportunity for brands to be supported and gain recognition among San Diego's cocktail and culinary community and beyond.

Taking place at the end of August each year, the San Diego Spirits Festival is committed to building the Mixology and Culinary community and garnering local and national exposure for the brands that participate.

San Diego is California's second largest city, and has experienced an exciting cocktail revolution. Now getting ready for its NINTH year, the San Diego Spirits Festival attracts high-profile members of the spirits and culinary trade, affluent consumers and local bar and restaurateurs who are passionate about San Diego and the West coast's burgeoning cocktail and culinary scene.