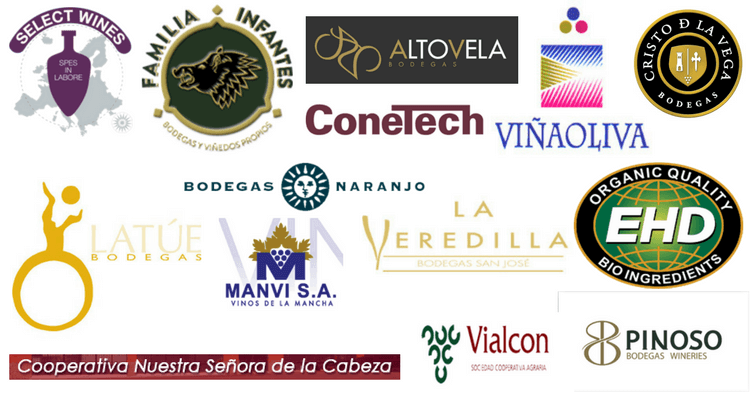 SELECT WINES
Select Wines is trading with bulk and bottled wines, concentrates, alcohol and spirits from Spain. Their portfolio extends across the broad spectrum of the largest global wine traders, and also medium-sized and even small companies. On behalf of some of the best known European wine merchants, Select Wines handles their total purchases of Spanish wine. Besides Europe-based organizations, they have partners in America, Africa, and Asia. With over 45 years of experience in wine export behind them, SELECT WINES know the mentality of the markets, their needs, and their potential.
Website: https://www.select-wines.net/
BODEGAS FAMILIA INFANTES
Bodegas Familia Infantes is a leading bulk wine supplier in Spain located in Villacañas, at the heart of La Mancha. The three brothers Infantes Sánchez- Cano: Ramón, Eugenio, and Manuel were the forerunners of a new family line, bound to life, land, and winemaking. Following the family education and supporting their own elaborate wines, the second generation has created different wines, prepared to satisfy the most demanding national and international palates. Bodegas Familia Infantes count with its own 350 hectares vineyard and the intention to increase it every year, they have a production capacity of 2 million bottles per year. Bodegas Familia Infantes can confirm that their dedication to the land and the wine farming have made them control the winemaking and production, obtaining excellent quality wines.
Website: http://www.bodegasinfantes.com/en
BODEGAS ALTOVELA
They have the most modern technologies for the production of wines and have a capacity of 45 million liters per year. Within their facilities, they have stainless steel tanks, controlled fermentation systems, pneumatic presses and a bottling line of 5,000 bottles/hour. Located in Corral de Almaguer, Toledo, Bodegas Altovela has always been committed to quality to ensure customer satisfaction. Their winery is hosting the Designation of Origin Mancha and is located in the municipality whose extension of growing grapes is the largest in Spain.
Website: http://www.altovela.com/
CONETECH
In 1991, ConeTech pioneered a process which has, for many hundreds of winemakers, become a standard winemaking tool. Introducing first the Spinning Cone Column and more recently complementary technologies, ConeTech made possible the removal of excessive alcohol without the slightest loss of aroma or flavor. ConeTech operates in four of the key wine growing regions including California, Chile, Spain, and South Africa. ConeTech owns eleven Spinning Cone Columns and continues to expand into new regions and new technologies, as the mitigation of alcohol in wine gathers importance and as recent breakthroughs have contributed to a revolutionary new service to global SPIRITS producers. Further distinguishing ConeTech from anyone else in its field, is the employment of six dedicated winemakers assuring their ability to engage totally with their clients and their objectives.
Website: http://www.conetech.com/
SAN ISIDRO - BODEGAS LATÚE
Bodegas Latúe wines are produced in Villanueva de Alcardete, in the province of Toledo, Spain and they are known as leading bulk wine suppliers in Spain. Villanueva de Alcardete is located in an unusual place in the Gigüela's river bank and in the heart of La Mancha, where the Cuenca, Toledo, Ciudad Real, and Albacete provinces meet. The special climate conditions of this zone are transferred to its wines. San Isidro- Bodegas Latúe exists through the dedicated hard work of 600 experienced vine growers that have developed nurtured and harvested vines for over three generations.
Website: http://www.latue.com/
BODEGAS SAN JOSÉ
Bodegas San Jose was created in 1963 by a small group of vintners convinced of the need to create a large warehouse to develop wines with a high-quality standard. Today they have more than 160 partners with over 2,600 Ha. Of Airen, Tempranillo, and Macabeo, composed of 50% irrigation and 50% dry. The vineyard pruning is dry on the glass, while irrigation has both Bowers as a low vineyard. BODEGAS SAN JOSÉ is located in the town of Tomelloso, northeast of the province of Ciudad Real, in the heart of La Mancha, and bordered by the Guadiana River.
Website: http://laveredilla.com/
EHD DELGADO ORGANIC
This winery was born as a new project after a long familiar tradition and experience in the world of the wine from winemaker Mr. Lorenzo Delgado, back in 1960. Explotaciones Hermanos Delgado, S.L. was born in 1998 to carry out a project related to the making of high-quality organic wines. Explotaciones Hermanos Delgado, S.L. has the soul of the familiar winery and the most modern techniques, so to achieve the best results by a combination of tradition and modernity.
Website: http://www.bodegaehd.com/ing/inicio.html
NTRA. SRA. DE LA CABEZA
La Bodega Cooperativa Ntra. Ms. Head is nestled southeast of the Iberian Peninsula, in the town of Casas Ibañez, in the province of Albacete, between the valleys of the Júcar and Cabriel rivers (considered as one of the rivers cleanest in Europe), which acts as a natural border between the provinces of Valencia and Cuenca. La Bodega Cooperativa Ntra municipality is surrounded by crops of vineyards, almond and olive trees mainly coexisting with the typical Mediterranean forest of white and Aleppo pine, and low vegetation of rosemary, thyme, boxwood, juniper, etc.
Website: http://www.coop-cabeza.com
LA BODEGA DE PINOSO
La Bodega de Pinoso was constituted in cooperative in 1932, although the tradition of the village dates back to centuries, namely the era of Roman rule in the Iberian Peninsula. La Bodega de Pinoso takes determination to start selling bottled wine under the brand of the cooperative and bet heavily on organic farming, starting a new era. The time of change began with the construction and modernization of facilities, creating new brands and developing their own sales network.
Website: http://www.bodegaspinoso.com/en/home/
VIÑAOLIVA SOC. COOP.
Viñaoliva is a second tier cooperative that was founded in Almendralejo in 1998. It's made up of 25 first-tier co-operatives. Viñaoliva makes and sells products that are the result of the conscientious and professional work of 8,300 families of farmers who grow olives and grapes on over 78,000 hectares of land. The cooperatives' 15 wineries, 9 olive oil mills and 12 table-olive processing plants provide Viñaoliva with a whole host of production facilities, which it also complements with its own experimental winery and bottling line, an olive oil mill and bottling line, a grape must concentrate plant, a distillery and two laboratories that possess cutting-edge technology. All this can be found at Viñaoliva Soc. Coop. headquarters In Almendralejo, in the heart of the Tierra de Barros district.
Website: http://www.vinaoliva.com/inicio_eng.html
BODEGAS CRISTO DE LA VEGA
Bodegas Cristo de la Vega is located in the heart of the D.O.P La Mancha, in the small village of Socuellamos, in the province of Ciudad Real (Castilla la Mancha, Spain). It was founded in 1955 by 25 vine growers, giving continuity to the project that they already had in common for many years before. Year by year, Bodegas Cristo de la Vega became bigger and bigger, elaborating better and more sophisticated wines, as the result of the enthusiasm of the whole village. The winery counts nowadays on nearly 60 years of experience and tradition, modern facilities as well as a huge "know-how" personalized in their human force.
Website: http://bodegascrisve.com/index.php?lang=en
MANVI, VINOS DE LA MANCHA
Bodegas Manvi, S.A. - Wines from La Mancha, is an innovative family-run business established in 1917 and dedicated to the production and selling of fine wines to both national and international markets. Bodegas Manvi, S.A. produces a wide range of young wines of great character in diverse formats according to the demands of their clients and with an excellent price-quality ratio.
Website: http://www.manvisa.es/ING/index.html
VIALCON
Vialcon is located in the central area of Spain, in the southern plateau and in a strip extending in the southeast of the province of Cuenca where are nestled three geographic areas with very specific characteristics, both of soil, climate, varieties, as cultures to care for and pamper the vineyards, which are "La Mancha", "La Manchuela" and "La Ribera del Júcar". Viacom's group 5,444 winegrowers and their family, which group an extension of 20,980 hectares of vineyards are integrated where varieties they cultivated are: Airen and Macabeo or Viura in white and Cencibel or Tempranillo, Cabernet Sauvignon, Syrah, Garnacha, Monastrell, Bobal, Garnacha Tintorera Moravia, and inks.
Website: http://www.vialcon.net/
BOGARVE 1915
Bodegas Naranjo was founded in 1898 by D. Gaspar Naranjo Coit, the predecessor of the current owners (Ramon and Francisco Muñoz de Cuervo Sobrino), the fifth generation that runs this centennial warehouse. It is located in the province of Ciudad Real, in Carrion de Calatrava, is located in the heart of Campo de Calatrava, southwest of the frame covered by the Designation of Origin La Mancha, a region situated on a plateau at an altitude of 700 meters. BOGARVE is Equipped with the most advanced production techniques, as well as the infrastructure necessary to carry out a perfect and aging of wines, the winery is devoted to the viticulture in order to obtain the best fruit, which will be primarily responsible for the final quality of the wines.
Website: http://bodegasnaranjo.com
LUXIUM WINES
Luxium Wines S.L. is committed to providing you with all your bulk wine needs. Their aim is to support you in finding the right product, therefore they work with reliable partners around the world to provide you with the best information, experience, inventory, and service in the global wine market. With their specialized team, they treat wines directly at their primary facilities and manage the entire export process until it reaches its destination. It is Luxium Wines Vision to create the "GLOBAL WINE SERVICE" concept. Supporting their partners in getting their specific bulk wine product needs, by leveraging from different wine countries and regions.
Website: https://www.teschendorff-wines.es
Not a BTN member yet? Get started on BTN and starting connecting with wine importers, distributors, and consultants.(It's free to join) Beverage Trade Network is connecting wineries, breweries, distilleries, beverage brand owners, importers, distributors, brokers and other beverage professionals locally and globally. Get practical industry based knowledge with 'how to do it' articles and webinars and grow your brand.
Browse: Brands | Buying Leads | Consultants | BTN Academy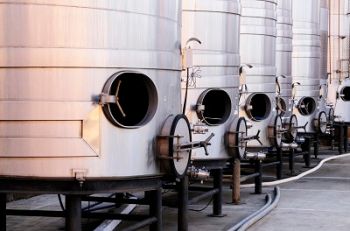 Whether you are starting a new private label, trying to procure wine to meet demand or offloading excess inventory, understanding how to successfully buy and sell bulk wine is an essential part of any modern wine business.Learn more about Top Tips to Navigating the Bulk Wine Market