Rita Brand Mixed Fruit Juice Drink in 200ml Aseptic Pak 01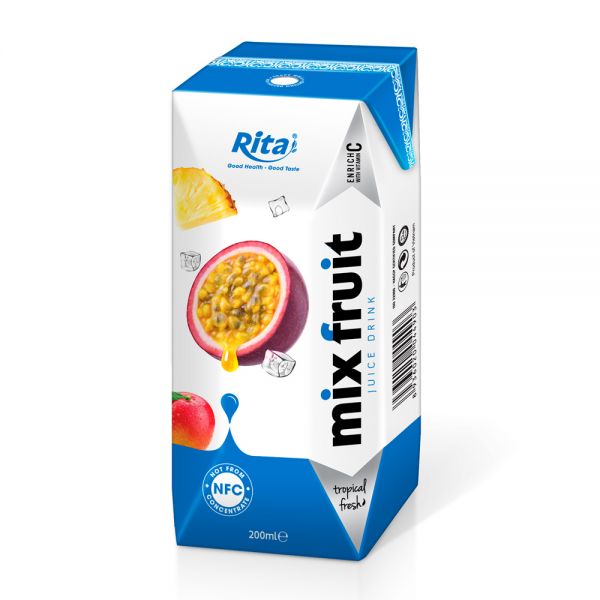 Alc. Vol %:n/d
Format:187ml
Price per unit US$3.90
Price per unit €:On request
Post Date17/10/2022
Description
TROPICAL MIXED FRUIT JUICE – A JOURNEY TO THE TROPICAL REGION
FEATURE
Our Rita Tropical Mixed Fruit Juice is made from mango juice, passion fruit juice and pineapple juice to create a pure, delicious and delightful tasting.
Rita Tropical Mixed Fruit Juice is produced by using NON GMO ingredients and no added sugar to ensure that each product is friendly with your body.
The real fruit we use are coming from Vietnam farms directly to you. So even if you have never been to Vietnam, you've kind of been there.
Mango juice contains many vital minerals and vitamins that are essential for a healthy human body.
Pineapple juice is a powerhouse of vitamin C, beta carotene, potassium, iron and many other nutrients which help in fighting infections, as well as maintaining overall well-being of the body.
Passion fruit juice is a good source of fiber, antioxidant, and plant compounds that could benefit your health.
HEALTH BENEFITS
1. Detoxifies Your Body
Having a glass of fresh juice every morning helps in detoxifying your body. Fruit juice contains all the enzymes, minerals and vitamins that are easily absorbed in your body. The regular intake of fruit juice keeps you away from ailments.
2. Promotes Weight Loss
You can start by drinking fruit juice every morning to see the difference in your weight. Fruit juices detoxify your body and naturally flush out the toxins from your body which results in weight loss.
3. Acts as natural antioxidants
Antioxidants help protect your body from free radical damage caused by environmental factors such as certain chemicals, radiation, smoking, and pollution. Antioxidant-rich juice is good for your heart, and they lower your risk of cancers and other diseases.
Fruit juice can help support a strong immune system by providing a variety of vitamins and nutrients. Mango, passion fruit and pineapple are rich in vitamin C which helps you fight off sickness, viruses, and flu, etc.
5. Improves vision
Yellow, orange colored fruits like pineapple, mango, passion fruit are rich sources of vitamin A. Vitamin A keeps our eyes healthy and prevents the eye problems, dry eyes and night blindness.
6. Improves skin health
Most fruits contain fiber, antioxidants, vitamin C and other essential nutrients that help flush out the toxins that affect your skin health. They also help to combat free radicals and prevents premature aging.
Countries this brand is distributed in:
Countries this brand looking to be distributed in:
US States this brand is distributed in:
US States this brand is looking to be distributed in:
RITA is the leading juice manufacturer and exporter in the Vietnam for more than 15 years, with the international food production approval of GMP, HACCP, FS$C22000, ISO, FDA, HALAL, ORGANIC, KOSHER, etc. Rich experience of food and drink production and marketing. More than 10 production lines make the capacity of more than 500containers per month. Available packing for aluminum can, pet bottle, glass bottle, paper box, pp bottle, etc. Our juice advantage is all the fruit is directly from Vietnam, where there are fresh fruit all year around, it's tropical fresh. Our mission is making the best tropical fresh juice.directly from Vietnam, where there are fresh fruit all year around, it's tropical fresh. Our mission is making the best tropical fresh juice.
Rita Food & Drink Co., Ltd. was incorporated in 2004 as a 100% Foreign owned Company and specializes in the production of Canned Drink such as Energy Drink, Corn Milk, Aloe Juice, Soya Milk, Fruit juice, Juice, Soft Drink, Coffee, Beer, etc. Our factory with 30,000 square meters, possesses the yearly producing capacity of 3,000,000 cartons of fruit juice drinks and other beverages. And also, We have build up a strong research and development team, who is continuously improving our manufacturing process, quality standards of our products. With the comprehensive understanding in various ranges of Vietnam products and long-time experience in import-export sector, with our enthusiastic, determined team, we are proud to say that we have been shipping many Order to the USA, Europe, India , Pacific Island, Hong Kong, China , Singapore, Malaysia, Korea, Japan, Africa and Australia. Our customers are worldwide Dealer distribution, shops, restaurants and supermarkets.
We provide OEM and private label service. No artificial flavors,no colors,no preservatives,more secure and more healthy.
Our product variety: Chia and Basil seed fruit juice, Green Tea drink, Green Tea Kombucha Fresh Juice, Black Tea Drink, White Tea Drink, Ice Tea, Aloe Vera Juice drink, Sparking Coconut Water, coconut milk drink, coffee drinks, energy drinks, fruit juice drinks, milk drinks, non alcoholic beer, Malt Drinks, soft drinks and more.
Contact now
Please log-in to contact this seller!
You can send a message directly to this seller and request additional information about this posting, Company Profile and related products.
More Brands from this Company