(OEM Accepted) RITA Brand Dragon Fruit Juice Drink in 330ml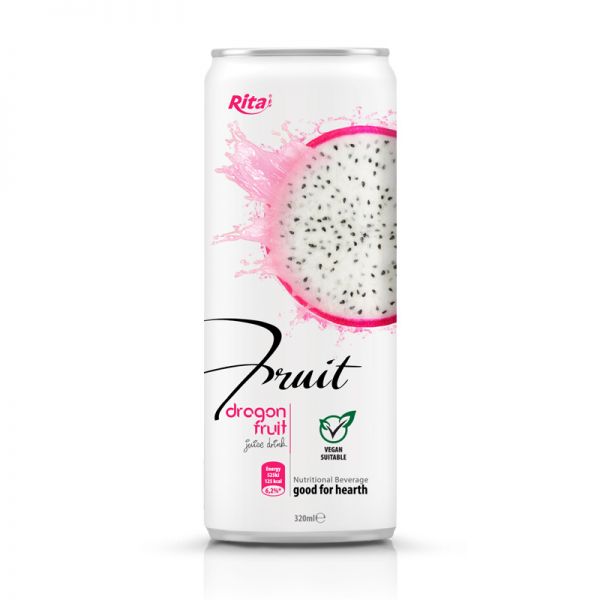 Alc. Vol %:n/d
Format:330ml
Price per unit US$6.50
Price per unit €:On request
Post Date17/10/2022
Description
FEATURE
When you think of a "dragon" – it might be a brightly colored, fire-breathing creature with green scales. And dragon fruit has the same description kind of dragon. Of course, without fire-breathing.
Dragon fruit is a tropical fruit known for its vibrant red skin and sweet, seed-speckled pulp. Dragon fruit is low in calories but packed with several vitamins, minerals and beneficial plant compounds.
Rita Dragon Fruit Juice Drink is made from sweet and sour taste dragon fruit to ensure that our product will be enjoyed by everyone. This dragon fruit juice drink is packed full of magical natural goodness from fibers, vitamins, and antioxidants.
HOW TO MAKE
From cooperating farms, we choose the best quality dragon fruits. In our factory, we developed a process for turning this beautiful fruit into a satisfying, refreshing fruit drink, protecting the taste, and ensuring much of the natural goodness is retained.
HEALTH BENEFITS
Dragon fruit juice drink is not only delicious but also good for health. Try Rita dragon fruit juice drink for yourself and get to know what nature provides to us!
Manages sugar level
Like any other fruit juice, dragon fruit juice contains a moderate amount of fructose which is suitable for everyone to keep healthy blood sugar level.
Acts as natural antioxidants
Thank for a great source of antioxidants, dragon fruit juice helps to fight all free radicals seeking to disrupt your body's functionalities. Antioxidants also keep your heart healthy.
Improves skin health
Dragon juice is high in water that is suitable for keeping your skin moisturized. Dragon fruit juice drink also contains vitamins, antioxidants, etc. are responsible for the production of collagen which helps your skin look tight and young.
Increases immunity
Dragon fruit is one of the top fruits that is packed with Vitamin C that helps in fighting with flu and other infections.
Lowers harmful cholesterol and keeps the heart healthy
Dragon fruit juice drink can help in lowering down bad cholesterol level. The black seeds of dragon fruit help in delivering Omega-3 and Omega-6 fatty acids that help in reducing the risk of cardiovascular diseases.
Prevents cancer
Thank for high level of antioxidants, dragon fruit and its juice can help to prevent the development of cancer cells. It also helps to remove toxins from the body, and overcome various diseases such as appetite, nausea, vomiting, and fatigue.
OVERVIEW ABOUT RITA FOOD & DRINK CO., LTD
Established in 2004, RITA Food & Drink Co., Ltd is proud to be one of the leading beverage companies in Vietnam. With the factory scale of 30.000 m2, 100 cooperative farms and more than 500 employees, each year we supply more than 30.000 tons of products to the market. Besides Vietnamese market, RITA Food & Drink Co., Ltd has been exported to more than 100 countries and regions worldwide. RITA is also a reliable partner in OEM and ODM manufacturing cooperation with diverse products, quality, competitive prices.
Countries this brand is distributed in:
Countries this brand looking to be distributed in:
US States this brand is distributed in:
US States this brand is looking to be distributed in:
RITA is the leading juice manufacturer and exporter in the Vietnam for more than 15 years, with the international food production approval of GMP, HACCP, FS$C22000, ISO, FDA, HALAL, ORGANIC, KOSHER, etc. Rich experience of food and drink production and marketing. More than 10 production lines make the capacity of more than 500containers per month. Available packing for aluminum can, pet bottle, glass bottle, paper box, pp bottle, etc. Our juice advantage is all the fruit is directly from Vietnam, where there are fresh fruit all year around, it's tropical fresh. Our mission is making the best tropical fresh juice.directly from Vietnam, where there are fresh fruit all year around, it's tropical fresh. Our mission is making the best tropical fresh juice.
Rita Food & Drink Co., Ltd. was incorporated in 2004 as a 100% Foreign owned Company and specializes in the production of Canned Drink such as Energy Drink, Corn Milk, Aloe Juice, Soya Milk, Fruit juice, Juice, Soft Drink, Coffee, Beer, etc. Our factory with 30,000 square meters, possesses the yearly producing capacity of 3,000,000 cartons of fruit juice drinks and other beverages. And also, We have build up a strong research and development team, who is continuously improving our manufacturing process, quality standards of our products. With the comprehensive understanding in various ranges of Vietnam products and long-time experience in import-export sector, with our enthusiastic, determined team, we are proud to say that we have been shipping many Order to the USA, Europe, India , Pacific Island, Hong Kong, China , Singapore, Malaysia, Korea, Japan, Africa and Australia. Our customers are worldwide Dealer distribution, shops, restaurants and supermarkets.
We provide OEM and private label service. No artificial flavors,no colors,no preservatives,more secure and more healthy.
Our product variety: Chia and Basil seed fruit juice, Green Tea drink, Green Tea Kombucha Fresh Juice, Black Tea Drink, White Tea Drink, Ice Tea, Aloe Vera Juice drink, Sparking Coconut Water, coconut milk drink, coffee drinks, energy drinks, fruit juice drinks, milk drinks, non alcoholic beer, Malt Drinks, soft drinks and more.
Contact now
Please log-in to contact this seller!
You can send a message directly to this seller and request additional information about this posting, Company Profile and related products.
More Brands from this Company