Beverage Trade Network News
SCA winners will now be promoted in the Los Angeles Drinks Guide
Wine
09/03/2021
The annual Sommeliers Choice Awards comes back to San Francisco for its third year in May 2021. The goal of the competition is to provide on-premise buyers and sommeliers a beneficial gauge on the best wines to add to wine lists for their restaurants and bars. Leading sommeliers, wine buyers, and directors will convene on May 16, 2021, to swirl, sip and judge the absolute wines out there.
In a bid to better themselves year after year, Sommeliers Choice Awards organizers have taken another big step this time around. They will be promoting the winners of the competition on the consumer-facing platforms, the Los Angeles Drinks Guide. This guide is a go-to resource for consumers in LA to know about what to drink - may it be the best wines, spirits, beers, or cocktails and where to drink these.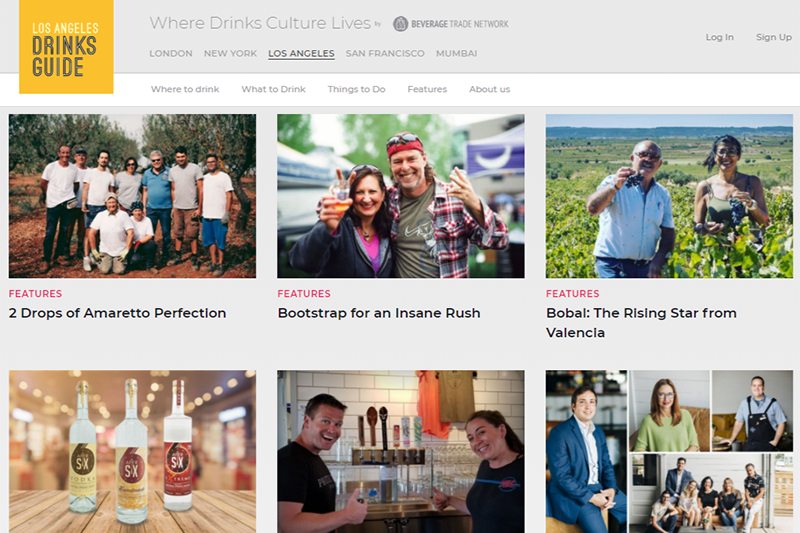 Brands stories on Los Angeles Drinks Guide website Source: Los Angeles Drinks Guide
The promotions will begin soon after the award announcements wherein the brand will get a full feature page mentioning their brand, awards, story, tasting notes, their product range, and where consumers may buy these wines. Following this, throughout the year, these award-winning wines will be mentioned in various feature stories and recommended lists.
With most international competitions, award winners get one mention and are quickly forgotten in favor of the next year's entrants. SCA aims to go a long way with the competition medalists and give them as much coverage as possible. They would like consumers to read about them, know about them and be interested in drinking these award-winning wines. They truly believe in the quality and value offered by these medal winners and would like to spread that message amongst wine drinkers.
If wine brands are active on social media or have interesting events, marketing angles, stories, and material to share with the Los Angeles Drinks Guide, they will be happy to provide them with additional coverage.
SCA organizers, Beverage Trade Network want to ensure that they are offering maximum value to the competition winners, that sommeliers across the USA may see the benefit in adding these award-winning wines to their restaurant wine lists and consumers pick them to drink off a wine list, retail shelf or online website.
Not only are they putting efforts into this promotion all around the year, but they are also making available an extremely useful tool for wines to maximize their marketing efforts and put their best foot forward on a retail shelf.
Sommeliers Choice Awards will record tasting notes written by sommeliers for all entrants in a ready-to-print shelf talker template for no extra cost. For award-winning wines, these will be seen on the winner's page along with their certificates. All competition entrants may access tasting notes and shelf talkers with tasting notes in their account zone.
Shelf talkers are an extremely effective marketing tool for your wine bottle to attract attention on a retail shelf amongst thousands of other wines. Coupled with the award logo, your wine bottle is sure to catch the eye of a discerning customer as they are walking through a retail store.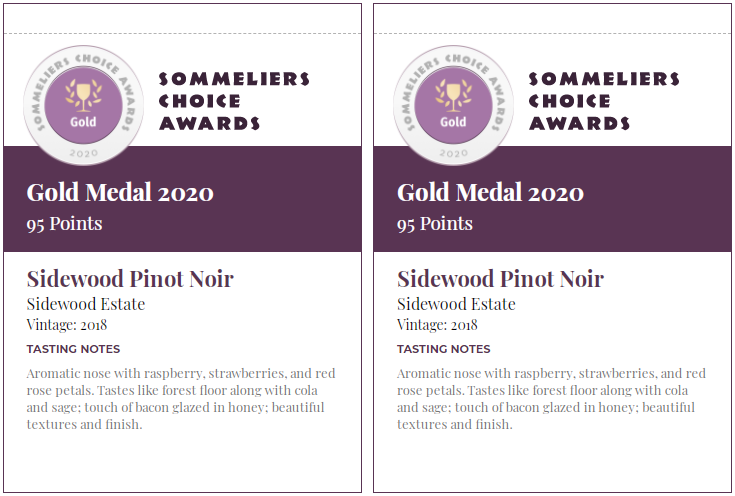 Sidewood Pinot Noir Shelf Talker Source: Sommeliers Choice Awards
The Sommeliers Choice Awards ticks all the boxes, picking wines that are currently in distribution, work well for restaurant wine lists and work for restaurant budgets. The wines that the judges will pick will be those that consumers would love to pick off a restaurant wine list and drink, whether it's a regular date night or a special occasion.
Scoring system
The top two questions that sommeliers will be attempting to answer as they judge wines is: "Would we stock this?" and "Will the consumer buy the 2nd glass".
---
F (Food Pairing Score) + T (Typicity Score) + Q (Quality Score) + Value Score (V) + Package Score (P) = Sommeliers Choice Awards Final Score.
---
The US wine market is flooded with wines from every corner of USA and the globe. With so many wines out there, it's difficult to get on a retail shelf and much tougher to get on a restaurant wine list. With the stamp of approval from SCA's esteemed judges, coupled with an award, shelf talkers and year round promotion on the Los Angeles Drinks Guide, you could not be in a better spot to elevate your wine brand.