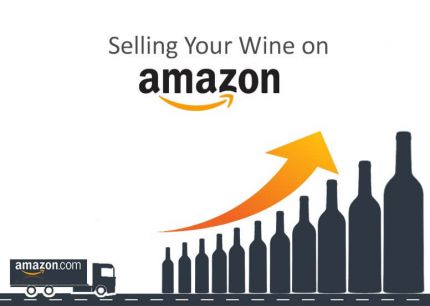 Today it is commonly known and accepted that a winery can increase their sales by listing their products on major online selling platforms like Amazon. But, it's not about just listing your products, it's about them actually selling. So, what should a winery do for their wines to stand out amongst the plethora of wines available online today and to achieve those magic numbers?
To find out, BTN sat down with Andreas Wetzel, winemaker and owner at Chateau Bianca in the Willamette Valley in the state of Oregon, USA. They produce Pinot Noir, Pinot Gris, and Pinot Blanc with a limited production of Sparkling wines, Riesling, Gewurztraminer, Marechal Foch, Chardonnay, Ruby Port, Vin de Glace, and specialty wines.
1. We commonly think that online wine shoppers buy entry level wines. Is this fact or false? Since yours are mid-priced wines, how do they fit within this framework?
I would say that you will find a big range of pricing on-line. Not all consumers are looking for entry level wines especially since online platforms usually have a great selection of wines from smaller producers. For us, capitalizing on the use of Amazon's large customer base made perfect sense.
2. What do you do to make your wines stand out from the throng of wine sellers out there? How do you carve out a niche for your winery and your wines?
This is a great question. Considering that more people are discovering this medium to sell it can be a challenge. Amazon has a number of programs that they will share with a seller to help them get the most sales they can. Remember, when you sell your wine through them, they make money on that sale and that makes them profits. On Amazon one of the key elements is getting your wine reviewed by customers. This is not as easy as you would think. However, once you get a good following on a wine it will move up on the search list for that category.
3. Are any domestic and international wineries able to sell wines through Amazon in USA? Are there any qualifications wineries need to meet? Do international wineries need a local importer first?
You will find a great selection of domestic and imported wines on Amazon. For a domestic winery you need to get appropriate licensing in the states you plan to sell the wine in. Even though Amazon provides a selling platform you would either need to have your own licensing for each state that Amazon will promote the wines in, or you would have to work with a fulfillment service that has the appropriate licensing in place. I don't have firsthand experience as to what requirements are needed for international wineries but I would venture to guess that you would need to have an importer so that you can have someone bring the wine into the country and then be able to fill those domestic orders.
4. Do you need to ship any inventory to Amazon's warehouses as consignment?

Since wine is a beverage with lots of legal requirements, Amazon does not do wine fulfilment. Wine is only sold by the winery and either fulfilled by them or fulfilled by a fulfilment service.
5. Do you invest in marketing and list-optimization on Amazon? How does this work?
To the best of my knowledge Amazon does not having anything like this in place for wine. Your success will come by getting the wines reviewed by customers, having good ratings for the wines that you list, being a good supplier (there are quite a few parameters to maintain this status when working with Amazon) and finally have wine in a category that people are interested in trying.
6. What is the procedure – where does one start?

You can go to Amazon's home page and then follow the links to how to become a seller on Amazon. It will take a few weeks to get everything set up before you can start selling on their platform.
7. How does Amazon fare amongst other giant online wine retailers like wine.com etc? Do consumers commonly think of Amazon when shopping for wine? What advantages does Amazon offer to buyers and sellers of wine compared to the others?
I have not worked with other large on-line retailers but I do see a lot of the ads that they run. I get the sense that many of these platforms are deeply discounting prices for the wines they are offering. Though some suppliers might be ok with this method I feel you lose control of margins that you want to maintain for your wines. I think Amazon came to the game a bit later with wine but I like the fact that you are not being dictated to slash prices which can hurt your image and margins.
8. What other platforms have you tried selling your wines on? What has been your experience with this? Which platforms would you rate the best and worst and why?
We have worked with Wine woot when we have vintages that we are closing out or when we have had a package change and need to move remaining inventory out. This is another Amazon owned platform but the discounting is very steep. I can't speak about other platforms since these have been my only experiences.
9.What are the hindrances you face when selling wines on Amazon? How do you overcome these?
I would say that there are very few things that deter us from selling on Amazon. Once you get the hang of it and understand their model and how they do things it is pretty easy to use.
10. What are your sales goals for wine sales through Amazon? How do you work towards increasing your sales online?

Amazon has not been selling wine for that many years. We have only used them for a couple of years now. They do have great analytics to review sales trends which can be very helpful. Amazon also is working to help their winery partners by running promotions that they advertise to their customer base. Running special offers is certainly a great way to increase volume. Having a good selection of wines in categories that people are interested in also is big plus.
11. Do you offer your products with Amazon Prime? What does this mean for you vis-à-vis expenses?

Due to the weight of wine freight is a big cost. There are options for offering free or discounted freight when customers choose to buy more than a bottle or two. Since we fulfill from the winery the Amazon Prime member doesn't get free shipping unless we are running a promotion that offers this. You really have to weigh the profit margins on a product against the cost to ship a bottle across country so that it makes sense financially. Amazon Prime members are so used to free shipping that it is something they have to adjust their thinking on when it comes to wine and the cost to transport it over great distances.