Alc. Vol %:41.00
Format:700ml
Price per unit US$14.00
Price per unit €:On request
Post Date04/09/2017
Description
Jack Strong is blended whisky created as a result of Scottish and Polish collaboration that combines rich traditions in alcohol production. Scotland is the place of ingredients selection, resting and blending process. At Akwawit, a polish distillery with over 135 years of experience, Jack Strong is finally produced and bottled. This is the secret of our new proposition that is targeted to the demanding Whisky customers searching for new experience.
12-year-old blended whisky that is bottled at 41% ABV is more sophisticated proposition with different layers of notes that are both surprising and delightful. The bottling is a blend of single malt and grain whiskies matured for a minimum of twelve years in the very heart of the Scottish Highlands. Enjoy each sip of this premium blend and discover the harmony of rich flavors followed by well-balanced, smoky finish.
Jack Strong is presented in a elegant and luxury bottle with very powerful and distinctive style. It is easily recognizable by the image of Jack Strong that decorates the bottle and attracts social climbers searching for the authority, prestige, confidence, pride and persistence. Manually corked bottles prove our solicitous approach to that product. Jack Strong, optionally offered in elegant tube, is a perfect gift for a special occasion.
Countries this brand is distributed in:
Countries this brand looking to be distributed in:
US States this brand is distributed in:
US States this brand is looking to be distributed in:
Aquavit - Polmos SA is one of the leaders of the Polish and European spirit market. The company was formed from the merger of spirits Company "Wratislavia" Polmos Wrocław SA and Fermentation Industry Enterprises "Akwawit" SA in Leszno. We are a leading manufacturer of world-famous cereal and potato vodka. We produce both pure vodkas and unusual appreciated by gourmets flavoured vodkas. The exceptional quality of our products derives from a mixture of modernity and tradition. Our alcohols are based on traditional and tested recipes, and they are produced on the most technologically advanced production lines. Being concerned about the standard of our products we have opened a specialist laboratory. Through the process of rectification and by maintaining strict control standards at all stages of the production, our products are always of the same and the highest quality. It is confirmed by the numerous awards and certificates. A major advantage of our company is its location. Wrocław, where we are located, has an airport, great rail links and excellent road communications due to the A4 motorway. Therefore, we are able to provide our customers with efficient operations related to logistics and delivery of our products.
Contact now
Please log-in to contact this seller!
You can send a message directly to this seller and request additional information about this posting, Company Profile and related products.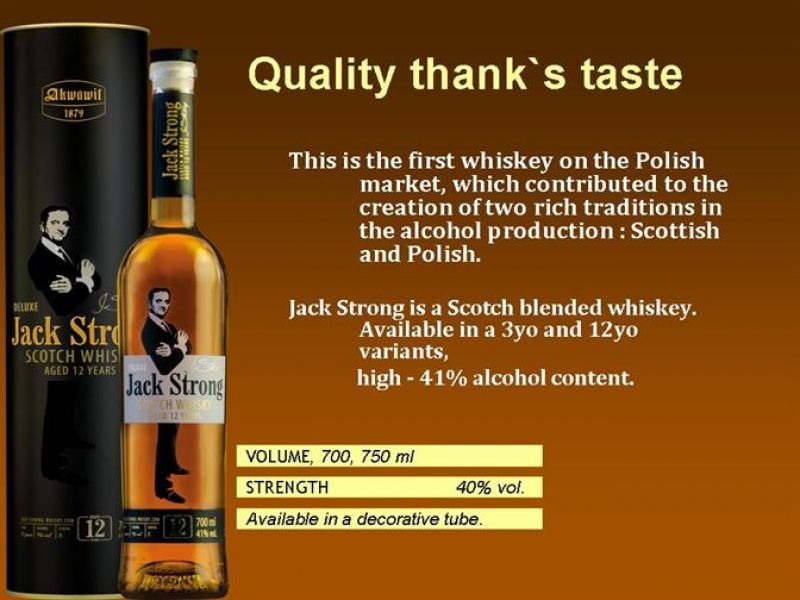 More Brands from this Company

Whisky


from

Poland

Jack Strong is blended whisky created as a result of Scottish and Polish collaboration.