Browse Consultants by date
Pro
13/08/2014
Consultant Country: Germany
When we founded a company to manufacture and market of start UP brands in 1995, took place recently, the newly founded and Umfimierung to the Beverage agency broker, we had no idea that the company over the years become one of the major players in the Liquid Business marketing sector of Non Alcoholic Beverage Brands-, Low proofs or Spirit will develop blends in Germany and International. True to the motto "as much expertise as possible - and "We do it" , we conducted a global player in the beverage industry as Rizz Prosecco, Low Proof Brand Liquid Spanish Fly, de` Vaveri Prosecco Italy with about 60 million bottles a variety of well-known retail brands and well-known brands and Low proofs of the Spirits Global Player industry successfully placed in the market and developed. Under the umbrella of Beverage Broker Agency combines excellence in implementation of power marketing agencies, marketing agencies and Trendsetting- agencies and high adaptability to the continuity of a nationally ever-increasing network. We are a privately owned company. Currently we are with our network partners in over 15 countries! Currently, our company is positioned with the sale of new and interesting lifestyle trade marks, this will be announced shortly on Trende drink Magazine!
Logo and company contact details can only be accessed by BTN Premium Members.
Get started and access full profile of every consultant listed, including their contact information, email and address. Click on the below image to get a preview.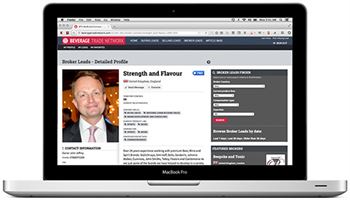 Are you a wine, beer or spirits consultant ? Join the world's largest wine, spirits and beer consultants network.
Information
Territory Covered:
Current Relationships:
Company Skills:
Current product line:
Looking for:
Compensation Method:
Company Experience: 3-5 Years
Go Premium to view full Consultant Profile and get all other benefits like:
Full Access to BTN Buying Leads
Full Access to all Consultants
Post Unlimited Brands
Trade Alerts
And Much More...