Browse Consultants by date
Pro
28/05/2015
Consultant Country: United States
Top Shelf Direct LLC We strive to offer direct access to all aspects of the Wine & Spirits industry. Our goal is to help brands of all sizes to become successful in the NY, NJ, and CT areas. Consulting Services: Offering our clients the experience and guidance of industry veterans that have held positions with companies such as Beam Global, Castle Brands and Casa Dragones Tequila. Brokerage Services: Tap into our many years of relationships with on and off premise retailers to increase brand awareness, distribution and sales in the New York tristate area. Offering bespoke services to fit our clients needs. Brand Development & Management- Whether you are starting out with a concept or looking to take your brand to the next level, we have the integral experience necessary to bridge the gap from notes written on a napkin to successfully navigating the channels of the Wine and Spirits industry. Our forte is launching, obtaining distribution and continuosly increasing sales for developmental brands. Route To Market- We provide the knowledge and creativity to expand our clients vision by creating detailed route to market plans designed to maximize sales. We recognize the world of difference between on and off premise retailers and will create a precise strategy for each channel. Obtaining a distributor can be a daunting task and knowing which distributor to partner with is a strategic move in itself. Having worked many years within all aspects of the three tier system, we will select the ideal distributor and obtain distribution in the most sought after retail accounts for each brand and region. Top Shelf Direct also offers direct access to a distribution network in New York and New Jersey. Distributor Planning & Management- Once we have teamed up with the right distributor, we will create the ideal distributor sales plan and handle the day to day business management including, but not limited to, setting pricing, sales strategies, incentives, quarterly business reviews, general sales meetings, sales rep work-withs and market blitz. Sales & Marketing Support- We understand the importance of scaling ones business to maintain and increase its level of efficiency and, whether you employ a sales team or not, we offer ongoing support to execute sales plans and market activations. Our team will be trained extensively on your products and will become local market ambassadors to champion your brand. Sales and Marketing have often been described as having a love/hate relationship. We can help you close the divide by offering marketing guidance with media, social media, press, PR, and event planning that will lead to increased sales. Tasting Events- One of the most cost effective ways for a brand to increase sales and brand exposure is to conduct local market tasting events. We offer services to handle all aspects of on and off premise sampling events in Metro NY. Events are directed by Wine & Spirits specialists trained on your brand who will attend to every detail including scheduling, logistics, setup, display, glassware, ice, mixers, etc. What can we do for you?
Logo and company contact details can only be accessed by BTN Premium Members.
Get started and access full profile of every consultant listed, including their contact information, email and address. Click on the below image to get a preview.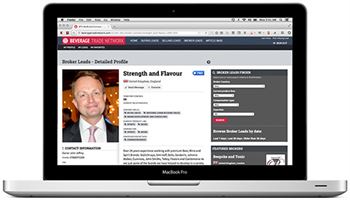 Are you a wine, beer or spirits consultant ? Join the world's largest wine, spirits and beer consultants network.
Information
Territory Covered:
Current Relationships:
Company Skills:
Current product line:
Looking for:
Compensation Method:
Company Experience: 11-20 Years
Go Premium to view full Consultant Profile and get all other benefits like:
Full Access to BTN Buying Leads
Full Access to all Consultants
Post Unlimited Brands
Trade Alerts
And Much More...