Browse Consultants by date
Pro
24/09/2014
Consultant Country: United States
Brian D Rosen is a lifelong entrepreneur, writer, speaker,columnist and retailer. Brian has been featured in Forbes, Chicago Tribune, Chicago Sun Times, Newsweek, Wine Spectator, Wine Enthusiast, Beverage Dynamics, The Reader, San Francisco Chronicle, and many other print news formats. Brian has contributed to CNN, CNBC, ABC, CBS, FOX, NBC, TNT, CLTV, Food Network, Travel Channel and many others. Brian blogs for Tumblr and has Keynoted at the BES Retail Summit, Beverage Dynamics Magazine and others. Rosen has been named "Retailer of the Year" three times, Forbes "Best of the Web" two times, Chicago's Favorate Place to Shop Three times, Shop.net ECOMM leader, 40 under 40 Award Winner and more. Brian is best known for being the first wine and spirit retailer globally to sell wine "online". That first mover advantage created his "seeing around corners" skill. His innovative marketing strategies, social media knowledge and customer service mindset make him a sought after speaker and consultant for grocery, alcohol beverage and general merchandise retailers globally. Rosen delivers measurable results in ECOMM and old line/ traditional retail. Known as the "Retailers Consultant" he brings years experience as CEO of his own 100M company and his skills as Partner at PricewaterhouseCoopers. His passion and ability to think like a consumer while bringing practical/ real world experience to his clients make him a must at any retail convention, corporate retreat and expo. Clients include, 7­11, Sears, Canadian Tire, Wise Guy Liquors, Fallas Brand Stores, Lululemon, Sam's Wines and Spirits, Market Fresh, Target and more. Contact Brian if you are looking for: -if you are a wine distributor, beer distributor or a liquor distributor looking to motivate your sales team and improve their sales performance. Topics include crafting their pitch, merchandising, how to service chains and care about your retailer. -if you are a supplier looking to support your retailers and distributors and are looking to coach your sales team. In summary Brian's coaching and techniques can improve your business and grow your bottom line.
Logo and company contact details can only be accessed by BTN Premium Members.
Get started and access full profile of every consultant listed, including their contact information, email and address. Click on the below image to get a preview.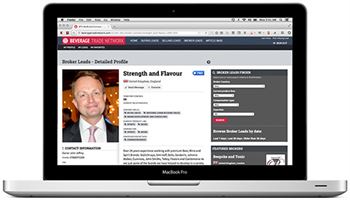 Are you a wine, beer or spirits consultant ? Join the world's largest wine, spirits and beer consultants network.
Information
Territory Covered:
Current Relationships:
Company Skills:
Current product line:
Looking for:
Compensation Method:
Company Experience: 20+ Years
Go Premium to view full Consultant Profile and get all other benefits like:
Full Access to BTN Buying Leads
Full Access to all Consultants
Post Unlimited Brands
Trade Alerts
And Much More...