Brand Presentation
On one side the wealthy nobles of the land - The Nobs - and on the other were the sans noblesse - then called The Snobs - those lacking the good fortune to be born into privilege.
They fought over the highly prized, stream of copper ore that was discovered in nearby Burra. The government put the mining rights up for tender - for the sum of £20,000. Whispers spread, such was the furore that this news made it all the way to the east coast. The locals feared their prize being stolen from under their noses so, (reluctantly) our local aristocrats and shopkeepers combined resources in order to cover the full cost.
With the land secured, both sides ended their temporary, uncomfortable, coalition. Battle lines were drawn in the split of their 20,000 acres of land
History tells us the little guys won out. It was the local tradesmen who achieved incredible wealth beyond their wildest dreams while the noblemen suffered a much more ignominious fate...
96 points Cairns Show Wine Awards
Mundus Vini GOLD
CWSA GOLD
International Wine Awardsn Spain GOLD
​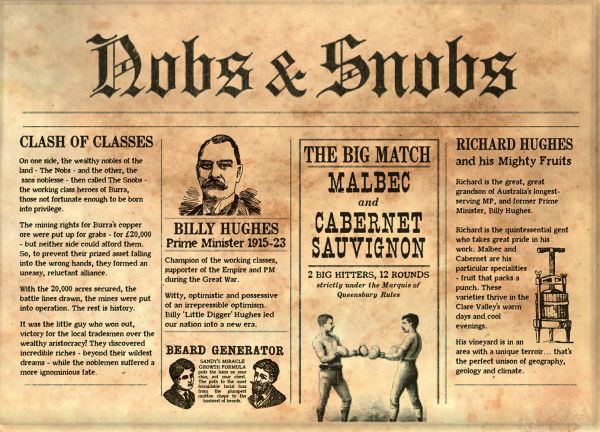 View all images
Full Product Specifications
| | |
| --- | --- |
| Date Created: | 11/09/2019 |
| Product Name: | Nobs & Snobs Malbec Cabernet |
| Product Type: | Wine |
| Country of origin: | Australia |
| Stock available: | On request |
| Price per unit US$: | 6.86 |
| Price per unit €: | On request |
| Alc. Vol %: | |
| Format: | 750ml |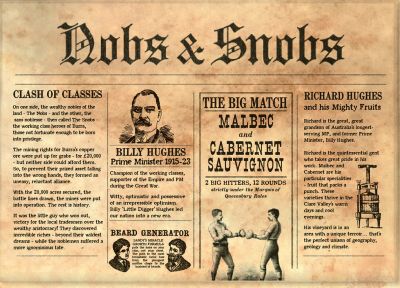 View all images
Countries this brand is distributed in:
Countries this brand looking to be distributed in:
US States this brand is distributed in:
US States this brand is looking to be distributed in: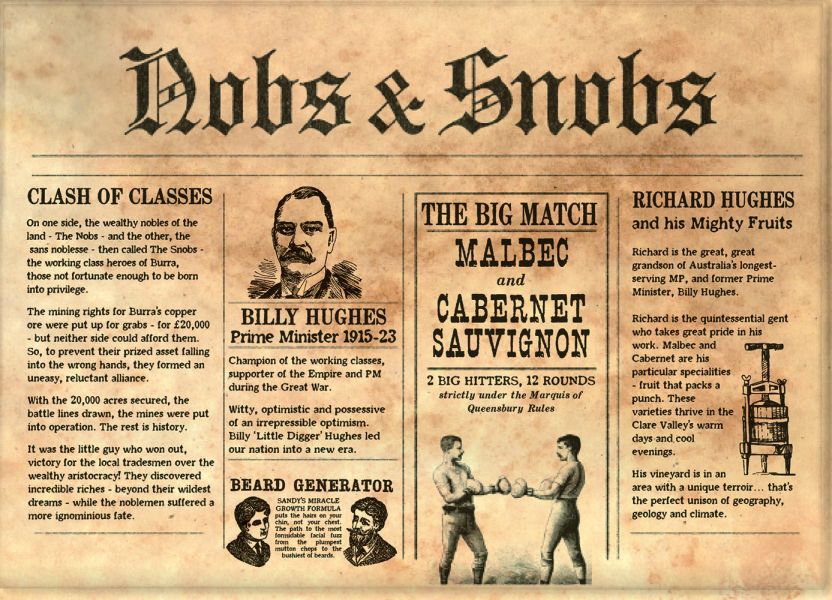 RedHeads Wine
It all started out with a bunch of Aussie winemakers heading over to France to show the old dogs some new tricks. Australian wine had taken the world by storm in the 1970s and 1980s so el patrón, Tony Laithwaite, decided to get some Aussies over to France. From there the RedHeads seed was sown for a new wave in winemaking. ​ In a small shed in McLaren Vale, a former Indian restaurant, a few of us winemakers took on the mission. Back then it was about breaking free from corporate shackles to come and make "real" wines. Tiny batches, hands-on, the way it used to be done. ​ There have been a couple of Studio wineries over the years. McLaren Vale (Foggo Rd, Chalk Hill Rd) and in the Barossa (Lyndoch, Light Pass, Tanunda, Angaston) - but the principles remain the same. We still hold onto that benchmark quality, making limited batches, but now we're also about grape liberation. ​ Our team constantly have their ears to the ground, searching out for the latest parcel to liberate from the big guys; we're talking about the major, premium, Aussie brands. These grapes were originally destined for them, to be made into extortionately priced wines. You see, the growers themselves can't afford to drink the fruits of their labour when it's blended into these big names. No mistake, it's a great honour to be selected for them, but now they can enjoy them. ​ We bring the fruit back to our Studio winery, a few rows at a time, to give them the special treatment they deserve. Handmade, carefully, skilfully, watched over night and day. ​ They go on to form wines of true individuality and character through this process. That's what we're after at RedHeads. It's all about creating wines with a personality that are made to be enjoyed. We can't save them all, but we try. The "movement" goes on.
Contact now
Please log-in to contact this seller!
You can send a message directly to this seller and request additional information about this posting, Company Profile and related products.
More Brands from this Company

Australia | Wine