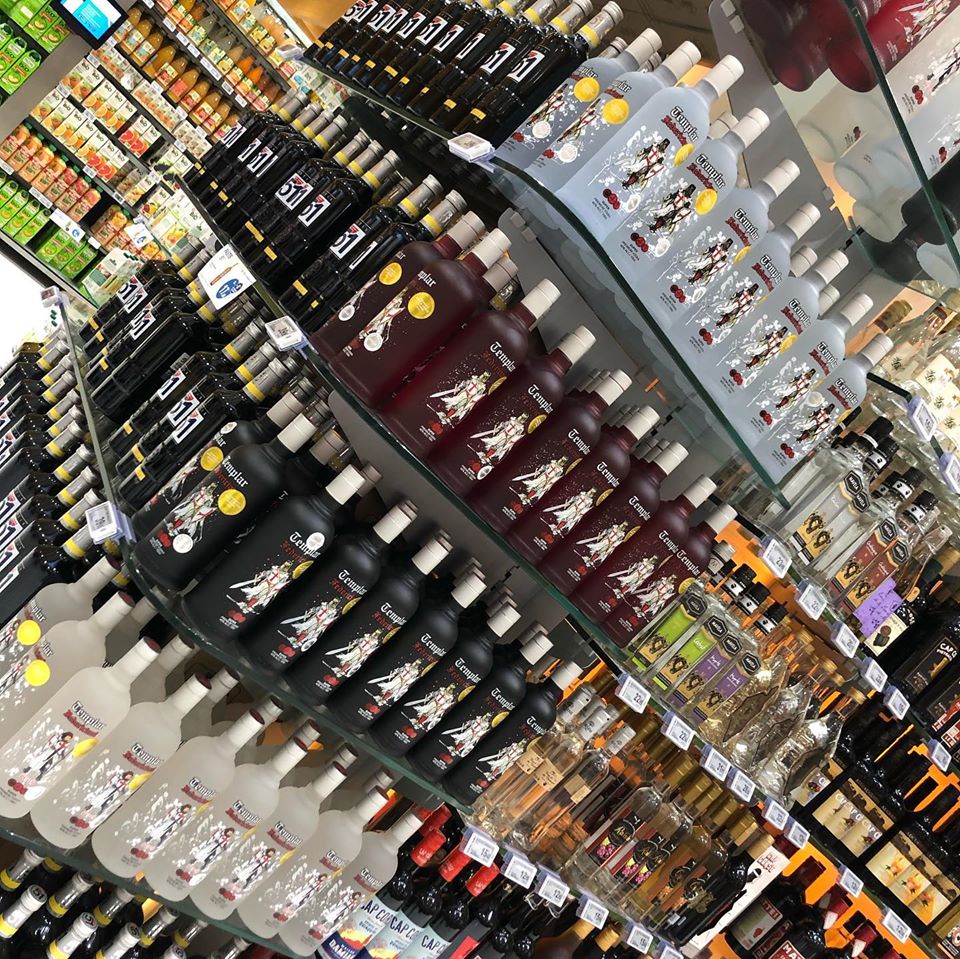 Brand Presentation
We have created a range of 4 different vodkas: • The white bottle turns blue in the ice with a thermochromic coating. In the mouth, this alcohol, yet very strong, is sweet and pleasant, and appreciated by people who do not like strong alcohol. • The peach vodka is packaged in a white thermo chromic bottle that turns pink in the ice. In the mouth, we get the same sweetness with a subtle aroma of peach, very refreshing. • The most balanced of the 4, remains the red bottle, single color. On the palate, its character is more pronounced and brings balance and power. • The black bottle remains the most powerful vodka in the mouth with a strong character. They are made with 100% wheat and with pure spring water extracted from the basement more than 700 deep and distilled 6 times, which testifies to the undeniable quality of our vodkas. Vodka Templar is 1 liter of pure wonder! The Vodka Templar was born 14 months ago and has already obtained: • the 2017 gold medal in London • 2017 CWSA Hong Kong Gold Medal, • The 2018 CWSA Hong Kong Double Gold Medal, • The London CWSA Women 2018 Gold Medal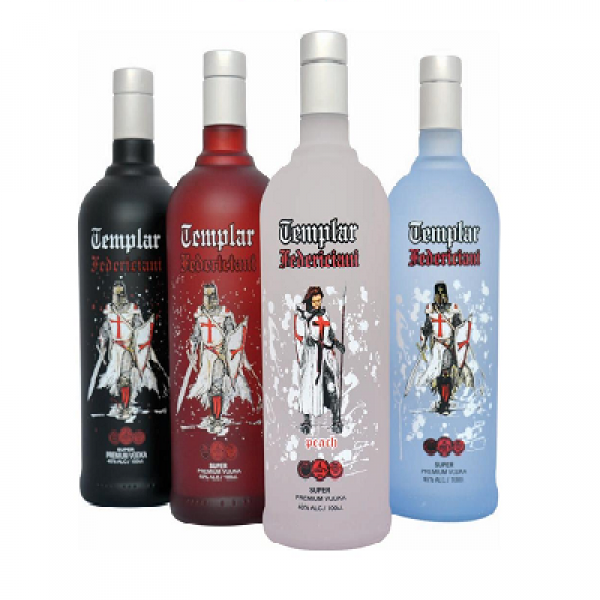 View all images
Full Product Specifications
| | |
| --- | --- |
| Date Created: | 21/06/2020 |
| Product Name: | Vodka Templar Range |
| Product Type: | Vodka |
| Country of origin: | Ukraine |
| Stock available: | On request |
| Price per unit US$: | 12.00 |
| Price per unit €: | On request |
| Alc. Vol %: | 40.00 |
| Format: | Liter |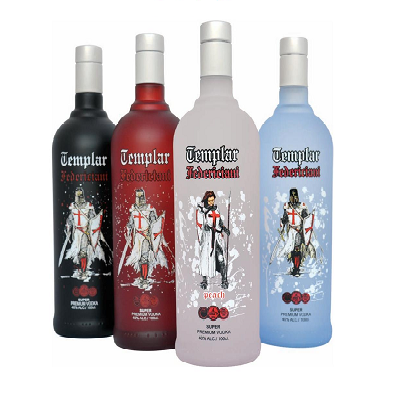 View all images
Countries this brand is distributed in:
Countries this brand looking to be distributed in:
US States this brand is distributed in:
US States this brand is looking to be distributed in: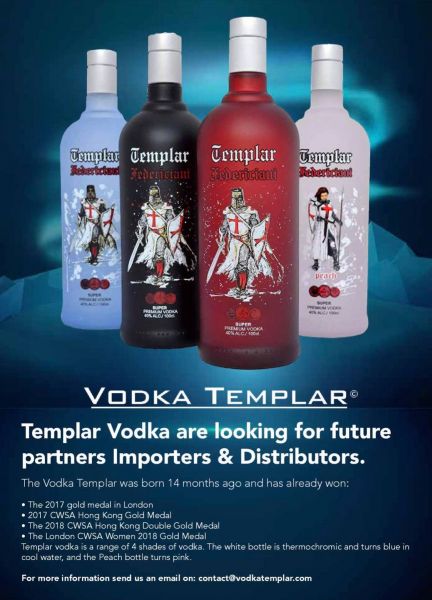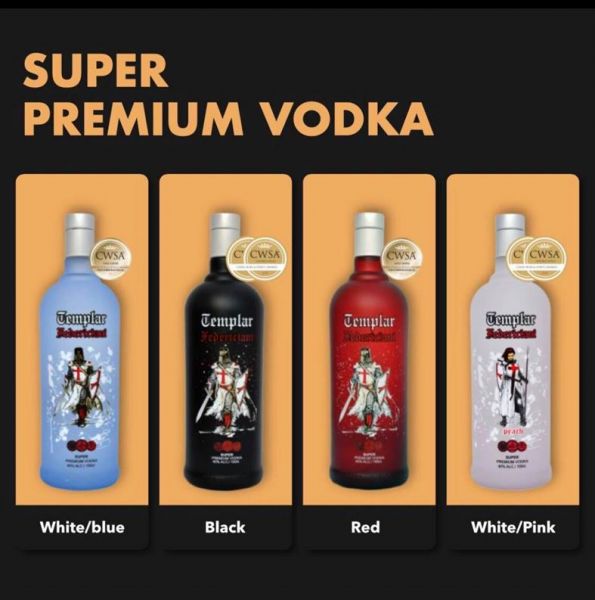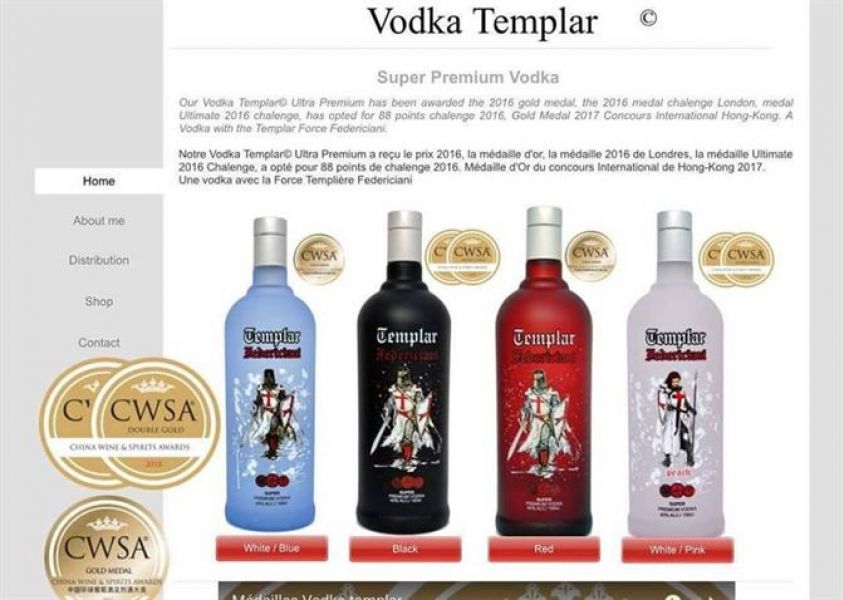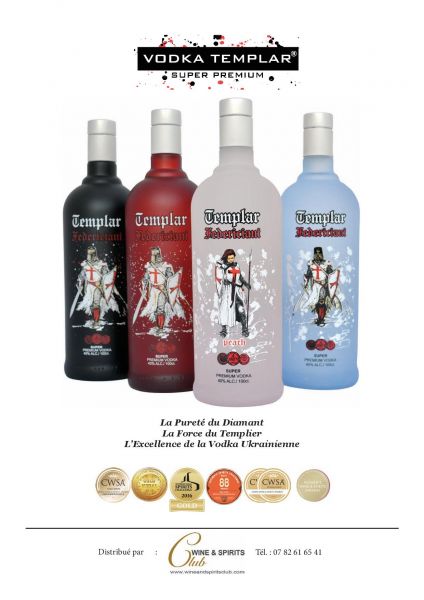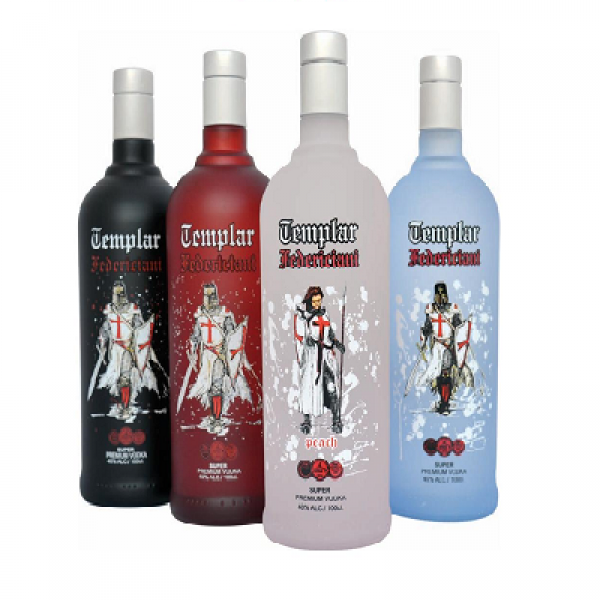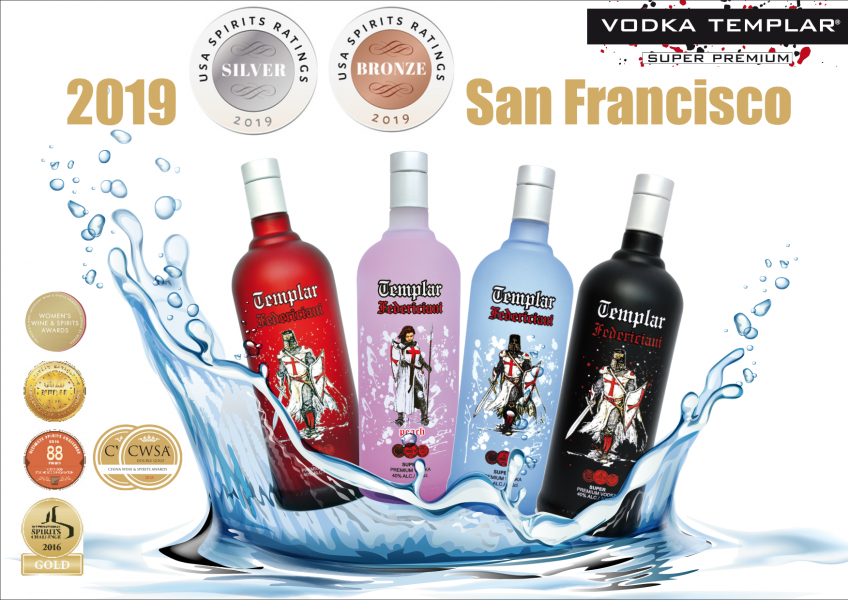 Wine and Spirits Club / Vodka Templar
Wine and Spirits Club, is dedicated to people who appreciate quality and premium wines and spirits at reasonable prices. We are looking for rare and new wines and spirits on the market for you. Discover our products every month, we will also organize tastings around the world so that our subscribers can discover and taste them. Our team selects a range of excellent spirits, made in the best traditions. Individuals, professionals, associations, clubs, we have offers tailored for you. Our range of alcohols are undoubtedly of excellent quality due to the taste, aromas, strength and balance in the mouth which will satisfy each of us.
Vodka Templar, discover our new Vodka Templar, made in the best Ukrainian distillery. It becomes one of the best vodka in the world, it comes in 4 bottles with 4 different tastes, distilled 6 times with the best spring water from Ukraine. A Vodka with the Templar Force Federiciani. Become an exclusive importer / distributor in your country.
Our Vodka Templar© Ultra Premium has been awarded the 2016 gold medal, the 2016 medal chalenge London, medal Ultimate 2016 chalenge, has opted for 88 points chalenge 2016, Gold Medal 2017 Concours International Hong-Kong.
SUPER PREMIUM VODKA 40% ALC / Flight 1 litre Water quality is controlled from 700 m depth. The taste of water greatly influences the taste of Vodka. Water influences all aspects alcoholic beverage: Smell, taste and clarity. Even the purest water, if contained in its natural environment, must be treated. The treatment process is as follows: Water flows through sand and carbon columns, cartridge and membrane filters and undergoes ultraviolet and molecular purification. Reverse osmosis helps regulate the saline composition of the water. This makes each type of vodka unique. Global control in the distillery laboratory is the last step in water treatment. The water is now ready to be mixed with alcohol (sorting). Water is fed to pressurized tanks on the 4th floor of the mixing plant. The treated water is soft, clear and alive (unlike the distilled water used by other manufacturers).
Contact now
Please log-in to contact this seller!
You can send a message directly to this seller and request additional information about this posting, Company Profile and related products.
More Brands from this Company