How to Get the Press to Write About Your Beverage Brand
BTN outlines the 5 major components of a story that is guaranteed to find a captivated audience and asks Meridith May (Editor of The Tasting Panel) the tough questions: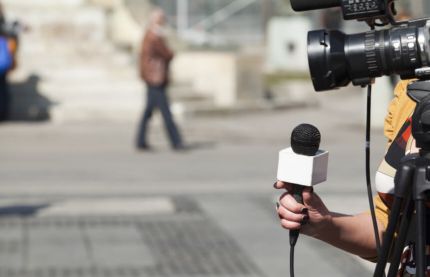 In the modern marketing world of today, media and journalism businesses are evolving as marketing departments approach news platforms with innovative strategies and increasing interest.
Getting press companies to cover company news, brand launches and upcoming functions is great way to increase your business' exposure, but as more companies look to the press for marketing answers it is getting increasingly difficult to find spots in industry publications. Journalist's are looking for truly unique story submittals that will pique the curiosity of their readers and also include high caliber media as supporting content.
What does submitting a 'good story' really mean? How can you make sure the stories you submit are impossible to ignore?
Beverage Trade Network looks at the framework of a truly great story and interviews Meridith May, of The Tasting Panel Magazine, on the best practices to follow when submitting your story to a Press Company.

The key to creating a news worthy story for the beverage industry is to write a story that will be news worthy in any industry. Whether it for a press company in the beverage industry or a online tech industry publication, editors want to see really provoking content come across their desk. Media companies want stories that are really going to evoke strong emotions from their readers - news in the beverage industry needs to be about something exciting and new that goes beyond the ordinary narratives of brand launches and company profiles. Luckily, there is a way to ensure you are going to create newsworthy content.
A relatively unknown secret is that many stories you read written by professional journalists adhere to a simple formula. The idea is that by following the formula, writers can pen a story that almost guarantees to get readers hooked into reading the article and are still wanting more by the time they finish it. These same writing tools can help beverage companies create captivating stories worth the time of any editor. Here's a hint – the formula starts with the Lead and ends with the Kicker.
The 5 Major Components of a Story Guaranteed to Find a Captivated Audience.
1. The Lead (or Lede in Modern American Journalism.)
The lead is a well thought out and provoking sentence or phrase of sentences engineered to highlight the high point of your story and get your readers hooked. Try and touch on the most exciting parts of your content while also including newsworthy information. A well written lead will include the Who, What, Why, Where, and Whens without feeling overloaded. Many school's of thought believe the Lead to be the most important part of any story. You can always leave this part to the very end, but trying to write it first gives you a good idea of how you want your story to develop.
2. Nut Graph (the In-A-Nutshell Paragraph.)
The Nut Graph gives the reader all of the different subjects talked about in the article, but as a string of teasers. You want your reader to continue reading, so don't go overboard here. Just give a glimpse of what you've got in store for them. Think of it as an intro paragraph designed to lure your reader into the deeper descriptive body of your story. All of the ideas are present, but there's too many facts missing for the reader to stop reading.
3. The Body (the Rest and Run.)
Now it's time to unveil the real content of your story. Start by taking a step back (the Rest) and giving all of your background information. Build the story up with interesting facts and parallel stories that give your main content the necessary framework to really hit home with the readers. Once you've got a good base, give them the climax (the Run) they've been waiting for. Tell them all of the essential facts on everything you've teased them about already.
4. Forward Looking Statement (the Future is Bright.)
After delivering your message, it's time to give your readers something that gets them thinking about how your product can find a place on their shelves or how it's going to change the future of the beverage industry. Readers want to be told why what they read is important. Craft an engaging phrase that really delivers a sense of necessity for your story - once you've come this far, it should be easy.
5. The Kicker (The Twist You Can Taste)
All great stories finish with flare. The kicker is a final sentence designed to send the reader off with a poignant piece of information, a hearty laugh, or some moving sentiment. As a beverage company, you should engineer your kicker in a way that gives the reader every reason to go out and try your product!
With all of the necessary tools to write an enthralling story, it's time to look at what kinds of content professionals are looking for. We caught up Meredith May, of The Tasting Panel Magazine, and asked her for some insight into the media world of the beverage industry. Here's what she had to say:
BTN: Could you talk to us about the 5 main reasons a story catches your attention and what it is that ultimately makes you decide to cover them?
Meredith:
1. Innovation: something new and unique is always best.
2. Who's Who: We love reporting on the wine and spirits buyers - if there's an interactive element with the brand and a mixologist, sommelier or restaurateur, we're usually on it.
3. Trending: if a category, brand or brand ambassador is worthy of making a new statement, then we feel like we are helping set a trend by reporting the info.
4. New angles: What makes this brand news worthy. Sometimes it's as simple as coming up with a new theme, concept or way to deliver the story - a competition, an event, a charity?
5. Education: If there's something to be learned, it's important to us.
How You Can Apply These Tips to Your Story:
1. Innovation: Take a look at your beverage line up and try and find some truly unique part of it's history or production process. Here are a few questions to ask yourself about your company:
• What makes our products stand out from the rest of the competition in our particular beverage market?
• Were there some serious challenges to overcome when developing this feature/product?
• How did you answer those challenges?
• Can we innovate on something unique we already have and make it even more exciting?
• If I saw this innovation in a magazine, would I take the time to read an article about it?
• What other sub-story lines can we include that really highlight our innovation?
Once you have decided on some really good content to concentrate on, take your subject matter one step further. Poke at the topic until whatever it is that you believe will touch on the imagination of your target press editor has a full and rounded identity that they can really dig into.
2. Who's Who: If you've recently had some great interactions with celebrities or industry VIPs the sooner you promote it, the better. Journalist's also love to write about CEO's and important people in the company. Even when you are using great faces as your main focal point, you need to approach the subject matter strategically. Take the time to craft a good story around your news piece and you will drastically increase the odds of the story being picked up. You can ask yourself a few of these questions to get started:
• How can we use the recent news of our CEO in an exciting way?
• What is it that makes this news unique to other similar stories?
• What story did you tell to get the VIP interested in the first place?
• What personal characteristics does the endorser have in common with those of your company?
• Were there lesser known personalities that declined you before you got this great endorsement, and how can you exploit that side of the story?
• Was there a behind the scenes moment that really stood out and reminded you of part of your identity or of something in your company's past?
• Do you have any future dates with important market makers?
Now that you've whittled down your story into a rough mold of a killer highlight piece, it's time to create a body that really demonstrates that you know what an editor is looking for. Giving them every reason to want to be the exclusive media company to cover your brand's recent encounter with the big guns will put you at the top of their next month's featured article list.
3. Trending: If you are at the forefront of a new trend that has emerged in the beverage industry, start looking at what makes your company the atypical example of this new change in psyche. You will want to jump on this subject matter as soon as possible, as you'll quickly find out that you aren't the only one raving about the new trend. Taking your story to the press quickly doesn't mean you can forget about building a solid foundation of content for the media to build a story around. Consider looking at these questions to find a unique angle to approach when reporting on the trend:
• What was it that was keeping this movement down before?
• What fears did you have when you were getting started?
• Why did you ultimately decide to follow this theme?
• What was the tipping point – what did you do to get your customers to join the band wagon?
• Where do you see this going trend going in the future
• What actions are you taking (technology, social media, events, etc) to stay on top of the new movement?
Highlighting a developing trend can be a great way to catch the attention of a large audience. People love to feel like they are part of a select few that can see into the future, so exploit the most human parts of your story and highlight the trend throughout. As you start creating your story, target various media companies and look at how you can incorporate their profile as part of the your overall theme to really encourage them to cover your story.
4. New Angles: When you are getting ready to launch an event, planning on supporting a charity or looking at building a themed cult following (etc), spend some of your energy analyzing how you can really build it up with good press coverage. Look at different strategies that you can employ that will generate interest from different sectors and stir up a interested media base. Try pushing your team to create a great story to surround your planned expansion plans by asking these questions:
• What is the original idea that got the ball rolling?
• Who did you look to for help?
• What type of resistance did you encounter?
• Did you ever consider scrapping the idea all together?
• What unique platforms did you use to launch the new idea?
• Were there any integral employees that really stepped up?
• What does the future look like with respect to new themes based on this idea?
Choosing a new angle that you know will be extremely popular in order to promote your branding is a great way and get your story carried by news agencies. Pick your topics of branding expansion by targeting competitions, charities, events or social happenings that fit your branding and have great potential to be media favourites. Once you've got a good hold idea that the launch is going to be a success, forge a story that personifies the emotions that went into the planning behind the launch while spotlighting the high points as it came together.
5. Education: Finding interesting ways to educate an audience about different facets of the industry is another approach to convincing press companies that your story is impossible to ignore. If your beverage uses a unique distilling process, you are the only producer to use a certain type of ingredient, or your sales rep can give tips on creating better distribution agreements for small sized beverage companies, try to outline those skills in an educative light. Here are some ideas to look at to get you going:
• What do you think you, or someone in your team, is the absolute best at?
• Can your online/offline presence lend itself to any unique approach to marketing?
• Are you the sole user of any of your ingredients – why is this advantageous to your type of beverage?
• Do you use unique techniques in your production process?
• Do you use any sure win sales or distribution practices?
• Do you have any other trade secrets that you can divulge?
Consider the truly valuable parts of your beverage company and then craft educational stories around them to yield entertaining articles worth any editor's time. Try and choose subjects that are innately fascinating and difficult to get good and clear answers to. This tip can be applied in combination with any of the other four strategies outlined above. The longer you spend detailing your piece, the better chance you will have at getting press companies to cover your story.
BTN: Once you have decided to cover a story, what are some things that they can do to facilitate the process and encourage your future involvement?
Meridith: Get us GREAT photos...magazines – both online and hard copy - are visual. The better the photos, the bigger the article could be. Seriously.
How You Can Apply This Tip to Your Story:
Look for photo ops that really embody the theme of your story and spend the time you need to properly stage your photos to make them look professional. Take a variety of shots of the people, place and things that make your story unique. As you get used to the process, your skills will develop so don't be shy. Keep taking pictures of everything your company does so you familiarize yourself with the procedure and make sure you don't lose out on any great shots. Once you've gathered a good collection of pics, narrow down your portfolio to the really exceptional photos. You want to be proud of the content photos in your feature article. Do some proper editing using photo editing software and create the best pictures that you possible can. Submitting great photos with your article will instantly make you the editor's favorite.
BTN: When you are browsing the internet, reading industry magazines, or screening potential stories, what types of articles stand out as those that truly give value back to the company that they are about?
Meridith: Again, education is key. Sommeliers, spirits specialists, chefs and other industry professionals can all further their career through offering us something that augments our existing knowledge on a brand or company. A story about a bourbon is more interesting when you have a real back story, but when you also include how it's made, who makes it, etc. and provide enough content to create a complete story, then we really have something to consider.
How You Can Apply This Tip to Your Story:
Readers want to take something away from the articles that they read. The more information you provide about your subject matter, the easier it is to warrant writing a piece about it. If your wine distillation apparatus and production technique is state of the art eye popping technology, then take the time to accurately explain every feature down to the last nut and bolt. People don't want to hear you bragging about your distillery's great new copper kettle, they want to hear why copper offers unique brewing conditions to stainless steel. Give as much quality information as you can in your story and limit the corporate propaganda.

Dont' forget - As much as content counts, so does crafting an entertaining article! Use the ideas that you've generated from looking at these tips and then draft a truly engaging story. Use heroes, high points and conflicts to generate a story with unique character that reader's are willing to follow all the way to the conclusion and include amazing photos to increase the likelihood that your story gets covered. The more sound the underlying structure and content of your article, the more likely it will really grab the attention of press editors in the beverage industry.