How to Get Seven Million Users to See Your Brand on Youtube For Free
Real Tactics and Real Tips on How to Capitalize on Social Media and Increase Your Winery's Brand Recognition. Check It Out.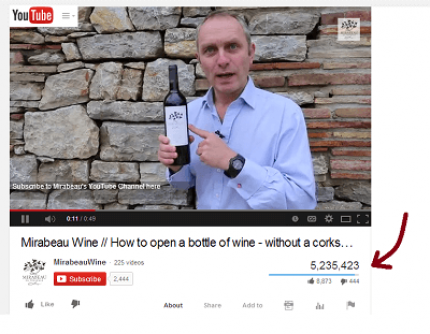 Real Tactics and Real Tips on How to Capitalize on Social Media and Increase Your Winery's Brand Recognition.
BTN Takes an In-Depth Look at Mirabeau Wines' Online Presence, What it Means to Have an In-House Video Go Viral and How to Capitalize on it's Increased Exposure.
Right from the start, it was clear that these guys knew what they were doing. Even before their viral video, they were reaching over 30,000 consumers per month across their social media platforms and they had 100,000 views on their YouTube channel.
On-Line Marketing has become an essential part of any successful beverage brand's launch and their subsequent rise in popularity. Mirabeau had a strong presence in all of the main stream alleys and were working hard at maintaining their healthy community. They had done everything right.
First, They set out the groundwork for a successful campaign with a strong story that the universal wine lover could associate with – one about a family, a dream and the devotion to quality wine. They used their family's new adventure into the world of wine making as their main pivot to the marketing campaign while also highlighting their ambition to produce one of the top Rosés in Provence.
Next, they outlined a story line to follow on all of the major social platforms that they thought would benefit them in the long term. They went about producing engaging content day after day, week after week, and year after year.. Then... Finally, their hard work paid off. Their Video ' How To Open A Bottle Of Wine Without A Corkscrew' went Viral.
We asked Stephen a few questions about what it means to have your video go viral and how to capitalize on it's success. Here's what he had to say:
BTN: Your video uses a very useful tip for wine drinkers worldwide as it's content, but it's not exactly eye popping material. Why do you think that of all of your videos, this one caught the attention of so many people?
Stephen: This was our 222nd video, so it was not just us getting lucky at our first attempt, yet its success has surprised me as much as anyone else. The "shoe method" has probably been known for hundreds of years and I think there are several (if not dozens) of versions on YouTube too. So why was this one such a hit? Jennifer Williams, a US blogger who looks at "Better Marketing Through Science" gave the best articulation as to why this seems to have hit the spot:
[Below Is An Excerpt from Jennifer Williams Blog]
"Let me break down for you exactly how beautifully engineered this marketing piece is. It is practically perfectly constructed to get attention, deliver an emotional impact, to be memorable, to be shared, and stand the test of time:
1. It's useful. To me, to you, to nearly everyone you know. Take this comment from their blog post featuring the video, "Oh my god I love you forever for this! You win the Internet."
2. It's novel and useful together.
3. It carries heavy social currency – it makes the sharer, or even the demonstrator look cool, knowledgeable, useful, and someone you definitely want to invite to your parties.
4. It's also entertaining – subtly humorous and classy.
5. It's branded in a subtle, but memorable way. The bottle of wine is front and center, but not in your face with the branding.
6. It's embedded in their website and optimized for search so even after the social sharing is over, people will find it when they find themselves in a pickle without a corkscrew and turn to the Google for help.
7. It's embedded in their beautiful, high-quality, useful and user-friendly website.
Bonus – pretty sure this spot didn't break the marketing budget bank."
[Read more of Jennifer's blog here 'Mirabeau Wine Shows you How to Open Wine Without a Corkscrew and How to Win at Marketing']
BTN: She really pinned the tail on the donkey with that blog. I don't think you can outline it's success any better. I'll just add that what struck me right away was that the video certainly had a friendly way of being both funny and informative.
Earlier, you mentioned that it wasn't just getting lucky on the first attempt. To successfully post a viral video takes a lot of trial and error - and with over 200 videos you guys certainly put in your due diligence. Before the Corkscrew video, you had another relatively popular video. Can you tell us a little bit about it?
Stephen: My most viewed video before this was "Harvesting olives and making olive oil" which had been viewed around 36,000 times, mainly (according to the YouTube analytics) by Greek males over 65 years of age. Not my target audience!
BTN: Still, 36,000 views is pretty impressive for a family run marketing team. Something people doing in-house digital marketing sometimes forget that you have to continually analyze the data that your posts generate. Without looking deeper into your video's analytics, you might have thought that pushing the video harder, maybe even spending some money on advertising based around it, would have yielded good ROI when in reality it might of just fed the curiosity of a room full of Greek men. Ok, Ok. All kidding aside, understanding who your fans are and what makes them tick is an essential part of good marketing. What kind of investment and advertising did you guys use for your Corkscrew video?
Stephen: The video itself took me around 45 minutes to film and edit. I did everything myself and it didn't require any special equipment, other than a camera and a tie mic.
I posted it on YouTube and then on Facebook (I spent €45 promoting it in NYC, Dallas and Miami). Over the following 4 weeks I reposted it several times and twice paid to boost the posts (€65 and €29) so I spent €139 in total on the video.
BTN: Not Bad! How have you capitalized on the success of the video. In other words, What impact would you say the video has had in terms of ROI?
Stephen: We had three inbound inquiries from importers, but the most useful element was the general brand build. I went into a wine store in London last week and someone came up to me and said he recognized me from the video. And the Mirabeau name has now been seen by around 7 million more people as a result of the video. We have also grown our YouTube subscribers massively. Facebook Likes grew from around 5,000 to around 7,500 but it didn't have as much impact on Twitter as I'd imagined. Also read our article on social media ROI.
BTN: Lots of companies spend thousands of dollars trying to achieve what you were able to do with a few hundred. You didn't stop either. You have done a great job of thinking outside of the box on how to utilize the exposure. After being a part of this last chapter of success, what advice would you instill on small to mid sized brand owners who are looking for tips on creating a successful on line marketing campaign?
Stephen: The key thing to point out is that we never compromised our wine as a result of our social media activities. Wine quality is paramount, but rather than just putting it in a pretty bottle and hoping for the best, we're being pro-active at building our brand image.
Here are Stephen's top 5 tips on wine marketing on social media:
1. Think about your story and what makes it unique and interesting (not just your terroir or your passion - that's what everyone else says!)
2. Who would you like to tell your story to (i.e. who is your target audience)?
3. Work out which Social Media platforms can best convey that story to your audience.
4. Do you have the skills / time to set-about telling your story (if not, there are plenty of people you can outsource this to)?
5. Create regular content around your story (i.e. keep your audience engaged).

Stephen's answers certainly shine some light on how small brand owners can go about getting big results, but what keeps them on top?
Mirabeau's recent success with their viral video didn't go to their heads. Even though they had grown their website traffic dramatically, increased all of their social media platform followings and had a significant jump in the number of users subscribing to their newsletter, Stephen and Jeany knew they had to build on the momentum. Now they have a bigger base to engage with and analyze, more content to produce and new strategy planning to do for their marketing pipeline.
When they first got in touch with BTN they had already been featured in over thirty different news pieces from various agencies across the US and UK. They knew that increasing their press exposure, both offline and online, would also increase their online presence, and they weren't afraid of pursuing every opportunity. So they headed to their laptops.
Stephen's first email to us was nothing special, but it was enough to get us to look at the presentation they had attached, and they had done their homework! Their presentation had everything that a digital marketer could dream of. With highlights from their social media pages, excerpts from press, slides about their reviews & awards, and an overarching theme about their dedication to brand building, it was a snapshot at a company that had all of their angles covered. When we decided it would benefit our members to take a closer look at their brand and their marketing, we realized that we had fallen victim to their plan: we had signed up to do exactly what Stephen had wanted from the start!
As the leading B2B site in the wine, spirits and beer industry, he looked at BTN as a great way to connect with market makers in the beverage industry. His strategy had no monetary investment or risk associated with it. He just thought outside the box, came up with a plan and executed it.
As any successful marketer knows: ingenuity is key, but successful execution is paramount. [For more help on outlining a successful digital marketing campaign you can read our article: Story Telling: How To Successfully Market Your Brand's Story Using Multiple Platforms]
Here are some other examples of how wineries can use their success: Click On the image below to view their presentation. A Good case study.
Facebook Page
How they use their website traffic as a unique selling point
They Include Social Media Push As Their Biggest Support Program To Their Importers