Sommeliers Choice Awards 2023 Winners
Meet the Who's Who of the Alcohol Trade Business in Chicago On October 17-18 at 2023 USATT 
Mark Braver, The Fifty/50 Group; Michael E Klauer, Momentum Beverage Team: Jeremy Kruidenier, Wine and Spirits Distributors of Illinois and more take the stage at USATT 2023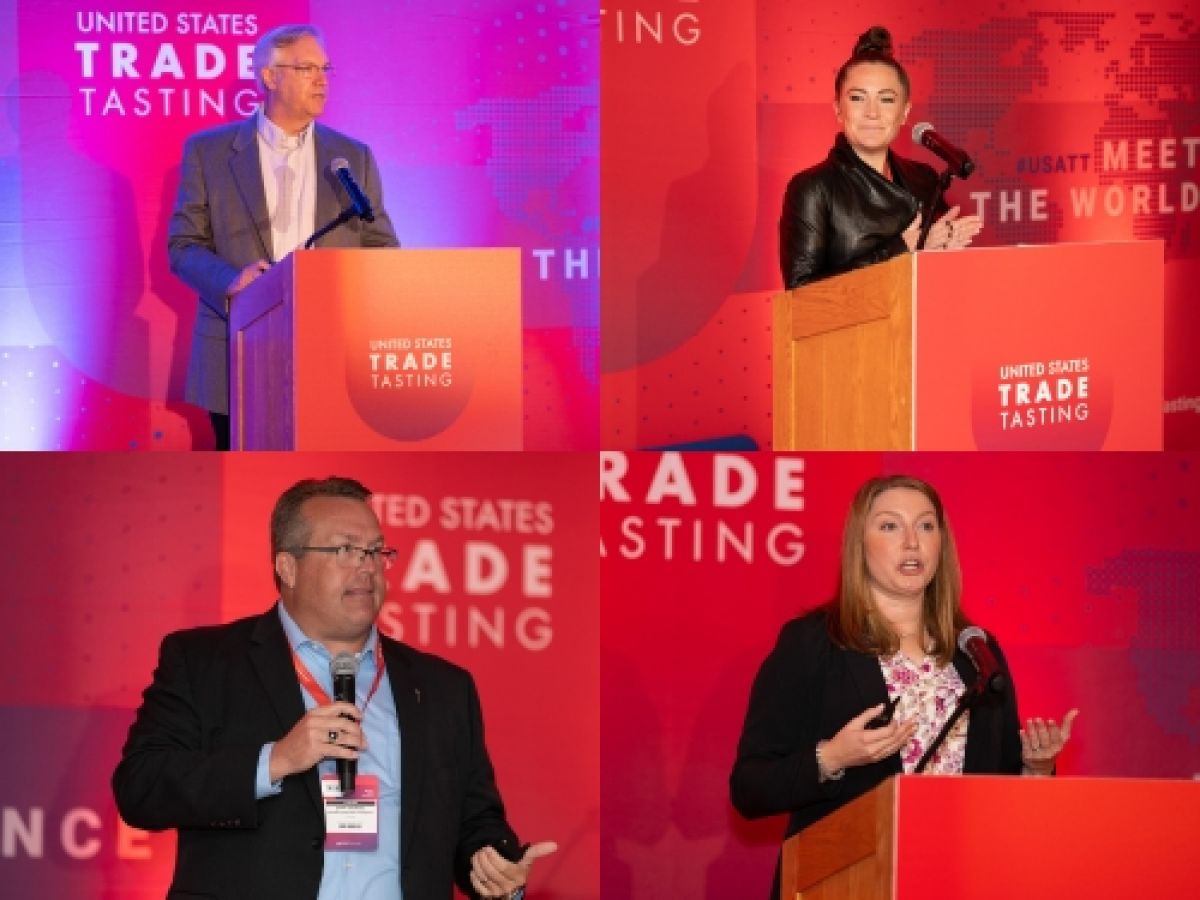 23/08/2023
For professionals in the alcohol beverage industry, the USA Trade Tasting (USATT) presents an unparalleled opportunity to connect, collaborate, and elevate their enterprises. Held annually in the vibrant city of Chicago, this event brings together alcohol beverage sellers and buyers for a unique blend of business discussions, insightful conferences, and networking experiences. As the event gears up for its upcoming edition on October 17&18, B2B attendees have compelling reasons to secure their spot at this premier gathering.
In-Depth Conference Sessions
The conference component of the event is a true highlight for B2B attendees. With 8 keynote talks from 26 speakers and 4-panel discussions led by industry luminaries, attendees gain access to a wealth of information that can reshape their business outlook. These sessions cover a wide range of topics, from market dynamics and emerging trends to regulatory updates and technological advancements. The information gleaned from these sessions can be transformative, enabling B2B professionals to stay ahead of the curve and drive innovation within their businesses. These sessions offer B2B attendees the opportunity to gain insights directly from some of the most influential figures in the industry. From market trends and consumer preferences to distribution strategies and sales techniques, the conference is a treasure trove of knowledge that can inform and inspire your business strategies.
Speakers at USATT 2023:
1. Bruce Abbott - Wine, and Spirits Category Manager at Brown Jug Alaska.
2. Steve Beckner, CSW - Wine & Spirits Buyer at Grocery Outlet.
3. Mike Boswell - Vice President of Digital and eCommerce at Breakthru Beverage Group.
4. Mark Braver - Director of Restaurant & Bar Operations, The Fifty/50 Group.
5. Jim Bube MS - Wine Director at Hogsalt.
6. Michael E Klauer - Momentum Beverage Team Illinois, Colorado, Wisconsin.
7. Colin Hofer - Wine Director, Director of Education, Bonhomme Hospitality Group.
8. Jeremy Kruidenier - Executive Director and General Counsel at Wine and Spirits Distributors of Illinois.
9. John Laloganes - Sommelier/Wine Steward of the Year - International Association of Culinary Professionals (IACP) 2012.
10. Michael Maloney - Sales and Business Development Manager.
11. Michael Marsico - Midwest Area Director at Maggiano's Little Italy.
12. Tommaso Mistretta - Wine Buyer and Certified Sommelier.
13. Daisy Penzo, Founder and CEO of Tuscany Wines Import.
14. Nancy Sabatini, WSET - Wine Director, Wine Education & Sales at Mainstreet Wines and Spirits.
[[relatedPurchasesItems-46]]
Showcasing Product Innovations
Attendees at the show gain access to providers of new and innovative products from around the globe.
Attendees will have the chance to browse spirits brands, RTDs, products from local breweries, distilleries, and wineries, and USA-based brands. The exhibition floor will also host international brands poised to grow in the USA market, especially from regions that are in demand like Champagne, Burgundy, and large and value-driven exhibitors from Chile, Australia, Italy, and Argentina.
Exhibitors abound in brown spirits, and also tequila and mezcal to match the needs of buyers. USATT's focus is on realigning the demand and supply in the US market. Attention will also be given to RTDs, low alcohol, non-alcoholic, and seltzer brands as exhibiting companies.
Powerful Networking Opportunities
At the heart of the USA Trade Tasting lies an expansive network of industry professionals, all seeking to foster partnerships, collaborations, and meaningful business exchanges. The event gathers a diverse mix of producers, distributors, importers, and retailers from Chicago and around the US, creating a dynamic atmosphere ripe for making connections. Whether you're a seasoned veteran or a newcomer to the industry, the trade show provides a conducive environment to forge relationships that can drive your business forward.
Diving Deeper into Chicago's Drinkscape
For the past six years, the USA Trade Tasting (USATT) has been a prominent fixture in the international beverage calendar, orchestrating connections and catalyzing conversations across borders. In 2023, it's not just about business; it's about the captivating realm of Chicago's libations. The event is a masterful blend of past editions and novel experiences, aimed at catapulting Chicago's drinks industry to unprecedented heights.
A Venue Like No Other: Morgan Manufacturing, Chicago
Nestled in Chicago's West Loop, the stage for USATT 2023 is none other than the illustrious Morgan Manufacturing. This iconic venue boasts over 32,000 square feet of exquisitely designed space within a historic building. With its industrial elegance characterized by soaring ceilings, exposed concrete, and a fusion of glass and steel, Morgan Manufacturing embodies the perfect backdrop for this celebration of beverages.
Culminating Networking at the Cocktail Party
The networking experience at the USA Trade Tasting is further amplified by the inclusion of a cocktail party. This serves as an informal yet invaluable setting for B2B attendees to build relationships in a relaxed environment. Sharing insights over a glass of wine or a cocktail can often lead to the discovery of common interests and potential business collaborations.
The USA Trade Tasting in Chicago stands as a pivotal event for B2B professionals in the alcohol beverage industry. It offers a unique opportunity to network, learn, and grow in a rapidly evolving landscape. With its impressive lineup of industry experts, enlightening conference sessions, and the chance to showcase products to a discerning audience, the event promises to be a catalyst for growth and innovation. As October approaches, securing a ticket to the USA Trade Tasting is a strategic move for those who are keen on expanding their business horizons, forging new alliances, and staying at the forefront of the industry's latest developments.
Where: Morgan Manufacturing, Chicago
When: October 17-18, 2023
USATT looks forward to seeing industry members congregate in October 2023 in Chicago. Save the date for October 17 & 18, 2023. Be a part of meeting, connecting, and learning in the heart of the US drinks industry.