Cabernet Sauvignon Limited Selection
Brand Presentation
Terroir:
We are sourcing our grapes from the north region where the conditions are extremely favorable for cultivating grape varieties. The relief is hilly, 160-180 m above the sea level, with brown soils and carbonate humus. They are warm, well ventilated and slightly granulated. The average temperature during the period of vegetation is about 36 - 37 C, which along with the long and warm autumn provide the best conditions for sugar accumulation in the presence of high total acidity and pH 3.0-3.2. The average annual rainfall is about 530-540 litres a square meter, and it determines sufficient humidity.
Tasting notes:
The deep ruby red color with shades of violet and the distinctive brilliance are eye-catching and provoke interest. The initial impression is enhanced by the tasting characteristics that fully meet the expectations, conceived by its appearance. This young Cabernet Sauvignon has the scent of ripe wild berries and black currant. Its taste is remarkably smooth, velvety, and balanced.
Winemaking: The quality of grapes is subject to special care and attention while still in the vineyard. Harvesting takes place in mid-October, when the grapes are selectively handpicked and gently crushed. In the process of fermentation the wine-makers control at six-hour intervals the extraction of color and tannins from the skins, as well as the evolution of taste, in order to decide when to drain the ferment-off-skins. Following classic fermentation, extraction is performed by pumping over the cap. Alternatively, if fermentation takes place in rotary fermentation vessels, accelerating the skin contact is done by means of rotating the tank. The wine ferments with the pomace until the transformation of sugar into alcohol is complete. After that the wine is transferred to 225 l Bulgarian, French and American oak barrels, medium to heavily toasted, to further develop its complexity and balance. As a result, the taste becomes suppler, enriched by vanilla, chocolate, and spicy tones.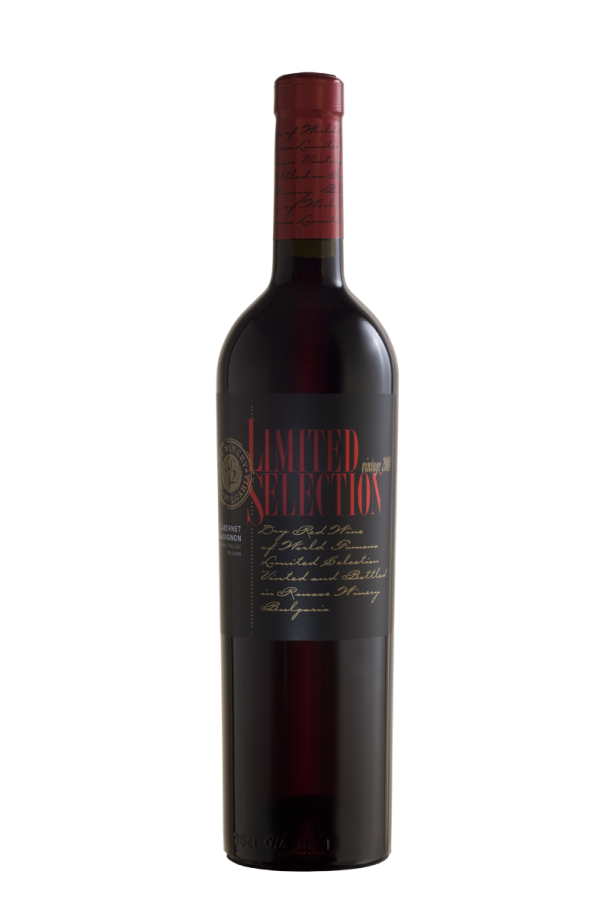 View all images
Full Product Specifications
| | |
| --- | --- |
| Date Created: | 16/01/2018 |
| Product Name: | Cabernet Sauvignon Limited Selection |
| Product Type: | Wine |
| Country of origin: | Bulgaria |
| Stock available: | On request |
| Price per unit US$: | On request |
| Price per unit €: | On request |
| Alc. Vol %: | 13.00 |
| Format: | 750ml |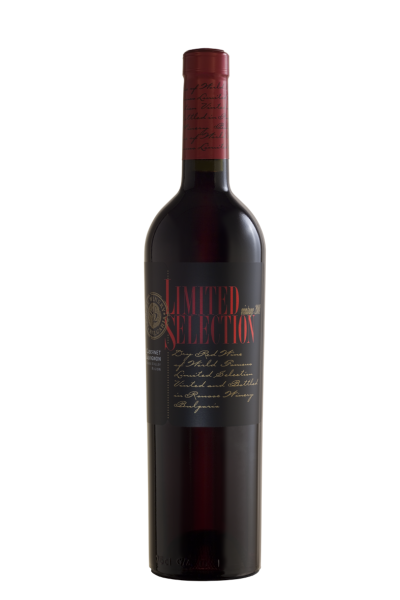 View all images
Countries this brand is distributed in:
Countries this brand looking to be distributed in:
US States this brand is distributed in:
US States this brand is looking to be distributed in: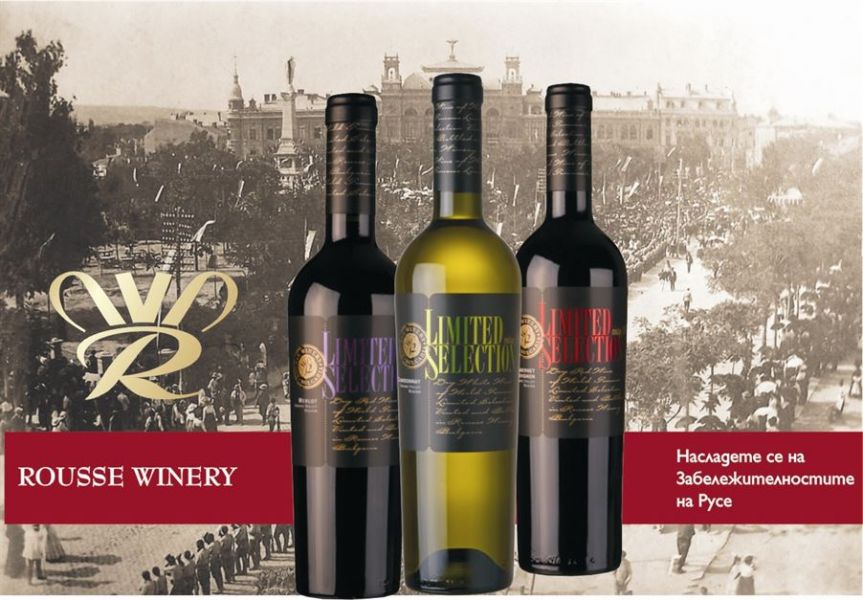 VINPROM ROUSSE JSC
Established in 1948 by the merger of fifteen enterprises into one state-owned wine-making factory, today the winery VINPROM ROUSSE is among the biggest wine manufacturers in Bulgaria with capacity to process 15 - 18,000 tons of grape annually in its wine-cellars in the City of Ruse. Our main business is manufacture of red and white wine for export and grape brandy and vinegar are manufactured as by-products. We manufacture white and red dry, semi-dry, semi-sweet and sweet wine. We also manufacture spirit drinks, low-alcohol wine drinks, wine, apple and balsamic vinegar. We manufacture wine in different price and taste classes - table wine, blended wine, varietal wine of the latest vintage. Specially selected wine that ages in barrels from 6 to 18 months for which we use over 1500 oak barrels with 3 different degrees of burning. Wine from manually picked grape and manual separation of the grapes for fermentation without vacuum. Our winery is a reputable and leading innovator in the Bulgarian wine industry and one of the largest exporters to more than 10 countries. We manufacture and sell wine of different varieties: Chardonnay, Sauvignon Blanc, Muscat, Merlot, Cabernet Sauvignon, Rubin, Pinot Noir. We have our own distilling unit and wine-cellar with capacity over 30 million litres. Vinegar is produced in facilities certified by the National Food Agency. Our balsamic vinegar ages in barrels with more than 20 herbs. In our fully modernized process of primary processing we have implemented new systems of wine-making. Vinprom Rousse is the first Bulgarian winery certified under the international quality control system ISO 9001, which ensures for us and for our clients overall product tracing and ensures the quality and stability of the agreed parameters. Our manufacturing facilities allow us to bottle in different volumes and packs, such as glass bottles (from 0,375 to 2,0 l), PET-Pack bottles (1,0 and 2,0 l), Bag-in-Box (from 3,0 to 10,0 l), screw cap and cork, as well as in specially designed figured bottles that have unique look.
Contact now
Please log-in to contact this seller!
You can send a message directly to this seller and request additional information about this posting, Company Profile and related products.
More Brands from this Company

Bulgaria | Vodka

Bulgaria | Vodka

Bulgaria | Wine