Successfully Selling Australian Wine in the USA
What US distributors, importers and retailers are looking to see from Australian wineries that are ready for export.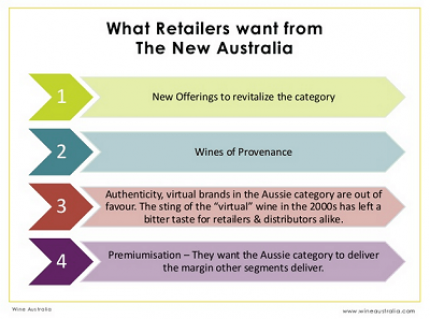 At 108 million liters and total value of $AUS 369 Million, the US market is the number one wine importer of Australian brands. As enticing of a market as it has become, understanding how to succesfully pitch your brand to buyers and promote your labels at every level of the three tier system is vital to success.

Developing your Story

Your brand story needs to be compelling. It has taken the category a long time to erode the image of virtual, large chain brands as the default Australian offering. Through strategic import and distribution partners, alternate categories such as premium and boutique offerings have seen a substantial boom, but the industry has also seen considerable consolidation and an increase in SKUs, both of which have created an extremely competitive environment. The problem facing many new international brands is the fundamental lack of support programs and merchandising that make a brand successful in the USA.

The US marketplace is ripe for new offerings that give consumers a genuine chance at sharing in their stories. As you develop your market entry strategy, consider the strengths of your brand, your winery's history and your wine making process. Target the stories that will resonate exceptionally well with the consumer and begin pitching them to leading media houses to generate awareness. Gauge the response and develop marketing material that supports your popular publications and encourages involvement from all tiers of distribution.
Slideshow: Wine Australia's Ben von Doussa explores Wine Australia USA's mission and how to pitch US importers, distributors and retailers.
Pitching Buyers
Price, packaging and ratings are commonly the most convincing arguments that you can take to the distribution and retail level. Australia is developing a good reputation for premium offerings and the data is supporting the trend, so use this momentum to employ your premium labels as your proverbial flag bearer. Take the time to develop your label to fit the core consumer of your target market(s) and find distribution and retail partners whose strengths will leverage the selling characteristics of your intended identity.
Your US partners will be looking for 30% margin, so give them an attractive number that will easily convince them to give your brand a chance. Incentives will also play an important role in generating interest in your brand. To make your label a constant favorite with retailers, offer exclusive rights and generate incentive programs that not only reward them but also encourage them to focus consumer attention on your brand. Rebates, temporary price reductions, case discounts - develop programs that you feel comfortable offering on a regular basis.
Selling to the Consumer
The US wine market is saturated with all sorts of different labels and it can take a tremendous amount of effort to reach the consumer on a personal level. Develop strong support programs to take to the streets as you develop your new market. In-store tastings, worthy cause marketing, event participation and sponsorship, POP merchandising, shelf talkers, neck hangers – these are all essential tools you need to develop early on in your sales process. There are very few examples of successful brands who neglect to implement strong support programs into their US market entry strategy.
Not a BTN Member yet?
Get BTN Premium membership and have full access to articles and webinars on BTN + other benefits like:

Full Access to BTN Consultants
Full Access to Buying Leads
Post Unlimited Brands
Full Access to all Articles and Webinars
Full Access to BTN Live conferences presentations and speaker sessions
Discounted rates to exhibit at major partner events and conferences
And Much More...

Your BTN membership will reduce your trial and error time: Why experiment with your branding and distribution when you can fast-track your time to success? Get 'How to do it' content which will help you improve your sales and grow your distribution. Just one article can help you make better decisions and improve your distribution strategy. Try it