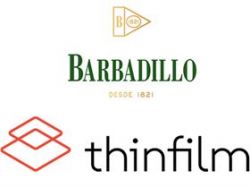 Imagine being able to learn more about a bottle of wine simply by tapping your smartphone. That's the premise of an innovative new mobile marketing campaign launched by Spanish winemaker Barbadillo, which is experimenting with the largest global deployment of NFC (near field communication) technology in the wine and spirits industry.
The mobile marketing campaign, designed to be used with 126,000 bottles of Barbadillo's Castillo de San Diego wine, is running from July 17 to August 31. This is a test of technology as well as a test of how willing consumers are to use their smartphones to learn more about wine. The connected bottles are being sold through 15 major supermarket chains and superstores, including El Corte Inglés, Carrefour, Hipercor, Alcampo, and Eroski.
To get consumers to try out the innovative NFC technology, Barbadillo is including the chance to win several prizes as part of a campaign called "Dando en el Blanco" (which, translated from Spanish, means "Hitting the Target"). The promotion offers the chance to win 12 different €1,000 prizes.
Upon purchasing and opening a bottle, customers can retrieve a unique code printed on the cork and enter it in the field displayed on their smartphone – along with their name and other personal information – to instantly determine if they are a winner. This mobile campaign had been integrated with a broader campaign that also includes television, online, and outdoor advertising support.
The secret to the mobile marketing campaign is the NFC-enabled neck collar of the wine bottle. In the same spot where many wineries already include information about the winery and the vineyard, it's also possible to embed thin NFC-enabled tags. Working in partnership with Thin Film Electronics ASA ("Thinfilm") , Barbadillo was able to include these special tags on the bottles of Castillo de San Diego, which is currently the most widely-sold white wine in Spain.
Barbadillo had previously worked with Thin Film Electronics on a project also involving NFC technology that was designed to outwit counterfeiters and prevent unauthorized refills for its Versos 1891 ultra-premium sherry.
"Given the success Barbadillo experienced in using OpenSense tags with Versos 1891, we were eager to explore other ways to deploy the technology," said Alvaro Alés, Director of Marketing & Communication for Barbadillo. "As a family-owned winery, connecting directly with consumers has always been important to us. Thinfilm's NFC solution gives us a proven channel through which to easily and effectively accomplish that."
It's easy to see how this promotion, if successful, could be used as part of just about any wine marketing campaign. "The 'Dando en el Blanco' campaign featuring Castillo de San Diego illustrates a compelling use case for NFC mobile marketing – not just in the wine and spirits industry but with other consumer products as well," said Davor Sutija, CEO of Thinfilm.
Now that wine drinkers are taking their smartphones with them everywhere, it only makes sense for winemaker to embrace new technologies that can fully leverage the power of those smartphones. It appears as if smartphones have found a natural partner: smart bottles.