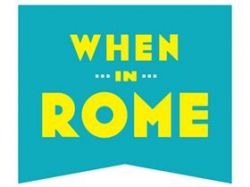 The London Wine Competition took place on March 8-9 in London this year. Nero d'Avola wine from When in Rome Wine Ltd won gold medal scoring well for all three criteria of the competition; quality, value and packaging. All the wines in the competition were judged using these three criteria and best of them were awarded gold, silver and bronze medals as well as special awards.
When in Rome Wine Ltd hand-picks premium quality craft wines from Italy's best and small, independent wine producers. These producers box the wines for WIRW and send it to the UK by train. The wines picked by When in Rome Wine Ltd are always less intensively produced and kinder to the land. The thinking behind the boxed wine is, they are far lighter to transport than bottles, and boxes can be recycled. Nero d'Avola Sicilia DOC has a bold and fruity flavour that pairs well with red meat, lentils and mushrooms.
About the competition –
The London Wine Competition recognizes and rewards the wine brands that have successfully been created to identify with and target a specific wine drinker. The competition judges wine in three key areas - quality, value for money and packaging. To be an award winner in this competition, all you need to have is a good quality wine that offers great value for money and a look that stands out on the shelf of the bar. Pre-registrations for 2019 London Wine Competition are now open. If you have a wine(s) with the above qualities, you can enter your wines here.