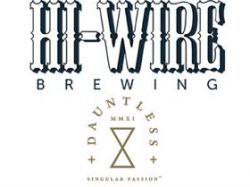 Hi-Wire Brewing is excited to announce their distribution launch into the entire state of Kentucky via Dauntless Distributing beginning Saturday, February 17 with roll-out events scheduled through February 22 in Louisville & Lexington.
Michael Minton, Owner of Dauntless, notes " Hi-Wire has mastered the balancing act of offering great value and high quality with their diverse lineup of ales and lagers. They've also invited the inquisitive imbiber to their "side show" of sour ales and barrel aged beers. This dynamism allows them to appeal to the ever-growing-wider spectrum of drinkers in Kentucky without compromising their precise yet evolving point-of-view. Dauntless is extremely excited to introduce Hi-Wire to The Bluegrass State for the above reasons and how they jive with their dedication to strong, transparent, and communicative relationships with wholesalers. True partnerships are imperative in today's craft beer universe; Hi-Wire and Dauntless share a mutual understanding and respect for this fact."
Full Lexington and Louisville event list via Beer Pulse.
Source Hi Wire Brewing