Beverage Trade Network Events
North Coast Wine Industry Expo 2019
Wine
13/02/2019
Favorite
The 8th Annual North Coast Wine Industry Expo (@WINexpo) has become an integral event for the North Coast wine industry bringing Sonoma, Napa, Lake & Mendocino Counties together for an all-inclusive Trade Show & Conference. WIN Expo continues to draw the highest caliber exhibitors and over 3300 attendees making it the second largest wine industry trade show in North America. The event will be held in two buildings, Grace Pavilion and the Hall of Flowers at the Sonoma County Fairgrounds in Santa Rosa, CA, 9:00am - 4:00pm, on Thursday, December 5, 2019.
WIN Expo provides winery and vineyard professionals access to over 300 of the industry's best suppliers and service professionals showcasing their most current, innovative new products and services.
Exhibitors will again be participating in the popular #ExpoDeals program, offering one day, end-of-year specials to attendees. #ExpoDeals will be promoted in the days leading up to the show so that attendees can plan their purchases prior to the event.
In addition to the trade show, a day-long conference featuring twelve educational workshops will be presented by wine industry experts discussing emerging issues and trends, information that every industry professional needs to be better prepared for a successful upcoming year.
For further information: North Coast Wine Industry Expo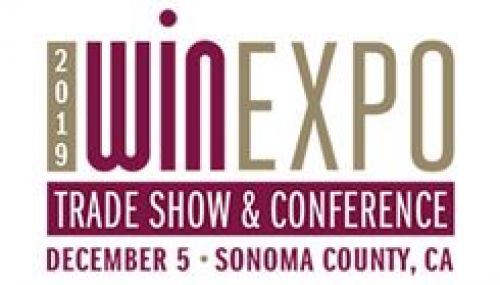 Location & Dates
From: 05/12/2019
Up to: 05/12/2019
Hour: 9:00am — 4:00pm
Location: Sonoma County Fairgrounds 1350 Bennett Valley Rd., Santa Rosa, CA 95404
Organizer Info
Wine Industry Network (WIN) is THE leading business to business resource for the North American wine industry providing a collection of services, subscriptions, and events designed to keep industry professionals informed about current trends and industry
Web: http://wineindustryexpo.com/
Email: info@wineindustryexpo.com