Liste des distributeurs de vins aux Etats-Unis
Questo articolo è disponibile nelle seguenti lingue :
Distribution joue un rôle très essentiel pour les établissements vinicoles pour faire croître leur entreprise vin. Ici nous sommes énumérant certaines des principaux distributeurs de vin des Etats-Unis.
Break Thru Beverage Group
Break Thru Beverage Group est un leader dans le distributeur de vin en Amérique du Nord. Break Thru boisson transforme les normes d'identité et de l'exécution de distribution de boissons, gagner la distinction en vers l'innovation et agressivement en croissance. Break Thru Beverage's portefeuille contient du monde vin premium et luxe, bières et spiritueux.
Charmer-Sunbelt Group
The Charmer Sunbelt Group (CSG) is a leading distributor of fine spirits and wines with local distributor houses operating in 15 states. The company also distributes bottled water and other non-alcoholic beverages. The Charmer Sunbelt Group (CSG) is a family-owned business that proudly serves as the critical link between wine and spirit suppliers.
Young's Market Company
Fondé en 1888, société de marché de Young est le premier distributeur de vins fins, spiritueux et boissons select dans l'ouest des États-Unis. Avec les opérations en Alaska, Arizona, Californie, Hawaii, Idaho, Montana, Oregon, Utah, Washington et Wyoming, Young's Market Company sommes fiers de représenter les marques et fournisseurs partenaires.
Allied Beverage
Alliés est distributeur vin et spiritueux du New Jersey plus grande et la plus complète et se classe parmi les dix plus grandes des distributeurs aux États-Unis. Allied représente les gammes des principaux fournisseurs mondiaux de boissons alcoolisées et des produits connexes comme les services informatiques aux besoins de New Jersey sous licence paquet magasins, restaurants, Hôtels, tavernes et clubs.
Pine State Beverage Company
Pin État Beverage Co. a été créé en 1952 lorsque Fred Miller a introduit la marque de bière Miller High Life dans le Maine... État de pin aussi entrepôts et offre 100 % de tous les produits esprit basé dans le Maine. Pine State's division vin vend plus de 3 500 unités peintes vins à tous les clients tout au long de la Maine et le New Hampshire. La division vin représente portefeuilles par les plus grands producteurs de vin dans le monde, importation de chaque pays viticole.
Johnson Brothers liqueur Company
Johnson Brothers est une familiale vin, spiritueux et distributeur de bière dont le siège est à St. Paul, Minnesota. Johnson Brothers offre service de calibre mondial à des clients aux États-Unis depuis 1953. Johnson Brothers représente une grande variété de vin, spiritueux, bière et boissons non alcoolisées
Moon Distributors
Ouvert de Harry Hastings SR. Distributeurs de lune à Little Rock en 1935. Distributeurs de lune est une famille possédée et actionnée de compagnie. Moon Distributors Etat mènent des distributeurs d'alcool depuis 80 ans.
The Wine bow group
Arc the Wine Group est le premier distributeur de vins fins et spiritueux aux Etats-Unis, atteignant environ la moitié du marché national consommation de vin ayant des activités dans 19 États et le District de Columbia. The Wine bow Group représente certaines des propriétés les plus établies, appartenant à la famille, ainsi qu'une nouvelle génération de vignerons et distillateur qui se consacrent à l'innovation et de qualité.
Opici Family Distributing
Opici Distribution de la famille est une division du Opici Wine Group, vin et spiritueux import et distribution Company fondée en 1913 comme le « entreprise de Distribution boisson américaine » par Joseph Opici. Vins de t s'efforce de trouver des vins et spiritueux de partout dans le monde. Actuellement, Opici vins représente près de 50 marques de pays comme l'Italie, France, Chili, Argentine, Espagne et Afrique du Sud.
Frederick Wildman
Frederick Wildman et fils est basée à New York fin vin important distributeur offrant les propriétés principales de France, Italie, Espagne, Argentine et d'autres régions. La société a été fondée en 1934. Frederick Wildman and Sons est dédié à l'approvisionnement, de distribution et de marketing du monde meilleurs vins et spiritueux.
Disclaimer: Please note that the companies listed on this page are not related to or are directly or indirectly involved with the Beverage Trade Network. BTN has listed the companies as a reference purpose only.
Not a BTN member yet? Get started on BTN and starting connecting with wine importers, distributors and consultants.(Its free to join) Beverage Trade Network is connecting wineries, breweries, distilleries, beverage brand owners, importers, distributors, brokers and other beverage professionals locally and globally. Get practical industry based knowledge with 'how to do it' articles and webinars and grow your brand.
Browse : Brands | Buying Leads | Consultants | BTN Academy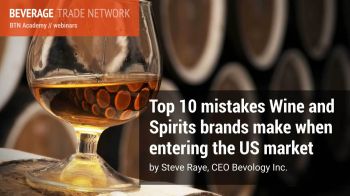 Top 10 Mistakes Wine and Spirits brands make when entering the US Market
10 most important points wineries and distilleries should get right in order to have a successful entry to the US market. Learn More About Wine Distributions in USA