Elenco dei vino distributori negli Stati Uniti d'America
Questo articolo è disponibile nelle seguenti lingue :
Distribuzione gioca un ruolo molto importante per le aziende vinicole per crescere il loro business del vino. Qui noi stiamo elencando alcuni dei principali distributori di vino degli Stati Uniti.
Break Thru Beverage Group
Break Thru Beverage Group è un leader a distributore di vino in Nord America. Break Thru bevanda sta trasformando l'identità e l'esecuzione standard di distribuzione di bevande, guadagnando la distinzione da un'innovazione e guidare in modo aggressivo crescita. Break Thru Beverage's portfolio contiene del mondo premium e lusso vino, birra e superalcolici.
Charmer Sunbelt Group
The Charmer Sunbelt Group (CSG) è un distributore leader di pregiati distillati e vini con il distributore locale case operanti in 15 Stati. L'azienda distribuisce anche acqua minerale e altre bevande non alcoliche. The Charmer Sunbelt Group (CSG) è un'azienda a conduzione familiare che orgogliosamente funge da collegamento critico tra vino e spirito fornitori.
Young's Market Company
Fondata nel 1888, azienda del mercato di Young è il premier distributore di vino, liquori e bevande selezionate negli Stati Uniti occidentali. Con operazioni in Alaska, Arizona, California, Hawaii, Idaho, Montana, Oregon, Utah, Washington e Wyoming, Young's Market Company sono orgoglioso di rappresentare marchi leader del settore e partner fornitori.
Allied Beverage
Alleato è più grande e completo vino e alcolici distributore di un New Jersey e truppa fra i dieci più grandi tali distributori negli Stati Uniti. Allied rappresenta le linee di prodotto dei principali fornitori mondiali di bevande alcoliche e prodotti correlati, come servizi per le esigenze del New Jersey con licenza pacchetto negozi, ristoranti, Alberghi, taverne e club it.
Pine State Beverage Company
Pino stato Beverage Co., è stato creato nel 1952 quando Fred Miller ha introdotto il marchio di birra Miller High Life a Maine... Pine State anche locale commerciale e offre 100% di tutti i prodotti di spirito basato nel Maine. Pine State's divisione vino vende oltre 3.500 articoli vini a tutti i clienti in tutto il Maine e New Hampshire. La divisione vino rappresenta portafogli dai più grandi produttori di vino del mondo, l'importazione da ogni paese produttore di vino.
Johnson Brothers Liquor Company
Johnson Brothers è una conduzione familiare vino, spiriti e distributore di birra con sede a St. Paul, Minnesota. Fratelli Johnson ha fornito servizio di classe mondiale ai clienti negli Stati Uniti dal 1953. Johnson Brothers rappresenta un'ampia varietà di vino, liquori, birra e bevande analcoliche
Moon Distributors
Harry Sr. Hastings aperto Distributori di luna a Little Rock nel 1935. Distributori di luna è una famiglia di proprietà e gestito società. Moon Distributorsè stato principali distributori alcool per 80 anni.
Gruppo di The Wine bow
The Wine bow Group è un premier distributore di vini pregiati e liquori negli Stati Uniti, raggiungendo circa metà del mercato del consumo di vino nazionale con sedi in 19 Stati e il District of Columbia. The Wine bow Group rappresenta alcune delle proprietà più affermate, a conduzione familiare, così come una nuova generazione di vignaioli e distillatori che si dedicano all'innovazione e alla qualità.
Opici Family Distributing
Opici Distribuzione di famiglia è una divisione di Opici Wine Group, un vino e alcolici di importazione e distribuzione società originariamente fondata nel 1913 come il "azienda di distribuzione bevande americano" da Joseph Opici. Opici vini si sforza di trovare vini e liquori da tutto il mondo. Attualmente, Opici vini rappresenta quasi 50 marche da paesi come Italia, Francia, Cile, Argentina, Spagna e Sud Africa.
Frederick Wildman
Frederick Wildman e figli è un distributore leader vino pregiato newyorkese che offre le principali proprietà da Francia, Italia, Spagna, Argentina e altre regioni. L'azienda è stata fondata nel 1934. Frederick Wildman and Sons è dedicata a sourcing, la distribuzione e la commercializzazione del mondo migliori vini e distillati.
Not a BTN member yet? Get started on BTN and starting connecting with wine importers, distributors and consultants.(Its free to join) Beverage Trade Network is connecting wineries, breweries, distilleries, beverage brand owners, importers, distributors, brokers and other beverage professionals locally and globally. Get practical industry based knowledge with 'how to do it' articles and webinars and grow your brand.
Browse : Brands | Buying Leads | Consultants | BTN Academy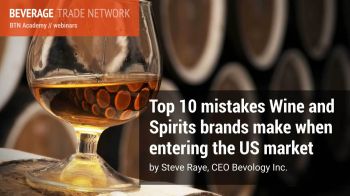 Top 10 Mistakes Wine and Spirits brands make when entering the US Market
10 most important points wineries and distilleries should get right in order to have a successful entry to the US market. Learn More About Wine Distributions in USA