List of Wine Distributors in USA
This article is available in the following languages:
Distribution plays very vital role for wineries for growing their wine business. Here we are listing some of the leading wine distributors of USA.
Break Thru Beverage Group
Break Thru Beverage Group is a leading in wine distributor in North America. Break Thru Beverage is transforming the identity and execution standards of beverage distribution, earning distinction by embracing innovation and aggressively driving top-line growth. Break Thru Beverage's portfolio contains world's premium and luxury wine, beer and spirits.
Charmer-Sunbelt Group
The Charmer Sunbelt Group (CSG) is a leading distributor of fine spirits and wines with local distributor houses operating in 15 states. The company also distributes bottled water and other non-alcoholic beverages. The Charmer Sunbelt Group (CSG) is a family-owned business that proudly serves as the critical link between wine and spirit suppliers.
Young's Market Company
Founded in 1888, Young's Market Company is the premier distributor of fine wine, spirits and select beverages in the western United States. With operations in Alaska, Arizona, California, Hawaii, Idaho, Montana, Oregon, Utah, Washington, and Wyoming, Young's Market Company are proud to represent industry-leading brands and supplier partners.
Allied Beverage
Allied is a New Jersey's largest and most comprehensive wine and spirits distributor and ranks among the ten largest such distributors in the United States. Allied represents the product lines of the world's leading suppliers of beverage alcohol and related products as it services the needs of New Jersey's licensed package stores, restaurants, hotels, taverns and clubs.
Pine State Beverage Company
Pine State Beverage Co. was created in 1952 when Fred Miller introduced the beer brand Miller High Life to Maine.. Pine State also warehouses and delivers 100% of all the spirit based products in Maine. Pine State's wine division sells over 3,500 wine items to all customers throughout Maine and New Hampshire. The wine division represents portfolios from the largest wine producers in the world, importing from every wine producing country.
Johnson Brothers Liquor Company
Johnson Brothers is a family-owned wine, spirits, and beer distributor with headquarters in St. Paul, Minnesota. Johnson Brothers has been providing world class service to customers throughout the United States since 1953. Johnson Brothers represents a wide variety of wine, spirits, beer, and non-alcoholic beverages
Moon Distributors
Harry Hastings Sr. opened Moon Distributors in Little Rock in 1935. Moon Distributors is a family owned and operated company. Moon Distributors are state's leading alcohol distributors for 80 years.
The Wine bow group
The Wine bow Group is a premier distributor of fine wines and spirits in the U.S., reaching approximately half of the national wine consumption market with operations in 19 states and the District of Columbia. The Wine Bow Group represents some of the most established, family-owned properties, as well as a new generation of winemakers and distillers who are dedicated to innovation and quality.
Opici Family Distributing
Family Distributing is a division of the Opici Wine Group, a wine and spirits import and distribution Company originally established in 1913 as the "American Beverage Distribution Company" by Joseph Opici. Opici Wines strives to find wines and spirits from around the world. Currently, Opici Wines represents nearly 50 brands from countries such as Italy, France, Chile, Argentina, Spain, and South Africa.
Frederick Wildman
Frederick Wildman and Sons is a New York based fine wine leading distributor offering the leading properties from France, Italy, Spain, Argentina and other regions. The company was founded in 1934. Frederick Wildman and Sons is dedicated to sourcing, distributing and marketing the world's finest wines and spirits.
Disclaimer: Please note that the companies listed on this page are not related to or are directly or indirectly involved with the Beverage Trade Network. BTN has listed the companies as a reference purpose only.
Not a BTN member yet? Get started on BTN and starting connecting with wine importers, distributors and consultants.(Its free to join) Beverage Trade Network is connecting wineries, breweries, distilleries, beverage brand owners, importers, distributors, brokers and other beverage professionals locally and globally. Get practical industry based knowledge with 'how to do it' articles and webinars and grow your brand.
Browse : Brands | Buying Leads | Consultants | BTN Academy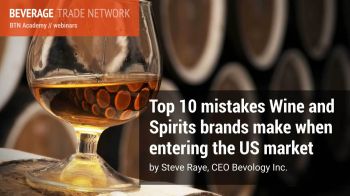 Top 10 Mistakes Wine and Spirits brands make when entering the US Market
10 most important points wineries and distilleries should get right in order to have a successful entry to the US market. Learn More About Wine Distributions in USA