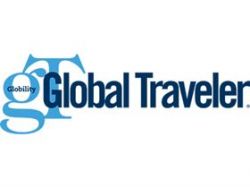 Ever wondered which wines are the best ones to drink on a long, transcontinental flight? Or which wines to drink when celebrating in business class after landing a potential new client? Global Traveler, the magazine for luxury business and leisure travelers, recently conducted a blind taste testing of wines submitted by 32 different airlines as part of its 13th annual Wines on the Wing Airline Wine Competition that took place in New York City.
At the event, a jury panel of sommeliers, wine shop owners and winemakers judged a total of 28 wines in the Champagne/sparkling wine category, 56 white wines and 61 red wines. The results might just surprise you.
For example, the best business-class Champagne was Aeroflot's Ayala Brut Majeur, NV. That's right – Russia's capitalists flying around the world also get to drink the best champagne.The best first-class Champagne was United Airlines' Joseph Perrier Brut Cuvée Royale 2004. TAP Portugal's Luis Pato Blanc de Blancs, NV, won Best International Business Class Sparkling Wine.
And what about the best white wines to drink at 30,000 feet? Here, too, the results were a bit surprising, as wines from both Austria and Israel were the clear winners. In the white wine category, Best International Business Class White Wine was tied for Jurtschitsch Grüner Veltliner 2016, Austria, submitted by Air Canada, and Steininger Grüner Veltliner 2015, Austria, submitted by Brussels Airlines. For first class, the winner was El Al Israel Airlines with Vitkin Winery Grenache Blanc 2015, Israel.
And, finally, in the judging of the best red wines, it turns out that wines from Spain and Washington State can hold their own with the best in the world. When it came to red wine, Asiana Airlines led in the first-class category with Gran Claustro 2011, Spain, and All Nippon Airways took the No. 1 business-class spot with Drumheller Cabernet Sauvignon 2015, Washington.
For the ninth consecutive year, Global Traveler awarded the Best North American Wines on the Wing. North American airlines submitted first-class and business-class wine samples, depending on their domestic flight offerings. American Airlines was named Best North American First Class/Business Class Wines on the Wing, and also won for its red wine, La Ferme du Côtes du Rhône 2014, France, and its white wine, Domaine de la Chaise Sauvignon 2016, France. Hawaiian Airlines' Flor Prosecco, NV, Italy, won Best North American Champagne/Sparkling Wine.
More results on the judging and competition will be available in the August 2017 issue of Global Traveler, which has a total readership of more than 300,000. Of these readers, half are CEOs or owners of their own businesses. And the average net worth of these individuals is $2 million.
That's perhaps the most surprising aspect of these findings - you'd hardly expect the CEO of a major corporation to order a white wine from Israel, or the founder of a multi-million-dollar company to prefer a red wine from Spain over a red wine from Italy or France. It's just further proof of just how far, and how fast, winemakers from up-and-coming regions of the world are refining and improving their winemaking techniques.