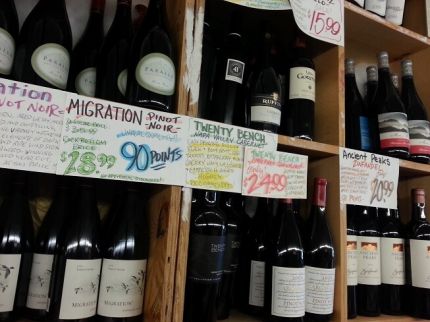 The wine industry loves awarding medals and trophies to itself, much like the entertainment industry loves giving itself shiny awards (in 1991 the Academy Awards won an Emmy Award for best Variety show!). In the 2009 Melbourne Wine Show, 566 producers entered 3,493 wines in the chase for the 22 trophies on offer, and with over 50 different classes available, every conceivable wine could be included. The fact that most classes only required a minimum holding of 250 dozen, even the smallest winery had the opportunity to put forward their wines; the result? Hundreds of medals awarded of course, pats on backs all round.
For a small or medium producer, receiving a medal or two from piers in the industry must be very satisfying, a confirmation that their hard work is worth it all. Medals are rightly displayed with pride at cellar door, and its not long before the stickers are produced to go on every bottle. This is where we are going to jump in, shout 'stop,' and take a wine trade view of medals on bottles.
If your wine scores 15.5 or more out of 20 it will get awarded a medal at a wine show, score more than 18.5 and you've got yourself a gold. However as much as the wine industry and some of the wine trade understand this, the average consumer views medals in the same way as they see sporting medals – gold for first place, silver for second, bronze for third. That is a wine trade fact. Thus the winemaker's pride in being awarded a silver medal in a class full of much bigger producers is not reflected in the consumers view of that same silver medal on the bottle – 'so it came second.'
Add to this the large amount of classes within a wine show, (and there are often even different classes for the same variety), meaning a cheaply priced, young and well made shiraz can get gold in it's class, while a better made, barrel aged shiraz can get silver in it's class, and the only difference is the class number on the medal. Consumers don't understand class numbers and they don't have the time or inclination to research them during purchase decision making. So when a $12 gold medal shiraz sits next to a $20 silver medal shiraz, what is the consumer to think? Moving up the price scale, how can a consumer justify spending $50 or more on a wine if it has 'only' won silvers and bronzes, or $100 on a bottle that has won a gold but no trophy?
From a sales perspective, producers should think long and hard about why they should put medals on their bottles. Certainly trophies and multiple golds medals will add good reasons for consumers to choose that wine, particularly if they haven't heard of the producer, as it adds a third party acknowledgment to the quality of the wine. However the jury is out on whether silvers and bronzes add to the appeal of the wine, unless they are a platform for the multiple golds above them to shine. Human nature is to seek out the best value, and how can a silver or bronze medal winner offer value when there will be a gold medal winner or two at a similar price? Think about it – what excites people? The Oscar winner or the 3 other films shortlisted? The world cup winner or the beaten finalist?
Another view of the medal debate is the fact that it brings up vintage differences, which can be a bad thing if you are trying to build up overall brand. Brands offer consumers trustworthy products that they can always purchase with the reassurance that they will deliver a positive or known outcome. Brand is built up over years and becomes much more than the product in the bottle, much more than the sum of it's parts. A silver or bronze medal on the bottle will erode brand equity because it brings focus back to vintage variation, breaking the trust in the consistent image of the brand. On the other hand a trophy will build brand equity, reassuring the consumer that their trust in the brand is validated by the wine show judges. This is why you won't see market leading brands display anything less than trophies or golds, if any medals at all.
To medal or not to medal, that is the question. The Wine Rep recommends smaller producers only include a silver or bronze on a bottle if there is at least one trophy or several golds to back them up. As for wines over $30 retail – never anything less than gold.
BTN would like to thank The Wine Rep - Our friends in Australia for contributing this article.
Happy Selling!
Cheers, BeverageTradeNetwork.com
Looking For New Wineries, Breweries, Distilleries in 2014?
Tell us your Buying Requirement. Receive qualifying offers to your buying requests directly from suppliers. (Must be a licensed Importer or Distributor).

If you are a importer or a distributor looking to source wines, spirits, craft beers or other beverages. Please use the form below to post your Buying Lead. Take just 5 minutes to fill out a Buying Lead request and start sourcing globally on BTN.
BTN Sourcing offers the following:
1. Verified Suppliers
2. Receive quotes from suppliers in as little as 48 hours