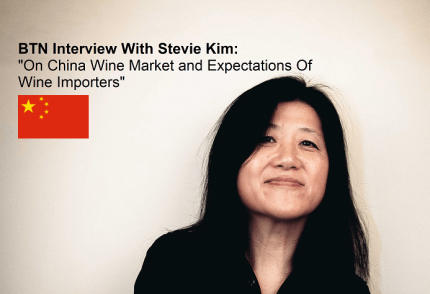 On China Wine Market:
Stevie Kim, leads an international team dedicated to Vinitaly, the annual showcase of Italian Wines in Verona, Italy. Her principal role nowadays includes that of Managing Director of Vinitaly International and Brand Ambassador of Vinitaly Wine Club.
She has taken Italian Wine Business to heart by trying to spread the gospel "How to Fall in Love with Italian Wine" in the rest of the world, with a special attention to China, Russia and the US.
She travels regularly to China and never underestimates the power of social media. She has two children, not counting her husband.
BeverageTradeNetwork.com interviews Stevie and gets her view on how wineries should plan their China distribution strategy.
BTN: What are the 3 main factors that Chinese importers consider when picking up a new winery?
Stevie: 1) Price and 2) brand name remain today the leading factors that influence purchasing choices of both Chinese consumers and importers/distributors. This is mainly due to the great complexity of grape varieties that make wine difficult to understand. The third factor is volume, with priority given to wine producers who can guarantee a consistent number of bottles in order to satisfy the importer's demand. So I would advise wineries to clearly put these 3 points in their presentation to wine importers in China.

BTN: What support programs do Chinese wine importers expect from a supplier. Please list top 5.

Stevie: As for other international wine markets, Chinese importers generally request exclusivity on the brands they agree to import, with the exception of premium producers where there are multiple distributors and channels i.e. The "Super Tuscans". Producers are also required to decide on a budget to invest in the Chinese market and set down a shared marketing plan which should include promotional activities such as wine dinners, trade fairs, b2b and b2c events, e- commerce platforms etc aimed at supporting the work of local importers.


BTN: Which varietals you see are HOT and what trends do you see for 2014. Like in US, blends and Moscato's are HOT followed by Malbecs.

In China the most popular varietals are usually red, mostly because they are considered to bring good luck. When Chinese people speak of wine they usually refer to red wine, so much so that the translation of the word "wine" in Chinese, 红酒 Hóngjiǔ, literally means "red wine".
Apart from red wine, which is undoubtedly sold much more than white wine in China, (by a 9 to 1 ratio), Prosecco and Moscato are also registering a remarkable increase in bottles sold each year.
BTN: Which are the 3 main markets in China that wineries should focus first.

Wineries should focus primarily on first – tier cities (albeit crowded markets) like Beijing, Shanghai, Guangzhou and Shenzhen as well as upcoming markets such as Wuhan, Chongqing e Chengdu. Smaller cities near Shanghai (Hangzhou, Nanjing and Suzhou) and Beijing (tianjin) are also acquiring a lot of importance lately.
Last but not the least, some success stories have also come from the North East of the country and from Mainland Mongolia. (Read on Shanghai Wine Market)
BTN: What are the 3 main challenges that wineries will face/or face while developing their brand with an importer in China

Language differences are one of the main difficulties Italian wineries will encounter when approaching this market . This is also one of the reasons why communication between producers and importers is still very poor. The secondary importance of wine in Chinese culture is also another critical factor which will require in the future a strong investment in education in order to increase interest in wine through knowledge.
Let's not forget that in China social media channels such as Youtube, Twitter and Facebook are censored hence adaptation is required through the use of Chinese platforms such as Wechat and Weibo.
BTN: Suggestions and advice for wineries looking for importers in China.

It is of the greatest importance that producers do their homework well, making sure they have a clear idea of what they wish to achieve. They need to invest time and resources to gather information in order to better understand the Chinese market and adapt their expectations accordingly. In general, a medium to long-term strategy is recommended and not an isolated spot intervention vis a vis a quick dealmaker.
Not a BTN Member yet?
Get BTN Premium membership and have full access to articles and webinars on BTN + other benefits like:

Full Access to BTN Consultants
Full Access to Buying Leads
Post Unlimited Brands
Full Access to all Articles and Webinars
Full Access to BTN Live conferences presentations and speaker sessions
Discounted rates to exhibit at major partner events and conferences
And Much More...

Your BTN membership will reduce your trial and error time: Why experiment with your branding and distribution when you can fast-track your time to success? Get 'How to do it' content which will help you improve your sales and grow your distribution. Just one article can help you make better decisions and improve your distribution strategy. Try it